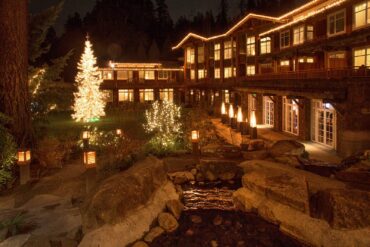 Alderbrook Resort & Spa is a gem of hospitality set on the south shore of Hood Canal right here in our neighborhood. Special occasions or simple afternoons on the canal remind us of the splendor of our 'hood. Once you discover Alderbrook, you — like your neighbors in the know — will look for opportunities to come again.
Only Santa Claus could have visited this spot without a long boat trip to the tip of Hood Canal back in 1913, when it first opened. Backed by the Olympic Mountains, the canal attracted people with its splendor, even though the forest had no roads until 1929 and nothing was paved until 1964. Accommodations would have been canvas tents, with dinner around the fire.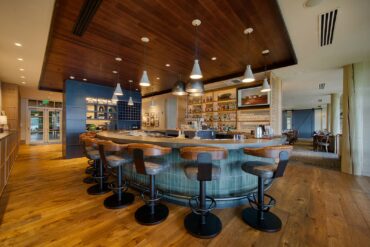 Creature comforts changed over time and Alderbrook kept up. This decade calls for extraordinary meals and luxury linens after a day enjoying the great outdoors. The resort will easily meet expectations.
Hospitality at Alderbrook Resort & Spa comes on the smiling faces of a staff drawn from Kitsap, Mason and Thurston counties. As one staff member says, "We are your neighbors." Guests come from the local region plus Seattle. During peak seasons, guests number around 300 and the staff tops off around 250. The core staff is full-time, with years of experience at Alderbrook, while college students fill in over the summer and holidays. These hoteliers are masters at making service look not only easy but fun.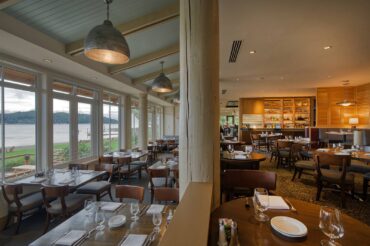 With the staff setting the tone, the resort gives out the warmth of a small town. Alderbrook, as the locals call it, is small enough to be an intimate experience yet large enough to pull off the wow factor in culinary experiences and regional activities both indoors and out. The splendor of the canal and Olympics is the ultimate wow, but the creative staff delights in surprises and unexpected touches, too.
Although the list of activities at the resort is as long as Santa's, rest assured that none are required. In fact, the favorite activity seems to be simply sitting. Directly facing the beauty of water and mountains lets stress roll off so a deep breath of fresh air floods in and the vacation gets underway.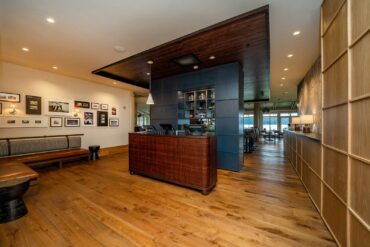 Guest rooms and cottages were remodeled prior to the uncertainties of 2020. In 2021, Alderbrook refreshed the restaurant and public areas. The goal was to polish the interiors, but not compete with the grandeur of nature. The resort shines with the signature style of the Pacific Northwest — sophisticated and casual.
Windows throughout public areas and guest rooms and cottages keep the focus on nature. Even in corridors, windows frame native plantings and distant peeks of what is yet to be revealed. On arriving at the restaurant and bar, you are greeted by the view of the expansive Hood Canal at the foot of the Olympic Mountains rising into the sky. Even local guests take a moment to remember that they live here.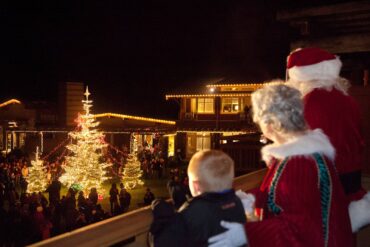 Alderbrook's chef, Sara Harvey, grew up right here on these shores. She understands the pleasure of meals built around seafood pulled fresh from the Sound and surrounded with seasonal vegetables, fruits and berries from the woodlands. Her hands-on approach is steeped in her — quite literally. She is also an oyster farmer and works calf-deep in the waters off shore.
Oysters are a mainstay at Alderbrook. Tender ones wrapped in a lemon yellow omelet are featured at breakfast. Grab-and-go-food including resort-made granola can be found at The Drinkery, a cafe and bar near the lobby. Besides coffee and its variations, the cafe is stocked with local beers and cider, as well as regional wines. Later in the day, oysters can be found on the half shell, baked, shooters and fried at The Restaurant and Lounge and at Hook & Fork at Union City Market. Grand Marnier prawns are a specialty of the house for good reason.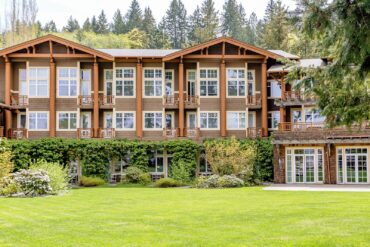 Chef Harvey keeps the menu fresh with dishes like crab pasta, prawns and grits, smoked salmon Benedict and lemon huckleberry cake as timely explorations of the seasons' changing delicacies. The culinary team's skill and enthusiasm focus on the essential ingredients of extraordinary food served to dear companions in a beautiful setting. This is the winning combo to a memorable experience, one to stir up stories that last well beyond the meal.
Almost one hundred percent of guests at the Alderbrook Resort & Spa are returning, whether for a meal or an overnight retreat, according to the staff. That statement is as extraordinary as the views. The resort is so accessible and friendly that some families who get acquainted while their children play together on the beach coordinate schedules of return trips. Occasionally, those children grow up and marry each other. Their destination wedding locale? Alderbrook, of course.
Christmas Festivities
Since the Alderbrook teams are experts at carving out relaxation and connections with others, the holidays may be the best time to discover this hideaway. Perhaps they are following Santa's advice: To successfully navigate the holidays, Santa keeps his twinkling eye on maximizing memories and traditions and minimizing chaos and stress. To keep a sane balance, Santa outsources — to elves. And Alderbrook stands ready to be, well, your elves. What on your list is a downright chore? Meal prep and cleanup? Entertaining multiple generations of guests? Check out Alderbrook's list of holiday activities and see what you and yours can enjoy there.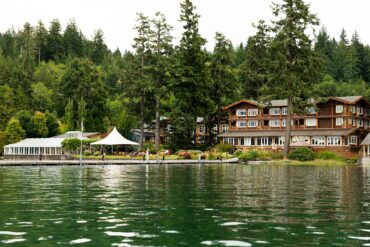 Thanksgiving dinner features traditional fare, plus specialty dishes based on distinctive seafood and produce. The remodeled restaurant sparkles extra bright with china, glassware and cutlery twinkling amid holiday decorations. The casual elegance of the Northwest will be at its finest. You will be at your wittiest and the cooking and dishes will be done off-stage — by elves.
The Friday after Thanksgiving, Alderbrook Resort & Spa kicks off "Holiday on Hood Canal," a traditional and anticipated event for bringing in the season of fun. An interactive program with carolers, a drum line and everyone joining in as part of the merriment leads up to the over-the-top arrival of Santa and Mrs. Claus amid fireworks.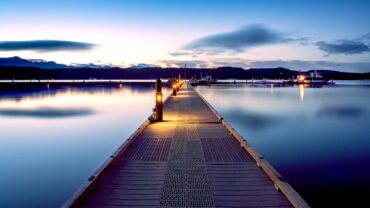 Santa drops by each Saturday morning until Christmas for another traditional event, the Santa Claus photos — mandatory for greeting cards and gifts for the grandparents. Ornament making, cookie decorating and short and long trails to great vistas will please some of the family. For others, people-watching from a nook and interacting with the resident lobby kitties, Alder and Brook, can fill up their holiday memory banks.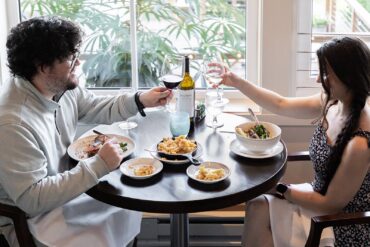 Down the road a bit, Union City Market offers a more casual atmosphere alongside a working marina. Culinary adventures of local seafood and brews at Hook & Fork open right onto the canal. Artisans present handcrafted wares, as well as specialty foods destined to be gifts. Easy shopping! For more relaxation, travel from the resort to the market aboard Lady Alderbrook, a 54-foot cruiser.
Upon returning to the resort, it's time for hot cocoa or cocktails, another excellent dining experience and nestling the gang into their cozy cottage. Should the joy and quiet of a magical snow fall during a visit, it will fill the family lore for years to come.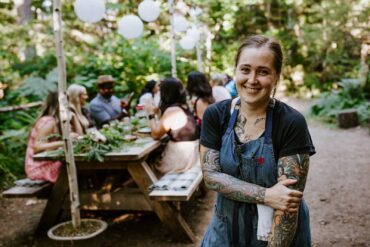 Year-Round Activities
Alderbrook Resort & Spa goes all out over the holidays, but it's open year-round. Each season brings a different flavor to the culinary offerings, and the Northwest shows another side of its natural beauty. Winter is quiet and lovely, a true respite after the New Year.
April is well worth a trip to Alderbrook. Spring break arrives with families and school-aged children excited to see what's up. A resident trail steward is available to take book-learning on the flora and fauna right out to the forest and beach. And April is the annual "Oyster Month," when extra-special dishes and activities celebrate the Hood Canal oyster. Grown right off the Alderbrook shore, these delicacies are at their sweetest in April.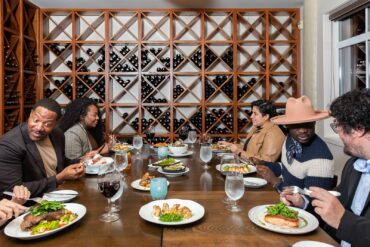 Business guests and corporate events pop up in May. June and July see wedding parties dotting the lawn with summer dresses, flowers and blue skies. In August, a flood of vacationers come before school begins again. Each day, each season has its own flavor, but weather, water, mountain and sky drive the activities and the resort is ready, come what may.
All holidays, Mother's Day, Easter, Father's Day, are extra-special when you gather around a meal fit to the occasion at The Restaurant. On Valentine's Day, engagements and anniversaries are supported by the staff who are in on romantic surprises.
A short distance from the main building is the Gathering Grove, where chef Harvey hosts elegant outdoor dinners. Seasonal table décor complete with china and glassware creates a fine dining experience in the forest. Harvey prepares and cooks the dinner on site while chatting about food and its history. And for a more casual but equally memorable dining event, Union City Market offers monthly "Canal Cookouts" to highlight the bounty of summer.
If you can't come for the holidays this year, book now for next year. Come often and enjoy the spiraling array of surprises set in one of the most beautiful places on Earth — right here in our neighborhood. It's almost guaranteed that stories will come out of a trip to Alderbrook Resort & Spa, stories that take on the flavor of family traditions. And what are memories if not our stories?