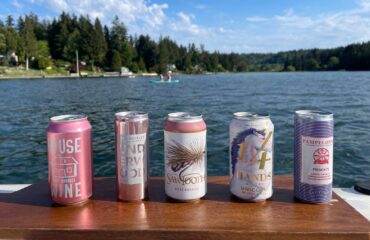 Most Pacific Northwest residents live for summertime. We survive the winters in hopes of spending every possible waking moment outside, soaking up the sunshine on the beach, in the parks, up in the mountains or on the water. Rosé is one of those wines that just hits the summer spot!
No matter what it's made of — and rosé can be made from almost any type of grape — if it's made in Washington, chances are it's going to be dry and easy to drink and can be easily paired with any kind of summer food. Rosé is truly a versatile wine. Pair it with barbecue, chips, seafood, salads, fresh veggies or anything else (except maybe a steak and even then, there are exceptions), and you'll be good to go.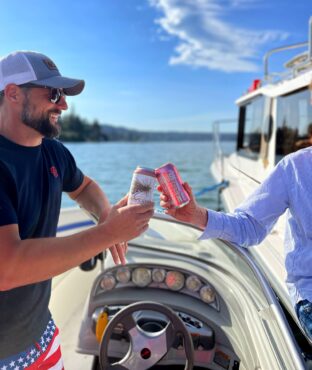 When heading out the door for your summer adventure, a glass bottle, wine glasses and a corkscrew can seem like a lot of extra gear. You don't want to leave your wine behind, but also don't want to pack all the things. While it's a long-held belief that wine in a bottle just tastes better, wineries are catching on to the packable trend of wine. A few wineries have made the investment to purchase the needed equipment to can their wines.
Since the equipment is such a big investment, you'll find canned wine is made by bigger producers, not boutique wineries. All beverage cans have a liner that keeps the liquid inside from meeting the aluminum. Wine cans are no exception. The taste and consistency of the wine isn't compromised because of the packaging unless it's exposed to high temperatures. When cans are left in high temperatures (like a picnic basket in the middle of summer), the plastic liner of the can (BPA or not) may let off harmful chemicals that may affect the flavor of wine. Be sure to keep your cans on ice to avoid this.
While the hope was to find some Washington wineries producing canned rosé to add to our summer on-the-go stash, only bubbly rosé was to be found. After scouring the shelves of Walmart, Safeway, Town and Country — both Poulsbo and Bainbridge Island — as well as High Spirits Liquor Store, only five different cans were available, all bubbly.
14 Hands Unicorn Rosé Bubbles
This was the highest alcohol and most expensive of the cans. 13% alcohol and a blend of cabernet sauvignon, syrah and merlot; $5.99 a can. The flavors were almost cider-like, with close to zero bubbles. The can design is fun and eye catching, but the flavors didn't meet what you would expect from a bubbly wine. Slight flavors of honey and cantaloupe and the alcohol was prominent in this boozy can. While the winery is in Prosser, the canned wine is packed in Auburn.
House Wine Rosé Bubbles
Dry, fruity and slightly mineral with an interesting lingering finish. Minimal bubbles in this one, too, with flavors of fresh berries, citrus fruits and hibiscus. The simplest, plain can design of the lineup and the wine inside matched. 12.5% alcohol; $5.50. Made in Walla Walla.
Underwood Rosé Bubbles
Made in Tualatin, Oregon, this wine is produced by Union Wine Co. This can, like the others, had very little bubbles and was refreshing and easy to drink, with flavors of pear and a slight peat moss, almost scotch-like note on the finish. The can calls out notes of wild strawberry, watermelon and tart cherry. 11% alcohol; $4.99.
Sawtooth Rosé Bubbles
Made in Caldwell, Idaho, the can was well designed and almost necessitates a cool stream, waders and a fishing pole. This wine had weird flavors that couldn't be pinpointed. Again, very little bubbles and almost off-flavors — possibly it was a bad can, which in theory can happen. The opacity of the can and sometimes aluminum smell can make a faulty can of wine harder to detect. 12% alcohol; $4.99.
Pampelonne Wine Cocktail
While this is not a bubbly rosé, how can you resist beautiful packaging and a beverage that sells itself as ambroisial elderflower, juniper and Meyer lemon delicately folded into fine French wine? Yes, yes and yes! Who doesn't love French 75 cocktail, which is a classic mix of gin, champagne, sugar and lemon juice? We wanted to love this can — we really did — but were sadly disappointed. The aromas and flavors were more like lemon Lysol cleaning wipes than Meyer lemon and once that flavor combo hits you, there is no turning back. No one wants to drink a can of cleaning products.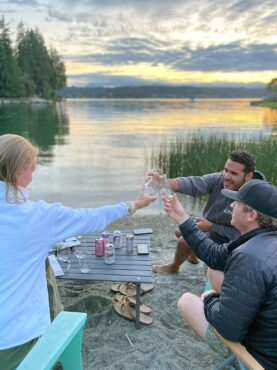 The packaging is beautiful and we were hoping for so much more from the description on the can: "A twist on a classic, our French 75 opens with aromatics of juniper, followed by fresh Meyer lemon. Balanced notes of citrusy, spice bergamot and our signature elderflower come together to create a crisp, yet not too sweet finish." Ingredients are wine, carbonated water, sugar, natural flavors, citric acid and fruit juice. Made and canned in Walla Walla. 6% alcohol; $3.99.
It's also important to note that canned bubbly rosé has a higher alcohol content than still wine and most cans equal two regular glasses of wine, so keep that in mind. While canned wine seems great in theory and is a fun addition to a day at the beach, none of these were amazing.
Try for yourself and see what you think. It can be a fun experience to evaluate a lineup like this, but think twice before the can design and portability calls out to you from that store shelf.