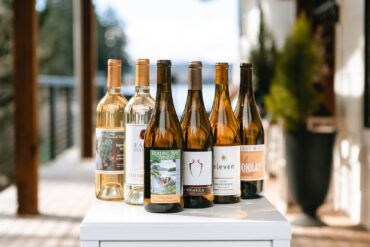 Get ready for spring. We're crushing on these super-sippable white wines from around the Sound.
Rolling Bay Winery is tucked into the heart of Bainbridge Island in the Rolling Bay community. Grab a bottle of its 2020 Pinot Grigio to enjoy on a Friday night at the winery — 100 percent pinot grigio, hand-picked at the top of Snipes Mountain in Upland Vineyard overlooking the Yakima River. When your menu starts turning from soups and stews to fish and spring salads, this is a great bottle to go with.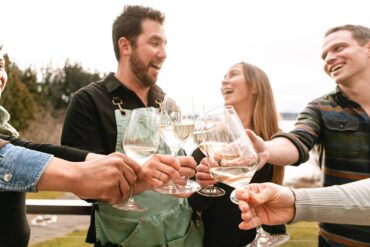 If you see "old vine" on a wine label, you may wonder what that means. While there is no specific age for a vine to be considered "old," a wine is generally considered old vine if it comes from grapevines that are at least 25 years old. It takes three years for a new grapevine to become established and start producing fruit. After 12 to 25 years, the grapevine is considered mature. As a vine ages, the productivity decreases and the grapes become more concentrated. This produces more flavor concentration in the glass.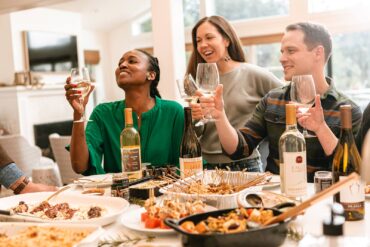 Old vines have had more time to establish deeper roots that absorb more water and if healthy, require less maintenance and are more tolerant to drought and disease. Fletcher Bay Winery produces a 2020 Old Vine Chardonnay from the Horizon's Edge vineyard in Zillah from vines that are 41 years old (planted in 1982). This wine is full of yellow apple, pineapple and vanilla notes.
If you're looking for a crisp, nicely acidic white wine, Eagle Harbor Wine Co. produces a 100 percent sauvignon blanc from Artz Vineyard in Red Mountain. Fermented in stainless steel tanks at cool temperature for 30 days, then cold stabilized, fined and sterile-filtered at bottling. With flavors of grapefruit and white peach, try this bottle with a warm goat cheese salad, fried zucchini or asparagus risotto.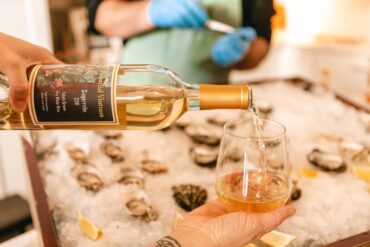 Perennial Vintners' 2018 Siegerrebe is as local as it gets — 100 percent siegerrebe grown on Bainbridge Island in the Puget Sound AVA. Derived from gewurztraminer, this grape has a lovely, rose-like floral and stone fruit character. Delicious for just plain sipping, but goes nicely with anything herbaceous, like delicate curries or German cuisines.
Did you know that you can make a white wine from a grape that is predominantly used for making red? Eleven Winery has done just that in its 2022 White Mourvedre. Mourvedre is a grape usually used in making a dark, soft and complex red wine, but Eleven harvested the grapes earlier than it does for the red mourvedre and makes this wine the same way as its other whites — with juice pressed directly from whole clusters of grapes. Think springtime, flowers blooming, possibly a warm-ish day (60 degrees?), an outdoor party and something like a grilled shrimp taco with pineapple-habanero salsa. The wine can stand up to the spice if you go easy on the habanero.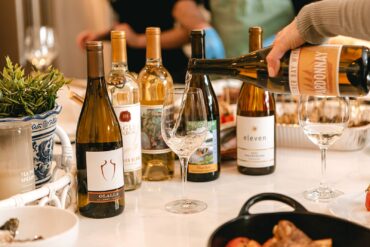 Olalla Vineyard & Winery has been in operation since 2008. Several years ago, husband-and-wife team Stuart Chisholm and Mary Ellen Houston purchased the vineyard and winery and have continued producing estate wines and sourcing grapes as needed from Eastern Washington. Look for the release of their 2022 Old World Rhone blend, Emmy, this spring.
Chisholm lovingly named the wine Emmy after his wife, who is often called M.E. or Emmy. Emmy is a blend of 60 percent marsanne and 40 percent viognier. The wine starts with authentic Rhone white wine influence — crisp, clean and floral. On the nose, experience aromas of Meyer lemon, apricot, lychee and golden delicious apples. With a bright acidity and balance and flavors of peaches, golden delicious apples, and a minerality on the finish, this wine pairs with a variety of foods that have been waiting all winter to grace your dinner plates.
When you look at this wine lineup, all locally grown or made on the Kitsap Peninsula, there really is no reason to look farther than a 30-minute drive for a great glass of wine this spring.