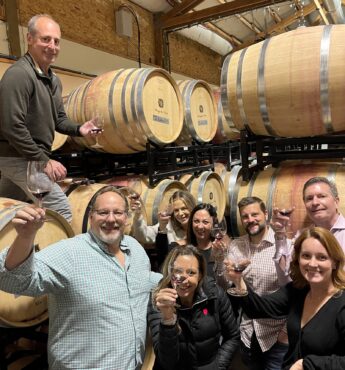 For those who know the history, the mention of the Mosquito Fleet brings to life memories or tales heard of the cavalcade of ships buzzing around Puget Sound. The fleet delivered people, goods, mail and just about everything else needed to destinations all around the waterway. Ships from the era developed such a distinct and hearty Northwest style and capability that they have sold all over the world.
Continuing to build on this theme of historic achievement and craftsmanship is the Mosquito Fleet Winery, which was established in 2009 by friends Jacquie and Brian Petersen and Jacy and Scott Griffin. Stopping by this winter season will allow you to enjoy the warmth and coziness of the renovated tasting room, decorated for the season. Each member of the team is knowledgeable of the wines and winemaking techniques and can share which new Mosquito Fleet releases they cannot wait to take home. They elevate the sipping experience for each guest by creating an atmosphere of fun and sophisticated unpretentiousness.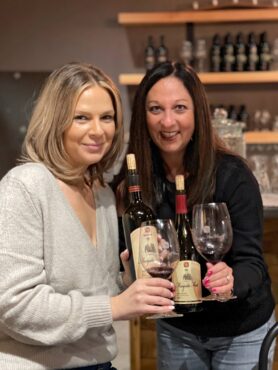 Brian Petersen is the winemaker and is often on site moving the wines along toward release. For those who enjoy learning about the strategy and process of a winemaker, he is very willing to stop and answer questions. Longtime club members know Petersen has a way of taking the complex and relating it in a way that all can understand.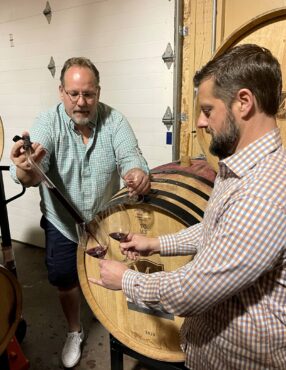 This artful passion for wine education can often lead to samples in the barrel room. Guests may find themselves tasting from barrels of three, six and nine months to experience the difference that time in oak barrels can make. Petersen may have you save a little of each in order to experiment with combinations that produce your favorite blend.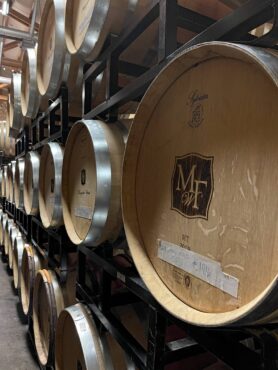 Captains Club members relate stories of exceptional winemaker dinners where discussions lead to potential releases that actually come to fruition. The staff make you feel like part of the winery, especially when you talk about the possibility of a certain varietal or blend in the future and eventually see it become a reality.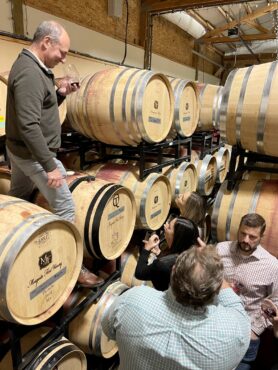 As a matter of fact, this is the case with the zinfandel you can pick up in 2023, which can make you part of a great release that was born as the Mosquito Fleet team and club members sat down for a winemaker's dinner. Another varietal that has already made a splash is the 2018 Cabernet Sauvignon, which scored 94 points with Great Northwest Wines. You can pick this up for a holiday dinner party or gift, or enjoy a bottle while catching up with friends at the winery.
While reds are the flagship, it wouldn't be unheard of to pop open a delicious sparkling white this time of year and "The Fairy" will do just nicely. The Sophia Syrah helped Mosquito Fleet stand out early on with the award-winning 2010 vintage. There are still some of the 2019 available.
From personal experience, for these cold evenings, the Griffersen Reserve is a fantastic dessert style that isn't covered in syrup. With only 8 percent residual sugar, it really allows the wine and exceptional brandy to shine through.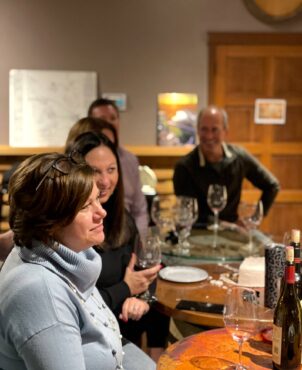 While there is plenty of reasons to stop by Mosquito Fleet Winery today, there are a few things not to miss in 2023, especially as the weather turns and has people once again moving toward the outdoors. The winery is known for a great outdoor space with live and local music. Enjoy a flight or a glass of your favorite while finally getting out for that date night. Pass the time with outdoor games and conversation as you find a new favorite wine and some new favorite friends.
If time gets away and you find yourself headlong into the new year without having followed the preceding advice, keep tabs on the winery for an exclusive release aged in centuries-old French oak. In 1669, King Louis XIV saved his top-of-the-line oak trees for building warships. These ancient oak trees began to go to auction in 2008 and 150 wine barrels were made. Fifty of those barrels made it to the United States and Mosquito Fleet has two of them filled with cabernet sauvignon from Paul Champoux. This one is going to be special. The winery will only bottle it when the time is right, and you'll want to move quickly to claim your share. Thankfully, Belfair is a lot closer than many may think.