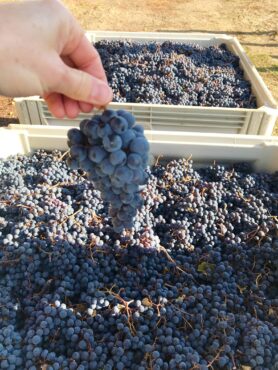 Fall is the time of year when all the winemaking happens. It's "go time" from mid-August (for some wineries harvesting early-ripening grapes like sauvignon blanc) until early November. For most of the wineries in Western Washington, harvest season means multiple trips back and forth to Eastern Washington to pick up grapes. There is mind-blowing planning involved and the opportunity for any number of things to go wrong along the way.
The winemaker is responsible for renting trucks to fit all the grape bins, timing the bin drop at the vineyard exactly right (usually before sunrise — hello, 4 a.m. alarm) to ensure they are ready and available when the pickers need to fill them and not letting the grapes sit for too long in the truck before making the trek back to Western Washington. When you throw in a ferry ride and the possibility of early snow on Snoqualmie Pass, you're in for a few months of full-throttle adventure and days run on adrenaline and caffeine.
Fletcher Bay Winery owner and head winemaker Jim Wilford is a veteran who thrives on the crazy harvest schedule. He has worked for the past 14 harvests doing the regular Eastern Washington route, dealing with many of the same vineyards he still sources from today. One of his longest sourcing vineyards is the Crawford Vineyard in Prosser. Owners Chuck and Connie Crawford have become close friends.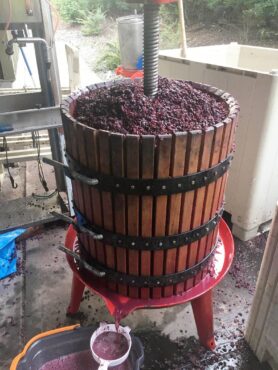 Several years ago, Alan Vogel joined the winemaking team and started accompanying Wilford for the grape pickup. He also formed a relationship with the Crawfords and one night over a couple bottles of wine, joked with the couple that they should plant some pinotage grapes for Fletcher Bay. Vogel is native to South Africa and pinotage is a main grape grown in the country. The Crawfords said yes and planted two rows of pinotage for Fletcher Bay.
The 2022 vintage will be the third year of sourcing this grape and they just released their first pinotage in August. The combined 2019 and 2020 vintages only produced 25 cases of this wine. They'll again harvest in 2022 and hope for more yields.
Another noteworthy and unique grape sourced from Crawford Vineyard is sagrantino. With just four rows of this grape planted, they were able to harvest enough in 2020 to release a small amount next year. If you haven't heard of this grape, you're not alone. Sagrantino is a rare, deeply colored red wine grape variety grown mostly in central Italy in the Umbria region. It's Italy's most tannic variety and also contains some of the highest antioxidant levels of any red wine.
Overall, Fletcher Bay Winery will harvest about 43 tons of red grapes (up from 30 tons in 2021) and 18 tons of white grapes this year. Cabernet sauvignon has always been their flagship wine and will come from Red Path Vineyard on Red Mountain. Their sangiovese this year will be grown organically from Blue Mountain Vineyard in Walla Walla.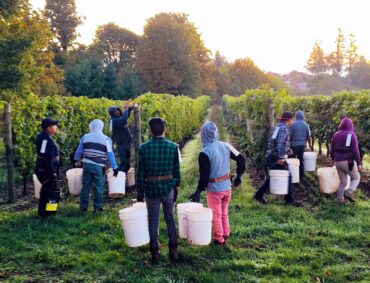 The winery is also sourcing merlot and cabernet franc and this will be an extra special vintage for the winemaker. Wilford and his only daughter, Tara, traveled to Saint-Émilion in the right bank of Bordeaux, France, in the spring of 2008, prior to Fletcher Bay Winery's first harvest in the fall. Their goal on this trip was to taste and find the perfect Saint-Émilion-style blend of merlot and cabernet franc to release as the first red wine blend for the winery.
Tara was 13 years old at the time, had already taken two years of French and was the pair's translator. She helped create a blend with her namesake, Tara Rouge. This year, she is getting married, and the vintage of Tara Rouge will be one they will both remember.
The couple's rehearsal dinner will be at the winery's rooftop tasting room on Winslow Way. This rooftop location has been a popular venue for rehearsal dinners, weddings, birthday parties and other events. The tasting room's rooftop and the winery are both available for rental. Visit either location year-round on Bainbridge Island for good wines and an even better good time.