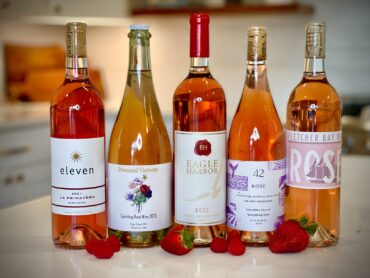 The rosé season is upon us, and pink wine is all the rage. Not the pink, white zinfandel your mother (or maybe even you) used to drink, but dry, crisp wine made from red wine grapes.
To make a rosé, you can start with any kind of red grape, but some of the most popular types used to make rosés are pinot noir, sangiovese, grenache and syrah. Some wineries, like Eleven Winery on Bainbridge Island, use many different kinds of red grapes to make a rosé.
Every year, Eleven's La Primavera rosé is a bit different, consisting of a blend of juices from the various purple grapes they're vinifying into red wine. The 2021 La Primavera Rosé is a blend of 30 percent syrah, 25 percent merlot, 17 percent cabernet sauvignon, 16 percent tempranillo and 12 percent malbec — which spent five months in barrels. Those juices are pulled from the tanks of crushed grapes between one and 24 hours after crushing (a technique known as saignée — French for "bleeding" because you only bleed part of the juice), just long enough for the skins to impart a hint of their flavor and color to the juice.
Which grape varieties end up contributing to the rosé and in what amounts can vary quite a bit from year to year depending on the ripeness and balance of the fruit as it comes in, as well as which varieties are most suitable for rosé. One of the benefits of the saignée technique is that it helps improve the quality of the red wines as well — by removing some of the juice early on, the flavor and color in those wines become more concentrated. Initial aromas of rose petal and fresh linen with an underlying, deeper raspberry tea leaf follows, increasing both the complexity and anticipation. The fruit flavor flows from crisp fuji apple to pluot, ending with a fun white cranberry flavor.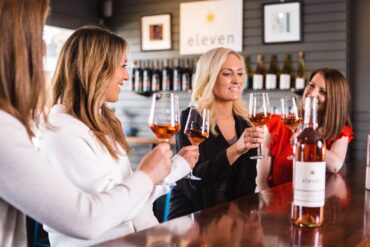 Eleven Winery works with Bainbridge Island's Chef JJ Johnson of Wanderlust NW Catering to develop recipes for each of its wine club releases and he recommends paring this bottle of rosé with an heirloom cherry tomato gazpacho. Try his recipe (see end of article) on a hot day with a chilled bottle of rosé.
A wine is considered a rosé when there is some color in the wine from the grape skins, but not enough to qualify as a red wine. Rosés come in a wide range of styles and colors. The color can range from very pale orange to dark, bright pink, depending on the type of grape and winemaking technique. Rosés made using the skin contact method are produced with black-skinned grapes and after crushing, the skins remain in contact with the juice for a short amount of time. The juice is then pressed out and the skins are discarded. Rosés also run the range of sweetness levels from very dry Provencal rosés to sweet white zinfandels and are made not from one single varietal, but from a wide variety of grapes.
Rosés can also be made with bubbles like Perennial Vintner's 2020 Sparkling Rosé. This wine is made from grapes grown on Bainbridge Island at its vineyard site, the smallest in the state. The winery is 3.5 acres total and 2.5 of them are planted with grapes. This rosé bubbly is a blend of the best of the five Puget Sound grapes — zweigelt, melon de bourgogne, siegerrebe, pinot noir and fruhburgunder. The label design features a bouquet of five flowers, a flower representing each of the grapes included in the blend.
It's a dry, light salmon-colored bubbly that greets your nose with the aromatics of a Rainier cherry and mountain strawberries, and includes tropical notes of lychee and rosehips. The aromatics are true to the palate, with the added structure of a mineral finish laced with citrus. A delicious expression of Puget Sound AVA grapes, blended to perfection with just the right amount of bubbles.
A 100 percent grenache rosé from the Horse Heaven Hills can be found down the road from Perennial Vintners at Eagle Harbor Wine Co. The grapes for this rosé were destemmed and crushed, then macerated 16 hours before pressing to juice. Maceration is when the seeds, stems and skins are left in contact with the grapes for an extended period of time.
Maceration times can vary depending on the type of wine being produced. Red wines typically have extended maceration time averaging seven to 40 days while rosé wines have a short maceration of two to 24 hours. The longer the maceration time, the more color and complexity in the wine. If you've heard the term "skin contact," this is the same as maceration.
State 42 Wines in Poulsbo makes an absolutely delicious cool climate rosé of tempranillo from Acadia Vineyard in the Columbia Gorge. This vineyard is certified organic and is volcanic soil 1,600 feet above the Columbia River. The wine is bright and balanced with lots of watermelon, dried strawberries and herbs with a crisp minerality on the finish. This bottle is available at the winery's Front Street, Poulsbo tasting room, as is a newly released oaked aged rosé you'll definitely want to check out. This will be your summer water on repeat.
Fletcher Bay Winery is also producing a fun and fruity rosé on Bainbridge Island. The 2020 is a blend of 53 percent syrah and 47 percent cabernet sauvignon from the McNary and Four Feathers Vineyard in the Columbia Valley.
With so many wineries now making rosés, it's easy to get overwhelmed by your choices. Choose one of these bottles, available for sale at the tasting rooms or many of them online through the winery website. You can't go wrong and supporting local is always a great choice.
Cheers to summertime in a glass!
---
Heirloom Cherry Tomato Gazpacho
Finished with Cucumber Brunoise and Chili Oil
Recipe Courtesy Chef JJ Johnson, Wanderlust NW Catering
Makes 4 servings as a light summer starter course
Ingredients:
1 pound ripe heirloom cherry tomatoes (about 4 cups), washed
4 Persian cucumbers, 3 peeled and roughly chopped and 1 cut into brunoise (tiny cubes 1/16 by 1/16 by 1/16 inches) (Reserve brunoise cucumber separately.)
1 jalapeno or Fresno chile, stemmed, seeded, deveined and coarsely chopped
1 fresh shallot, peeled and coarsely chopped
1 clove fresh garlic, peeled and smashed
2 tablespoon apple cider vinegar (or red wine vinegar or sherry vinegar)
1 slice sourdough bread (does not need to be fresh but cannot be moldy at all; dry or stale is fine)
1/4 cup salted and fried marcona almonds
1/3 cup extra virgin olive oil
1 1/2 teaspoon kosher or sea salt, plus extra to taste
Fresh ground black pepper
2 teaspoon chili oil to finish (you can make this by steeping 1 tablespoon chili flakes in 1/2 cup olive oil over low heat approximately 30 minutes to an hour; let cool, then strain chili flakes out and reserve oil)
Instructions:
For the gazpacho: Place the tomatoes, cucumbers, chili, shallot, garlic, vinegar, bread, almonds, oil and salt in a blender. Blend until very smooth. Taste and adjust the seasoning with salt and pepper to taste. Refrigerate for 2 hours or until ready to serve.
To serve: Stir well then ladle the gazpacho into four chilled soup bowls and top with the cucumber brunoise and a few drops of chili oil.