Bushel & Barrel Ciderhouse is Kitsap County's first and only cidery. It's more than a place to gather and have a pint of cider. In the year since its opening, Bushel & Barrel has become a community hub, hosting events and local meet-up groups and giving back.
Bushel & Barrel started when owner Melissa Kittrell, then a nuclear machinist mate in the Navy, had an idea to supply cider to the Poulsbo breweries. She has a background in chemistry and wanted to fill a need to complement what the breweries were doing rather than competing against them.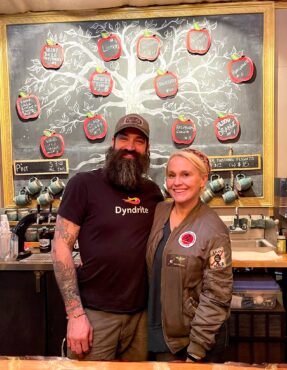 Kittrell has always liked cider and started making it and selling it to Poulsbo breweries in 2014. Volholl was the first brewery to sell her cider and demand and interest was instant. So she procured bigger tanks and increased production.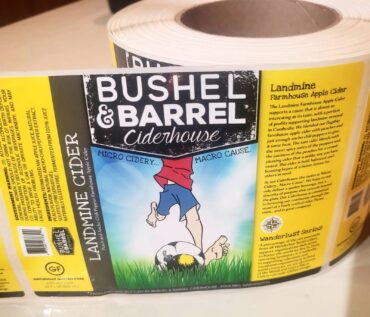 In the early days, Kittrell was very experimental with her cider flavors, and some were wild and crazy and did not get the acceptance she wanted. As she continued, she found her sweet spot, crafting some amazing ciders. Today, she makes a wide range, but still has some of those wild and crazy flavors, like peach and ancho chile cider. The sweet heat of the ancho pepper is a great complement to the fruity flavors of ripe peach in this delicious brew.
In 2016, Kittrell wanted to start her own tasting room out of a desire to use her cider for community development and as an avenue to help local citizens in need. She had a vision that extended beyond producing great craft cider.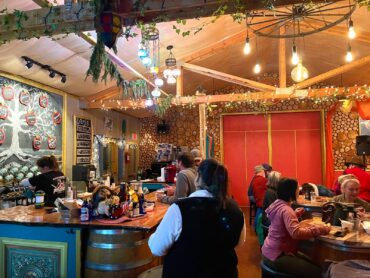 The mantra at Bushel & Barrel Ciderhouse is "micro cidery, macro cause." Kittrell doesn't want to own a business that merely exists. The cidery is currently producing a series of ciders where a large percentage of the profits go to local charities and projects. By reinvesting profits into the community, the hope is to create awareness within the company's circle of influence that every small action can create exponential gains and cause change on a macro level.
The Bushel & Barrel Wanderlust Series is based on experiences Kittrell had while traveling overseas. Sales from this cider series helps remove landmines in Cambodia. The Sasquatch Series benefits Kitsap County Trails and the Community Series gives back to local shelters helping domestic abuse survivors.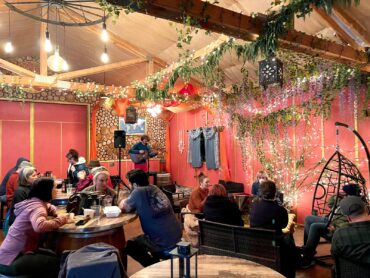 The flagship cider style is unlike many commercial varieties that you see on the shelves at the supermarket. Bushel & Barrel specializes in traditional farmhouse-style English ciders, which are full bodied and packed full of flavor. The cidery doesn't filter its ciders, which ferment to slightly off-dry. Bushel & Barrel also uses Washington apples grown in the Yakima Valley.
Throughout the many twists and turns of searching for the right location, county permitting and liquor control board changes, Bushel & Barrel finally opened for tasting in January 2021, right in the throes of the pandemic. The opening weekend was like a scene from a mountain ski lodge. The garage door was rolled up and had to remain open for airflow, the weather was freezing and everyone was bundled up — but people came.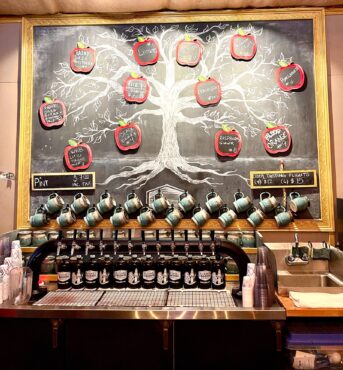 Since then, the business has continued to grow and there are more plans for expansion. The farm property is almost 20 acres, and you can catch the full farm vibe in the summertime at the tasting room. Disc golf, corn hole, alpacas and goats are all part of the draw for families who want to hang out and have a good time. Live music, open mic nights and food trucks are also part of the year-round weekly rotation.
Kittrell is not in this alone. Working alongside her is her partner (both in business and in life), Joel Atteberry, whom she met while they both worked at Bangor. You'll find them both at the cider house most nights and they are always happy to share their story and their delicious cider.