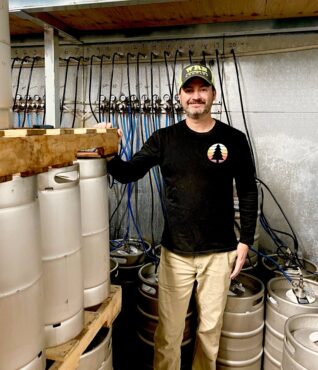 It was honestly something I had never considered before. A clean glass is a clean glass, right? Wrong. Things like detergent residue and lingering oils are common on glassware, and they can alter the aroma and flavor of your beer — and their presence means that glass isn't really clean.
A glass is considered a "beer-clean" glass if, after pouring a beer into it, no bubbles appear on the sides of your glass. If bubbles appear on the side of the glass (and head retention is ordinary), the glass is not clean.
Another way to tell is just by dipping your glass in water. If the water coats the inside evenly, then you're good. If you end up with droplets on the inside of your glass, it could be cleaner.
One other easy way to determine if you have a clean glass is to look at your beer in your glass as you're drinking it. You'll see layers, called lacing, which should adhere to the sides of your glass. If the layers are gone and you have what looks like a flat beer, without much foam, your glass might not be clean.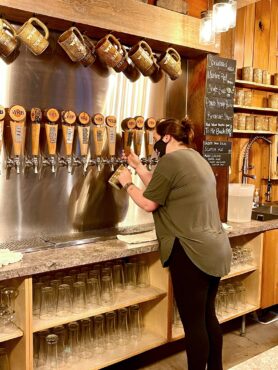 It's the importance of a clean glass and many other details that often go unnoticed but make a big difference in the quality of enjoying a beer. Rob Baysden, sales manager at Western Red Brewing in Poulsbo, exhibits this kind of attention to detail, meticulous thought and beer knowledge as he reviews the fresh sheet and discusses the different styles and types of beer on the list. Since he started this past fall, he has been busy keeping up with distribution demand. You can find Western Red at many of the local hot spots — Bay Hay and Feed on Bainbridge, High Spirits Liquor in Poulsbo and many more locations across Kitsap County.
As with many breweries, a home brew passion turned into the real deal in 2017 for Western Red. Father-son duo Paul and Denver Smyth had been home brewers for many years. When their beers got rave reviews batch after batch, they saw the potential in something more than just brewing for friends.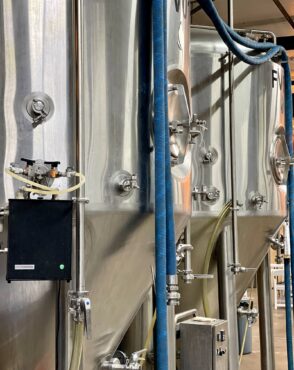 In the four years it's been open, the brewery has received several accolades, including Best Upcoming Business of the Year in 2018 and Business of the Year in 2019 from Poulsbo Chamber of Commerce. It also took home the Poulsbrew Fest People's Choice of Beer for Tin Hat Strawberry Blonde in 2019 and beat out the other four Poulsbo breweries for The Kitsap Daily News Best of North Kitsap contest, taking home the award for Best Brewery in 2019 and 2020 (and as s finalist in 2021).
The first beer that Western Red produced was Main Line Red, which is a mainstay today. It's a malty and sweet amber, with caramel and biscuit flavoring with an alcohol by volume (ABV) of 5.24 percent. The brewery offers seven different mainstays that are always on the menu, seven barrel-aged beers that have been aged in wine or whiskey barrels, a handful of seasonal beers and several more that are always in the works and soon to be released.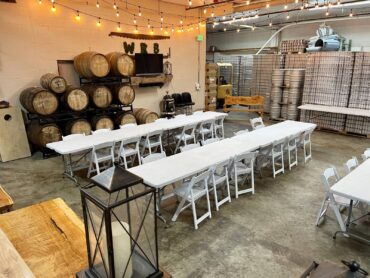 One such newly released beer is the Engine Company No. 5. This beer is very unique and the only one of its kind in the area. A malt forward, light bodied, slightly spicy, hint of caramel, smooth and dry finishing beer, Engine Company No. 5 is also known as an altbier.
Altbier (often abbreviated to alt) is the name given to a form of pale ale that originated in Düsseldorf, Mönchengladbach, and the Rhineland region in Germany. The name altbier, which literally means old beer, refers to the pre-lager brewing method of using a warm top-fermenting yeast like British pale ales. Over time, the alt yeast adjusted to lower temperatures and the brewers would store or lager the beer after fermentation, leading to a cleaner, crisper beer than is the norm for an ale. This beer is a mix between a traditional bready blonde, an American amber and an Irish red and it's delicious and easy to drink at 4.7 percent ABV.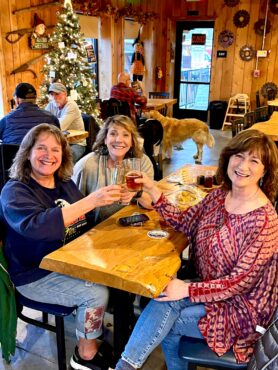 In addition to an ever-rotating line-up of uniquely amazing beers, you'll also find cider from Poulsbo's Bushel and Barrel Ciderhouse on tap, as well as wines by the glass from the Front Street neighbor, State 42 Wines.
The brewery's mug club has 185 members and is currently closed, only adding new members when a vacancy becomes available. For a $100 buy-in, members receive a 20-ounce stein with their name on it and each time they visit, their mug can be filled for the price of a 16-ounce pour (kombucha included). The membership also offers discounts on merchandise, snacks and beverages, as well as an additional 25 percent off on the member's birthday. One visit to the brewery will leave you wanting to be part of this coveted club.
High-quality ingredients produce high-quality beers. All hops are sourced locally from Yakima and the grain comes from Skagit Valley. When the grain is done being used, the brewery donates it to local farms to feed their animals.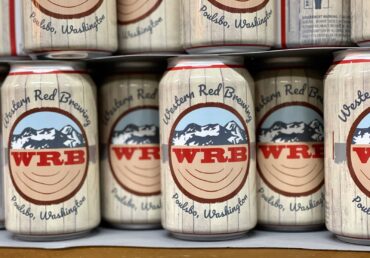 The Smyths have created a warm and inviting atmosphere where families are welcome and community is encouraged to gather and connect. Open mic night happens each Wednesday, with amazing local musicians stepping up to the stage to entertain the brew crew. Every Tuesday is trivia night and you'll be lucky to get a table. You need to make reservations on the previous Sunday to secure your table for the fun weekly event. Other events happen throughout the year, including a New Year's Eve murder mystery and other gatherings that sell out fast.
This will quickly become your new favorite place to hang out and grab a drink in Poulsbo. Since Western Red Brewing serves beer, wine, cider, kombucha and other nonalcoholic drinks, there is literally something for everyone. The brewery is located at 19168 Jensen Way NE (across from the post office) and is open seven days a week — score when you're looking for something to do in Poulsbo on a Monday or Tuesday and everything else is closed.