It wasn't long ago that craving for good barbecue would mean going to Texas, Kansas City, Memphis or North Carolina. There were only one or two places locally that even knew what "real" barbecue was, let alone customers who wanted it.
But in the past five or six years, both the number of options and the number of aficionados have increased and now smokey, authentic 'cue can be found in several places from Gig Harbor to Poulsbo and beyond. Most feature Texas-style barbecue with a focus on meat rather than sauce.
Gig Harbor
BBQ2U in Gig Harbor opened its doors in 2017 in the space formerly occupied by a state liquor store. Owner Gary Parker learned to cook barbecue as a kid growing up in east Texas, where, he said, "everybody had a pit in their backyard."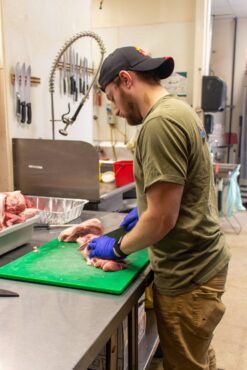 He wound up in Gig Harbor after retiring from Intel's Dupont, Washington site, where he worked as an engineering director.
When a Gig Harbor neighbor asked about "all that smoke" coming from Parker's backyard, he told the neighbor not to worry, he was "just smoking ribs."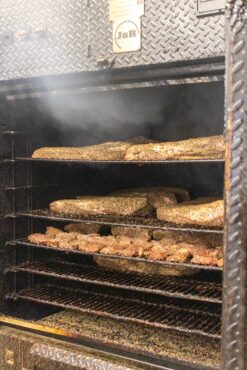 "He'd never seen such a thing," Parker recalled. "So I invited him to come over and have a taste." That was when Parker realized that Washington "just doesn't understand barbecue," he said. "Next thing I knew, the neighbor was asking me to cook ribs for his kid's graduation party."
Parker soon was "running around with a big smoker on a trailer," cooking barbecue at car races and other events and catering an occasional private party. When he decided to settle down, the planets aligned and he scored his current Gig Harbor spot.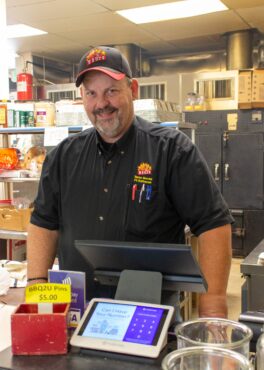 Parker loves to talk about the history of barbecue in America and our country's rich barbecue culture.
"The whole concept of barbecue has been around for generations. It's all about cooking meat slowly over a fire," he said, "but there are distinct differences from region to region."
In the Carolinas, you'll often find a whole hog roasting on a spit, with a sweet, sticky, mustardy sauce at the ready. In Kentucky, the sauce is very dark, almost black, with a Worcestershire base. In the Midwest, Omaha and Kansas City, 'cue focuses more on pork, especially ribs, with a sweet, spicy sauce. Memphis barbecue also features pork, either in rib or "pulled" form, and is either wet or dry. Wet is sauce-slathered; dry is smoked in a rub.
And then there's Texas, where barbecue is king and brisket rules — cooked low and slow with a dense, flavorful crust. Which is what you'll find at BBQ2U, along with beef "dino" ribs and pork ribs (dry or sweet), pulled pork, turkey, chicken and beef sausages. True to his Texas roots, Parker uses post oak wood in his smokers, brought by special arrangement from deep in the heart of the Lone Star State, 2,600 miles away.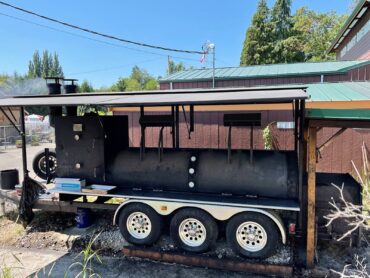 Like most other barbecue joints, BBQ2U thrived during the COVID-19 lockdown by quickly shifting to take-out only. The restaurant barely skipped a beat and in the first six months of 2021, it went through 15 tons (yes, tons) of brisket, 7 tons of pork shoulder, 5 tons or ribs and a ton-and-a-half each of turkey breast and chicken thighs.
"We smoke 15 briskets every single day, starting at 5:30 a.m.," Parker said. "We'd do more, but that's all the smoker can hold."
And also in true Texas tradition, sauce is served on the side. "Back home, they say, 'We got nothing to hide, so sauce is on the side,'" he said with a laugh.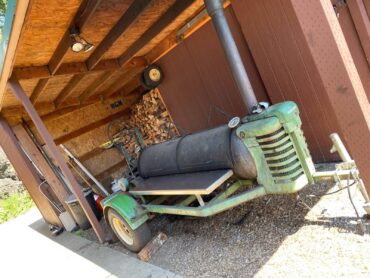 In addition to the meat choices, BBQ2U also offers a simmered-in-sauce jackfruit sandwich and jackfruit by the pound. And, of course, it also features several side dishes, including fried pickles, coleslaw, baked beans, fried okra and the ever-popular mac and cheese and deviled-egg potato salad.
BBQ2U is well-known for its community involvement. Parker supports the local Little League and has developed a special program that gives 10 percent of the daily food profits to local schools. He also has a "Books and Barbecue" spot in the lobby where local authors discuss and sell their books.
BBQ2U: 4814 Point Fosdick Drive, Gig Harbor; 253-313-5656; texasbbq2u.com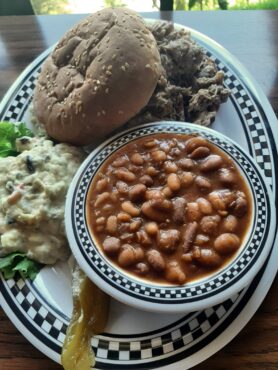 Gorst
The historic Wigwam Tavern, off the beaten path on West Belfair Valley Road in Gorst, is West Sound's hidden gem for barbecue, especially pulled pork. The Wigwam has a rich history as a community gathering place dating back to 1933.
The Sweet family purchased the tavern in the mid-2000s. "We wanted to open a brewery," said current owner Josh Sweet. "But so many neighbors were excited that the Wigwam was back that we decided to keep it as a tavern."
Sweet and his late brother grew up cooking barbecue with their father in Texas, and in 2012, they moved their dad from Texas to West Sound "to take care of the barbecue menu."
"I started cooking with my dad when I was 8 years old," Sweet recalled. "Dad owned a barbecue place, but our main thing was going all over Texas competing in barbecue and chili cook-offs."
Although the Wigwam is probably best known for its pulled pork sandwiches and sliders, it also offers brisket, its "signature smoked beef dish." Have it on a plate with two sides or as a sandwich or slider.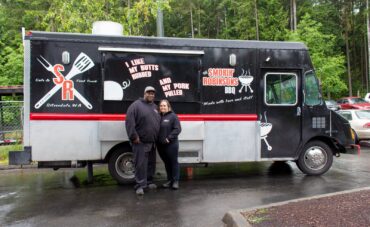 The tavern also does hotdogs in half-a-dozen different ways, from "naked" (just as nature intended) to Texas Dog (chili, onions, mustard and cheese), to "Hog Dog" (smothered with pulled pork, mustard and barbecue sauce), to Texas Hog Dog (smoked pulled pork, chili, onions, cheese and mustard). Oh, and a "Wiggy Dog" that features one of Wigwam's famous Wiggy Pickles, Wiggy slaw and mustard.
And those sides — well, Wigwam's sides are unique, starting with the Wiggy Pickles, dill pickles soaked for a week in a brine of hot sauce and sugar. They're "just delicious and really popular," Sweet said. "And we actually sell them by the gallon if you want a lot."
The crew also cooks up 5 gallons of chili (Texas style — no beans) every week. Other sides include mayonnaise-based Texas-style potato salad, mac salad, soft pretzels, smoky barbecue beans and a unique coleslaw that's vinegar-based, with chopped apple and slivers of jalapeño. "It's just the right amount of spicy," he said.
Occasionally the tavern adds bacon-green beans or jalapeño corn to the sides list. There's also free, movie-style popcorn to go with the beer — of which, in good tavern style, there are usually about 16 varieties on tap.
The tavern has two big offset smokers, including one fashioned from an old propane tank and made to look like a John Deere tractor; the other, custom-built in 2016. In an average week, they smoke around 400 pounds of meat, Sweet said, starting at 4 a.m. every day.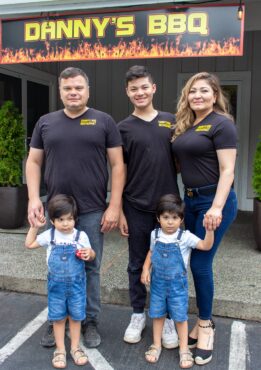 Wingwam purchases the meats from Minder Meats in Bremerton and, with a nod to the Northwest, smokes them with alder and fruit woods.
During COVID-19, the tavern stayed open by switching to take-out only.
"So many of our customers rely on us. We get a lot of shipyard workers and just a lot of people who depend on us to be here," Sweet said.
And the Wigwam was one of the first places to open when the all-clear was given. "We had a long line of folks waiting at 11:30 a.m. the day we re-opened," he said.
Sweet and his crew have slowly brought back the live events the Wigwam is known for, including live music and Wednesday bingo games. On Texas Tuesdays, the tavern tweaks the menu to feature specials like smoked meatloaf, ham, London broil, chicken, tri tip or ribs — or smoked portobello mushrooms for the non-meat eaters.
Wigwam Tavern: 3648 W. Belfair Valley Road, Bremerton (Gorst); 360-813-3548; tavernwigwam.com
Silverdale
Two Silverdale 'cue joints are consistently on Best of West Sound lists.
Smokin' Robinsons opened almost eight years ago in the Chevron fuel station at the corner of Newberry Road and Seabeck Highway. Owners Mari and Al Robinson had worked at another restaurant and decided that they wanted to do their own thing. Although their most popular items are their smoked brisket and pulled pork, their menu also includes smoked chicken and St. Louis-style ribs, burgers and unique offerings like fried catfish, lumpia, Philly cheese steaks and smoked chicken Caesar wraps.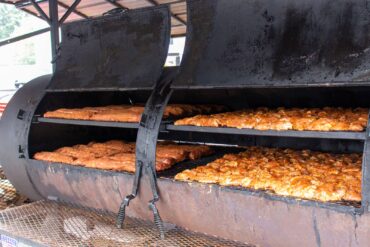 The Robinsons' "Smokin' Sides" list is also long and varied. In addition to the usual coleslaw, potato salad and baked beans, they offer mashed potatoes, collard greens, fried green beans, fried okra, fried green tomatoes, fried pickles, gizzards, sweet potato fries, sautéed corn and bacon mac'n cheese.
Although the restaurant is a tad bit hidden, it's been popular from the start, Mari Robinson said.
"It's hard to find a place in town where regulations will allow a smoker, but when we learned about the space that was available in the Chevron station, we jumped on it," she said.
In 2017, the Robinsons added a food truck. That has given them the ability to move around to weekend events like beer festivals and other venues. Weekdays, the truck is usually parked near the shipyard, "so we get a lot of shipyard people, too," Robinson said.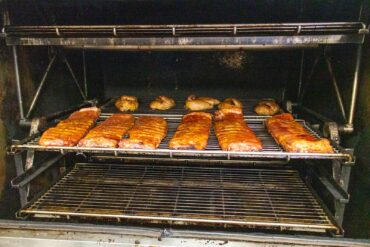 The establishment uses an old propane tank smoker that is fired up with charcoal and local hardwoods such as alder, apple and cherry. "We also try other kinds of fruit woods that friends bring us, but mostly we go with cherry," she said.
Like other barbecue spots, Smokin' Robinsons made it through the pandemic shutdown relatively unscathed.
"We do mostly take-out anyway," Robinson said. "We had to remove the few tables we have and we didn't do as much with the food truck because all the events were cancelled. But all in all, we were able to keep going and didn't get hurt." Nowadays, she added, the restaurant often sells out of brisket and pulled pork, so it's a good idea to come early.
Juan and Yadira Fimbres have owned Danny's BBQ on Silverdale Way since 2017. They've won Best in West Sound awards every year since they opened and display the awards proudly on the restaurant's wall.
They inherited the name "Danny's BBQ" and, because the restaurant was already well known, thought it best to not change it. Besides, since they have a son named Danny, the name fit, Juan Fimbres said.
But the couple did make some changes to the menu. "We made it better," he said with a smile. "We've given everything a touch of home."
Although the family hails from Arizona, they spent a lot of time in Texas, which is why the "Real Texas Barbecue" label sticks.
Like several other West Sound 'cue spots, Danny's uses a mix of Northwest hardwoods like alder, maple, cherry, apple and even, occasionally, madrona.
"If I could get a regular source for mesquite, I'd do all mesquite," Fimbres said with a smile. "Then it would be totally authentic Texas."
The smokers get fired up around 2 a.m. and the meat — brisket, pork, chicken and hot links — is ready for the lunchtime crowd. There's usually already a line at the door when the restaurant opens at 11 a.m.
True to Texas tradition, the meat is rubbed with salt and pepper and a few secret spices — never sugar. "We hardly buy any brown sugar," Fimbres said. "The only thing we add sugar to is the sauce." Which, also in true Texas fashion, is secondary. Meat is available by the pound, in sandwiches or in Texas barbecue meals.
Danny's sides include luscious smoky macaroni and cheese, Texas-style baked beans (savory, not sweet), potato salad, coleslaw, an unusual but tasty sauté of zucchini and peppers, cornbread and Texas toast.
"There's a hundred ways to make beans," Fimbres said. "Most places make them sweet, but our customers like them savory, so that's how we make them."
When the Fimbreses bought the restaurant, they didn't get any of the former owner's recipes, so they had to rely on what they knew and figure things out on their own.
"We just listened to our customers, and we do everything the way that they like — which is how we like it, too," Fimbres said. "We taste everything every day — that's what a good cook does. You can look at our reviews online and you'll see that we don't have any bad reviews, ever."
When COVID-19 restrictions were lifted, the restaurant's catering business resumed. "Once again, we're catering a lot of weddings and retirement parties and other events," Fimbres said.
Danny's BBQ: 11871 Silverdale Way NW, Silverdale; 360-692-6620; silverdalebbq.com
Poulsbo
Perhaps the best known barbecue place in Poulsbo is BBQ Central in the big silver silo at Central Market. Brisket, chicken, shredded pork and pork ribs are slow-smoked over apple, hickory and cherry woods and can be purchased a la carte by the pound or in sandwiches. (A few years ago, BBQ Central's menu also included the tastiest smoked chicken wings you'll ever find — until the price of wings got prohibitively expensive.)
Sides are basic: cabbage and carrot slaw in a mayo-mustard sauce; sweet Tex-Mex beans simmered with smoked brisket and smoky bacon, and a classic mayo-based potato salad. Sauce is on-the-side — a blend of spicy and sweet. From October through spring, hours are iffy, but some BBQ Central items are available inside the store in the hot "grab-and-go" section.
BBQ Central: central-market.com/bbq-central
The Smoked Asian, also in Poulsbo, has a unique menu of smoky meats with an Eastern twist: pulled pork or brisket lumpia, ribs, brisket fried rice and pork belly sandwich — all served from a food truck. (Search for The Smoked Asian on Facebook.)