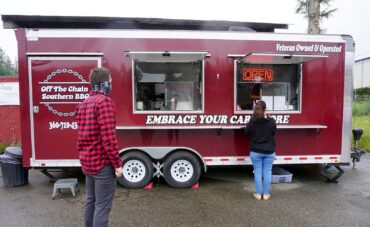 Calvin Grant always dreamed of owning a food truck. He told his wife, Toalva, about his postservice ambition while both were in the military. He announced it at his Navy retirement function. So, it came as no surprise when he opened Bremerton's popular Off the Chain Southern BBQ food truck in 2016.
The sleek, burgundy trailer located on Wheaton Way is a family operation. Calvin, who comes from South Carolina, and Toalva, born in Samoa, trade off cooking and serving duties, dishing up hearty portions of pulled pork sandwiches, po'boys and nachos, dirty mac, brisket sandwiches and ribs so tender, they fall off the bone. Full meals are served with a choice of sides: spicy baked beans, mac and cheese, coleslaw and cornbread, all of it seasoned with the Grants' homemade sauces and seasonings.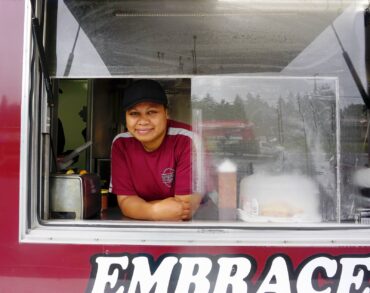 Loyal barbecue fans know to check the truck's Facebook updates for daily menu specials like Texas Twinkies (jalapenos stuffed with brisket wrapped in bacon and cream cheese) and upcoming public events the truck is catering.
The Grants' mobile food business is one of several food trucks in West Sound, all of them modern-day descendants of 17th century street vendors who peddled lunches to factory workers in New York City and Chicago from hand pushcarts. The pushcarts got an upgrade in 1866 when Texas rancher Charles Goodnight outfitted an army-surplus wagon with shelves, a Dutch oven and water barrel, then hitched it to a team of mules and called it a chuck wagon — sending his mobile cookhouse on trail drives to keep his cowhands fed.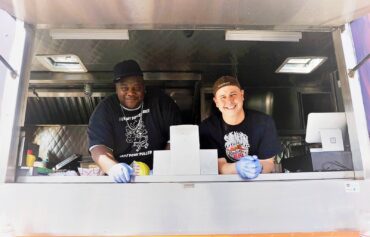 Sixty years later, Harry Burt, an Ohio entrepreneur, invested in 12 refrigerated trucks, equipped them with bells and dispatched his Good Humor men into Youngstown neighborhoods to sell ice cream bars. Then in 1974, Raul Martinez, Sr. converted the inside of one of those ubiquitous ice cream trucks into a canteen and parked it outside an East Los Angeles bar. Selling only made-to-order, fresh, soft tacos, his King Taco van turned an immediate profit. The modern-day food truck business was born.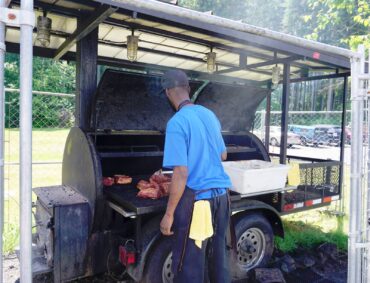 IbisWorld estimates there are 25,476 food truck businesses operating in the United States. They're popular enough that the U.S. Chamber of Commerce promotes them as a "bellwether for entrepreneurship and economic vitality," conducting a 2018 study of regulatory restrictions that rated Portland the friendliest city for food truck sand Seattle one of the least friendly.
They're "business incubators," explains The Washington State Food Truck Association website, stating, "Many talented chefs with great concepts but without enough money to open their own restaurant opened a food truck to bring their cuisine to their communities."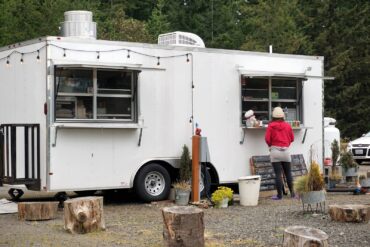 The Northwest Food Truck Fest, scheduled for May 2 at the Kitsap County Fairgrounds, was supposed to be the inaugural regional celebration of food truck culture, but was canceled due to pandemic restrictions.
Take a Food Truck 'Tour'
The area's mobile food businesses are as diverse in operation as they are in the menus they turn out from their kitted-out truck-and-trailer kitchens. Some, like Bremerton's Wiley House Food Truck (Southern cooking) and Island Grindz (Hawaiian food), primarily work private catering or public events. Others, like Poulsbo's Guaco Taco, Silverdale's Smokin Robinsons and Kingston's Grub Hut, have mobile trucks that supplement their popular, established, brick-and-mortar eateries. But there are several that operate on a regular schedule, dishing up food while parked in an empty or shared business parking lot. If you hit the road on an empty stomach, it's possible to plot a route from Hood Canal to Key Peninsula grazing their wide-ranging cuisine while chatting up their friendly owners and staff.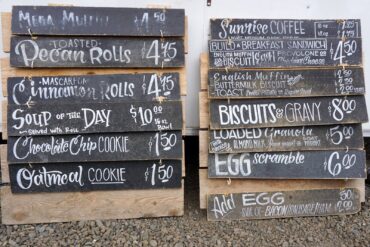 Rise on Shine, located on the west side of the Hood Canal Bridge at West Shine Road, is the place to begin for a hearty breakfast. It opens at 6 a.m. Wednesday-Friday, 8 a.m. on Saturdays and 9 a.m. on Sundays.
Owner Rachel Ohr and her crew begin their days before sunrise baking made-from-scratch breakfast sandwiches, biscuits and gravy, mega muffins and their popular mascarpone cinnamon rolls for hungry regulars and travelers. On Saturday, they add homemade doughnuts (stuffed bourbon cream and caramel, anyone?) and apple fritters to the menu — coveted items that sell out within the first hour.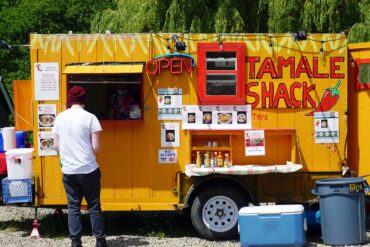 It's hard to miss Tamale Shack's bright marigold-painted trailer in the parking lot of Four Corners Tavern at the corner of Highway 3 and Big Valley Road. You may have just savored a cinnamon roll from Shine 10 minutes earlier, but save room for a stop here to order the chicken tamales smothered in three sauces and served with a side of spicy cabbage. The Shack is open from 11 a.m. to 7 p.m. Wednesday through Sunday.
Detour from Highway 3 in Poulsbo and head south on Viking Way to Diamond Dogs, a small, white trailer parked in Hudson Auto Center serving up breakfast and lunches. The lunch specialties are hot dogs with a choice of 12 toppings, and pulled pork and Philly cheesesteak sandwiches. Dell (retired military culinary specialist) and Dori Cline (15 years as a waitress) are the area's new food truck entrepreneurs, having launched in November 2019. They're open from 9 a.m. to 2 p.m. on Tuesday and Wednesday, and 9 a.m. to 5 p.m. Thursday through Saturday.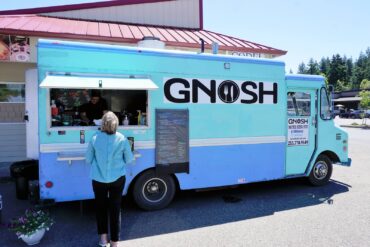 Your tri-truck morning repast has 30 minutes to digest itself en route to Belfair. Here, the town has a twofer: Willie B's Kitchen and Taqueria El Guero No. 2. Willie B's dishes out food at the Bremerton Airport. Owners Duane and Elva Fielder run a lunchtime operation from 11 a.m. to 2 p.m. Monday-Friday out of their white food truck (look for the large burger banner waving from the truck's front) and cater events on the weekends. Famous for their garlic fries and hamburgers, they also serve a menu of sandwiches.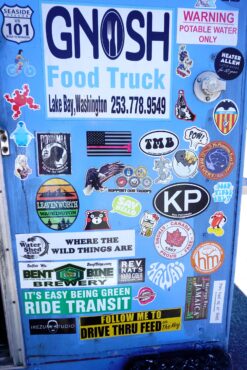 Gualberto Valdovinos and Lazaro Martinez own the two-year-old Taqueria El Guero No. 2 in Belfair and Valdovinos also owns its companion operation, Taqueria El Guero in Purdy. In business for nine years, the Purdy truck is one of the oldest continuously operating food trucks in West Sound. Both are quintessential Mexican taco trucks serving an extensive menu of carne asada and chicken burritos, sopas, tacos and tortos that can be enjoyed in the covered eating areas at both locations. And they're both open for lunch and dinner from 10 a.m. to 8 p.m. at the Purdy truck and 11 a.m. to 7 p.m. at the Belfair location.
It may be the eye-catching green color of Taqueria El Rey's Port Orchard food truck that will draw you in the first time but it's the El Rey burritos and carne asada fries that will keep you coming back. The family-owned business, opened in 2016, gets rave reviews from locals for the made-to-order meals, friendly service and covered seating area. Parked off Sedgwick Road and open year around from 11 a.m. to 8 p.m. Monday through Saturday; closed on Sunday. Drop by, place an order and say hi to owners Leticia Escalante and Jorge Martinez.
If you're hankering for a Rueben sandwich with sauerkraut on marbled rye instead of hearty Mexican food, drive south to Lakebay on the Key Peninsula. There, the eatery Gnosh operates out of a cheerful, bright-blue food truck serving adult and kid lunches from 11 a.m. to 3 p.m. Tuesday through Friday. Owner Stephanie Brooks has been in business for four years and will also cater out of her mobile operation for local events and private functions.