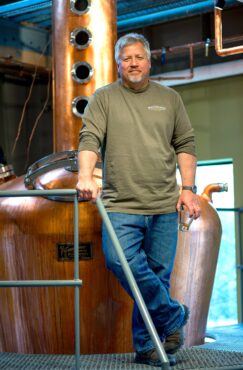 Twelve years ago, Keith Barnes, whiskey lover and full-time creative director for his own spirit marketing company, sought out to make world-class whiskey. His personal whiskey collection contains over 1,700 bottles from around the world, but he wanted to see if he could make something different and better with organic ingredients — and that is where Bainbridge Organic Distillers was born.
Barnes believes organic products are better for the consumer as well as for the Earth, and that organic grain has a superior flavor profile. If he were going to make spirits, he would be making the best.
When the distillery started, it was only the third one in the state (now there are 120). It was also the first organic distillery in Washington and only one of four in the whole United States (now there are 70 organic distilleries).
The climate on Bainbridge Island works wonders on maturing whiskey. The broad swings in seasonal temperature and brine-laden island breezes carry the smells of salt water to the distillery, imparting an influence that can only be found in whiskey aged close to salt water. Bainbridge Organic Distillers is one of a small number of distilleries worldwide located in such a maritime environment.
Washington's first organic distillery is in your own backyard. Its approach to distilling organic spirits combines the best of modern distilling technology with traditional and heritage ingredients to produce distilled spirits of unique character and award-winning flavors. Serious award winners — all their products have won multiple awards many, many times over, including the World's Best Vodka and the World's Best Wheat Whiskey seven years in a row.
The core line-up includes whiskey, vodka and gin. The Bainbridge Heritage Organic Doug Fir Gin starts as an organic, estate-grown grain that has been milled, mashed, fermented then expertly distilled on Bainbridge Island. Many craft brands infuse industrial grade NGS (neutral grain spirit) made for bulk spirits with botanical favors, but they aren't anything close to the legit botanical flavors in this gin. This Doug Fir Gin is lush and complex, ultra-smooth with a nose filled with evergreen and spice.
The nose explodes with bright aromas of fresh-cut Douglas fir against a bracing juniper backdrop with citrus, cardamom, licorice and herbs. The flavor has juniper berry and evergreen notes intertwined, orange and lemon peel, an herbal earthiness and a bright fennel note on the finish.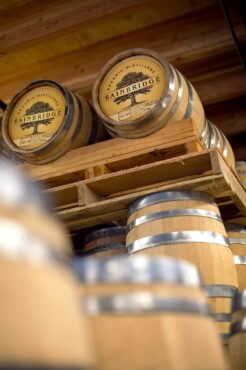 The distillery took this gin to the next level by resting it on virgin, hard-toasted American oak for two months, which adds warming wood and a hint of tannins and a dimension to the flavor and character of the freshly harvested Doug fir boughs. The result is additional flavors of toasted oak, pomegranate, baking spices and anisette.
It's pretty amazing to think that the world's best vodka is made on Bainbridge Island, but it is. The Bainbridge Legacy Organic Vodka was named the world's best by the World Vodka Awards from a field of more than 1,000 brands from 25 different countries. It's distilled from organic, soft-white wheat grown and harvested by fourth-generation family farmers in Washington state. It's lush with bright aromas of orange peels and vanilla, with a slightly candied flavor profile that's almost sweet.
The whiskies are where Barnes and his distillers really shine. The flagship one, Bainbridge Organic Battle Point Whiskey, is fermented with a combination of Scottish and Irish whiskey yeasts, aged in new, heavily charred, 53-gallon American oak barrels. The Battle Point series of whiskeys, including the Two Islands Cask Finished expressions, have been named World's Best Wheat Whiskey in major international competitions seven times. The bottle is fruity yet dry, medium to full body, rich warming spice, an elegant salinity marked by deep toasted oak and a hint of fresh chart.
These amazing spirits are just the core lineup. Other releases are part of the Experimental series, where Barnes and his team have more fun than usual trying new things. They just released two new bottles, which are already sold out, a whiskey that spent time in their organic maple syrup barrels (they make organic maple syrup, too) and their Islay Cask Barrel Proof whiskey.
The bottle names reflect the history and heritage of Bainbridge Island, and the stunning and extremely coveted YAMA Japanese Mizunara Cask Single Grain Whiskey is no exception. This is the world's first and only non-Japanese whiskey aged in 100 percent new cooperage made from Japanese Mizunara oak. It was named Craft Whiskey of the Year by Whisky Advocate.
The name comes from the village of Yama (the Japanese word for "mountain") founded on Bainbridge Island in 1883 by Japanese immigrants coming to America to start new lives. The Mizunara oak used in the making of Bainbridge YAMA retraces the journey that Yama's original residents made in coming to America.
The whiskey was created to draw attention to the history of the Yama village and to raise funds to support The Yama Project.
The distillery is in the Coppertop complex on Bainbridge Island, off Sportsman Club Road. The distillery's outside café seating is a great place to visit, not only to taste the award-winning spirits, but also because it's located in the same complex as the island's only brewery, Bainbridge Brewing; one of the island's seven wineries, Fletcher Bay Winery; and also some great places to grab a bite to eat, like Sweet Dahlia Bakery or That's A Some Pizza.
Check out the website, bainbridgedistillers.com, for hours and the full lineup of products. The distillery also ships across the United States.