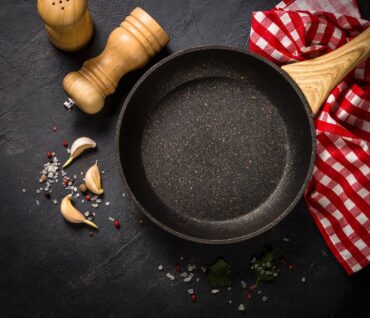 As a child, I grew up every Sunday morning with either my mom or my sister and I making our very favorite breakfast, The Dutch Baby. Over the years, I have experimented and modified the recipe to be used with a variety of ingredients, including sautéed apples and cinnamon with a few pinches of real sugar.
My favorite now — which seems to be a hit — is this Dungeness crab version.
After years of experimentation, I find it's best prepared with an 8-inch cast iron skillet, but any 8-inch oven-safe pan will be adequate. I have tried other sizes of pans. They are either too large (and your baby tends to not meet its optimal fluffiness) or too small (and then instead of being like a cloud, it doesn't achieve the right amount of puff, which is what makes each baby such a light, fluffy masterpiece).
For the Dungeness Crab Dutch Baby, we prefer using crab that's caught fresh off our boat (in a location that I am not at liberty to divulge). When that's not an option, we've been able to purchase live, locally caught Dungeness at the recently opened Suquamish Seafoods retail location off Highway 305 in Poulsbo. Go to suquamishseafoods.com/retail-contact for details on the location and store hours.
---
The Dutch Baby — Breakfast Version
Ingredients:
4 tablespoons butter
2 apples, medium size
4 eggs
1 cup whole milk
1 cup flower
Instructions:
Preheat oven to 425 degrees.
Melt the butter on the stovetop while the oven is preheating. Sauté finely diced apples with a pinch of cinnamon and sugar. Note: Two medium-sized peeled apples seem to be the perfect ratio.
In a blender, blend the eggs and milk for 30 seconds; gradually add the flour.
Add the mixture to the pan with the melted butter and bake 20-25 minutes. Make sure you use oven mitts, as upon removal, the handle becomes extremely hot.
Top with powder sugar and lemon syrup — but really, you can top with any favorite sweet or savory items. Even slivered nuts are a wonderful addition.
---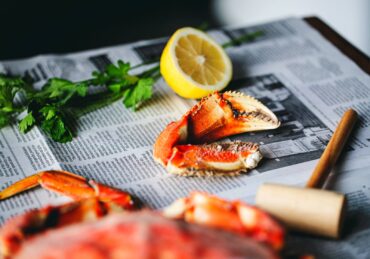 The Dutch Baby — Dungeness Crab Version
Ingredients:
4 tablespoons unsalted butter
6 ounces Dungeness crab meat (approximately 1 whole crab, cooked and cleaned)
2 garlic cloves, minced
1/2 cup spinach, chopped extra fine
2-3 large mushrooms, diced small
2 tablespoons green onions, finely chopped
1 tablespoon Parmesan cheese
2 large eggs
1/2 cup whole milk
1/2 cup flour
Instructions:
Preheat oven to 425 degrees.
In a bowl, mix the mushrooms, crab and spinach with a pinch of kosher salt and pepper to taste. Sauté the mixture with garlic and green onions with 1 tablespoon of butter on the stovetop while your oven is preheating.
Place the remainder of the butter in an 8-inch cast iron skillet or another oven-safe pan and place pan, with the butter only, in the oven to preheat. Check periodically to make sure the butter is not burning.
In a blender, blend eggs for 3 seconds. Gradually add milk, flour and a pinch of salt, and blend for approximately 60 seconds.
Remove pan carefully from oven. Butter should be melted. Pour in batter from blender.
Add crab mixture to the pan, trying to keep it 3/4-inch away from the edge, and sprinkle with parmesan cheese.
Bake for 20-25 minutes.