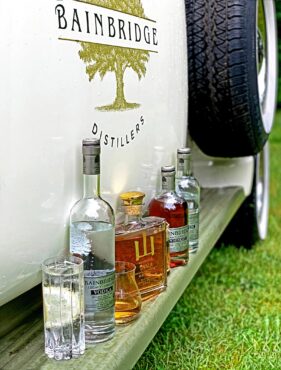 Everyone is spending more time at home these days. Many people are working from home and schooling kids at home, and are more likely to have another couple over for dinner than they are to meet for a night on the town. If this is your new norm, you will want to keep your home bar stocked and ready to roll whenever the occasion strikes — like on a Tuesday.
To make fantastic, creative cocktails, there is no need to stock your bar with 87 different vodkas and a rainbow's worth of brightly colored liqueurs. A few base spirits and a few mixers will not only allow you to turn out a surprising number of cocktail classics but also give you enough to tinker with and come up with some delish drinks of your own.
Liquor will keep for a long time, particularly in a cool place away from direct sunlight. The lower the liquid level, the more quickly you should consume the liquor, as the air in the bottle will remove some of the flavors.
If your bottles have had a small amount of alcohol in them for a while, it's time to drink up and replenish. Luckily, West Sound has several local distilleries that produce amazing spirits.
Stock up on organic whiskey, vodka or gin from Bainbridge Organic Distillers, Washington's first organic distillery. Or, if you want something a bit more exotic, try Highside Distillers, also on Bainbridge Island, for fernet, amaro or gin. Or in Gig Harbor, Heritage Distilling produces whiskey, vodka, gin and rum.
Gin, whiskey or vodka can make a great base to many different cocktails. Use gin for martinis, for gin and tonics and for a Tom Collins, to name a few. Use whiskey for a manhattan, an old-fashioned or a whiskey sour. Vodka is the workhorse of the liquor cabinet and you can use in drinks such as vodka tonic, screwdriver and vodka martini.
Stock up on a few mixers to create your own concoctions or mix up some of these staple cocktails. Here are some basic mix-ins recommended to have on hand:
Cointreau — clean, full of natural orange flavor and not too sweet. Use Cointreau in cocktails such as Long Island iced tea, lemon drop, sidecar and cosmopolitan.
Vermouth — used to make manhattans, martinis and negronis.
Tonic water — a must. A great gin and tonic is simply made with high-quality gin, tonic water and a squeeze of lime. Tonic water comes in lots of different flavors, so experiment with the variety of flavors to find what you like best.
Basic Bar Tools
To mix a great cocktail, you don't need a ton of bar tools. Here are a few staples that will help you master your cocktails.
Bar spoon: A bar spoon is not merely junk in the bartender's trunk. Multifunctional, a bar spoon is not only used to stir cocktails to combine ingredients that shouldn't be shaken, but also to mix the ingredients to an optimum temperature and dilution because it doesn't break down the ice too vigorously.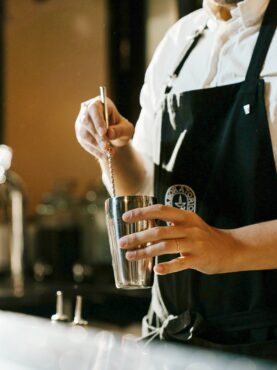 A bar spoon is a long-handled spoon used in bartending for mixing and layering both alcoholic and nonalcoholic mixed drinks. Its length ensures that it can reach the bottom of the tallest jug or tumbler to mix ingredients directly in the glass.
But it's the end of the spoon where it gets really interesting. Weighted, flat-ended bar spoons are great for lightly muddling herbs or reducing Champagne bubbles, while the spoon itself can be used to measure the same way as a conventional teaspoon.
Muddler: A muddler is an essential bar tool designed to smash and mix (muddle) drink ingredients. Muddlers are typically 6-8 inches long and about an inch in diameter. It's the perfect size to reach the bottom of the average mixing glass or cocktail shaker.
Use a muddler to make popular cocktails such as the caipirinha, mojito and old-fashioned.
Essentially, a muddler is a bartender's pestle and it's very easy to learn this basic bartending technique. Muddling is one of the best ways to incorporate fresh fruits and herbs into your drinks. Once you learn just how useful a muddler is, you will wonder why you didn't have one before.
Jiggler: A jigger is another handy tool to have at the ready. It's a double-sided cocktail measuring cup that allows for quick, accurate measuring when mixing cocktails. There are different jigger sizes and styles, but the standard is most basic, with one larger end that holds 1.5 ounces and a smaller end that holds 0.75 ounces.
In most cases, when people refer to a "jigger" or a "jigger shot," they are referring to the standard jigger size of 1.5 ounces. The smaller end of the jigger is known as a pony shot.
Shaker: A cocktail shaker not only looks cool, but is the most functional, basic tool needed for your home bar. If you only buy one thing (besides liquor, of course), buy a cocktail shaker. This is the vessel used for cocktails served shaken and for ingredients added to a stainless-steel shaker with ice to make cocktails extra cold.
A shaker allows all the ingredients to become completely integrated to create one beautiful blend of flavor. The shake is the most thorough way to mix drinks.
Cocktail shakers are also great for making an iced latte with cold brewed coffee, milk and sweetener. Add to a shaker, shake and strain ingredients into a glass with fresh ice for a delicious coffee drink.
Strainer: To get your cocktail into your glass without the shaken ice, you need a strainer. A cocktail strainer is a metal bar accessory used to remove ice from a mixed drink as you pour into the serving glass.
A metal spring fixed around the edge of the rim rolls inward to fit inside the glass. The rim of the strainer doesn't need to touch the rim of the glass, as the spring inside filters out the ice.
Other Necessities
Keep fresh ice on hand, not the cubes that have been in your freezer since 2015. Ice cubes take on flavors of foods in your freezer and if you don't use fresh ice cubes, your cocktail will taste off and freezer burnt.
For everyday use in your home bar, you only need about six (more if you're planning to host lots of parties this craziness ends) of each of these three basic types of glasses: a short glass, a tall glass and a stem.
Use a short glass, or a single rocks glass, for anything neat or any spirit on the rocks. You can also use it for anything stirred or chilled and for cocktails served "down," meaning they're served chilled but in a glass without a stem.
A tall glass, also called a highball, is a tall, chimney-shaped glass. Use it for gin and tonics, vodka and club soda, and whiskey and ginger. It also works well for drinks made with crushed ice.
A stemmed glass is also called a coupe glass. Use it for cocktails served "up," meaning shaken or stirred with ice and then served chilled, without ice — like a martini. The stem prevents your hand heating up the cocktail as you sip it.
With these at-home bar ingredients and tools, you'll be ready for a cocktail any time the mood strikes. Cheers!