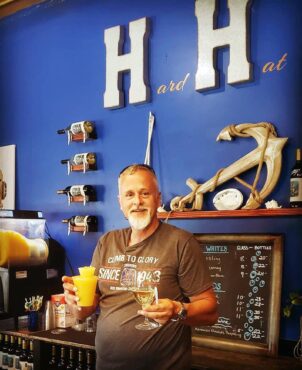 As with many wineries, things started as a hobby for Jim and Colette Davenport, producing wine out of their garage. Jim has a passion for wine and wanted to see what his own product would taste like.
Friends loved it and soon he was giving away more wine than he could make. Jim saw an opportunity to turn this hobby into a business and was pulled by the allure of the industry to start Hard Hat Winery.
What exactly is a hard hat? In the diving world, a hard hat, copper-hat equipment or heavy gear is a type of diving suit that was formerly used for all relatively deep underwater work that required more than breath-hold duration. This type of work included marine salvage, civil engineering, pearl shell diving and other commercial projects. This standard diving dress was also worn by Navy deep-sea divers when working in extreme conditions, performing various underwater tasks ranging from underwater ship repair to underwater salvage and special operations or special warfare.
The winery got its name from this piece of diving equipment because Davenport is a retired Navy deep sea diver and so is one of his winery business partners, Vern Armstrong.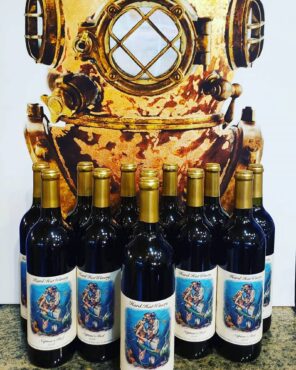 In June 2018 Jim brought together Armstrong (a lifelong friend and fellow Navy diver) and Greg Lone (an Army veteran) to help form Hard Hat Winery. Davenport's experience as a vintner, combined with Armstrong and Lone's knowledge in marketing and business development, launched Hard Hat Winery with the release of their first four wines out of the winery and production location in Poulsbo.
Davenport and Armstrong met while diving together for the Navy and Lone was another friend who spent his career in the 10th Mountain Division, an infantry division in the United States Army, designated as a mountain warfare unit. This veteran trio, determined they would be spending their retirement years running a winery together.
They want the winery to be unique and the branding to reflect something they love and shared in common — diving. They worked with a California artist, Colleen Genos to license the artwork for their theme and wine labels, which is that of a mermaid kissing a diver underwater (Laguna Beach Kiss)! Each of their wines share in this artwork and the wine names all reflect their nautical theme.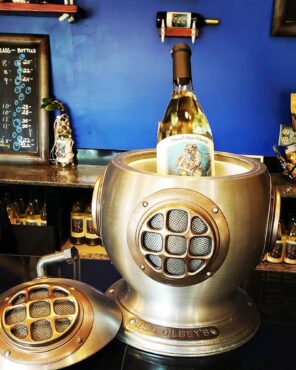 The four wines from the 2016 vintage they opened with and still pour today are:
Decompression Chardonnay — an unoaked Chardonnay with aromas of green and yellow apple and Bartlett pear leap from the glass. A refreshing acidity with wonderful texture and flavors.
Mk V Sauvignon Blanc — notes of lemon and lime zest, green apple and pear are followed by hints of apricot.
Neptune's Red — a medium bodied red wine blend with an aromatic mix of ripe and lush blackberry and Bing cherry. This wine has an earthy mid palate before finishing with flavors of clove.
Triton's Red — a delicious flavor combination of black cherry, red plum and mocha.
In addition to this wine line up, they are adding two new reds from grapes grown in the Walla Walla region. Their 2020 harvest will include a Dolcetto and a Carménère. These are two lesser known Washington varietals, but are sure to be favorites.
Dolcetto is a black Italian wine grape variety widely grown in the Piedmont region of northwest Italy. The dolcetto grape ripens early and produces wines with profoundly deep color and light acidity. Dolcetto wine is rich, round, soft and fruity. It nearly always has a deep ruby and purple color and intriguing aromatics of blackberry, plum and spice. On the palate, dolcetto has distinctive flavors of licorice, blackberry and almond.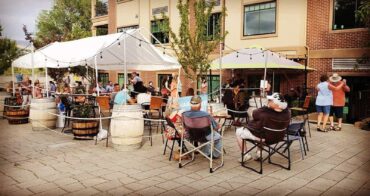 Carménère is a dark-skinned grape variety originally from the vineyards of Bordeaux. It now grows widely in Chile and in some areas of WA state. Cabernet Franc is the parent to this grape along with Cabernet Sauvignon and Merlot. Most expressions of this wine have striking aromas of raspberry sauce, sour cherry and green peppercorn and a granite-like minerality.
The winery is working through the long and arduous permitting process to build a new tasting room at the winery location in Poulsbo. The winery location near the Hood Canal is currently open by appointment only and has a large outdoor seating area with a fire pit and lots of fun for visitors and wine club parties. The winery also has a tasting room in downtown Wenatchee, where Lone and his wife Shannon live. They manage the Wenatchee tasting room which is open Thursday-Sunday with live music and lots of fun events most weekends. The winery is Veteran-owned and operated and the tasting room is children and pet friendly. If you're in Wenatchee, be sure to stop in and try their wines.
Follow along on Facebook @hardhatwinery for updates and a timeline on when their Poulsbo tasting room will open.