Just because we're all grown up doesn't mean we don't love a good summer slushie. Snow cones and frozen treats are one of the things that mark childhood summer memories of fun. When the weather turns hot, an ice-cold treat hits the spot.
For an adult, an ice-cold treat still hits the spot when the temperatures rise and outdoor fun is calling. Here are some blended beverage recipes to enjoy this summer and bring back memories from childhood, with an adult twist.
Rosé as Ingredient
Many blended summer drinks call for rosé wine, and for good reason. Rosé is the "it" wine for summertime (or any time). A wine is considered a rosé when there is some color in it from the grape skins, but not enough to qualify as a red wine.
Rosés come in a wide range of styles and colors. The color can range from very pale orange to dark, bright pink, depending on the type of grape and winemaking technique. Rosés made using the skin-contact method are produced with black-skinned grapes and after crushing, the skins remain in contact with the juice for a short amount of time — usually two to 24 hours.
The juice is then pressed out and the skins are discarded. The longer the skin is left in contact with the juice, the more intense and darker the color of the wine.
Rosés also run the range of sweetness levels from very dry provencal rosés to sweet white zinfandels and are made not from one single varietal, but from a wide variety of grapes.
If you like to drink rosé on its own, then you will like its flavors when blended with fruit and other goodies.
Whatever you are drinking this summer and whoever you're drinking with, I hope you enjoy the sunshine and appreciate the simple joys of a bottle of wine or blended beverage and a good meal.
---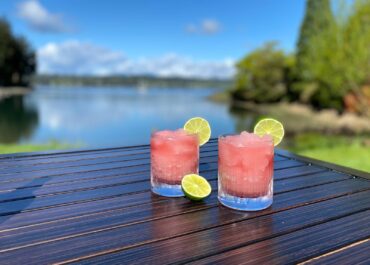 Paloma Frosé
The Paloma Frosé is a twist on the classic Paloma cocktail made with frozen rosé.
Ingredients:
1 bottle of rosé
1 12-ounce can grapefruit-flavored sparkling water
4 ounces tequila
1/2 grapefruit, juiced
1 large lime, juiced
3–4 tablespoons agave nectar
Instructions:
Freeze the rosé and grapefruit sparkling water for 12-24 hours in a glass Pyrex dish. Once frozen, combine in a blender with the tequila, grapefruit juice, lime juice and agave.
Add more sparkling grapefruit as needed until desired consistency. Serve immediately, garnished with limes.
---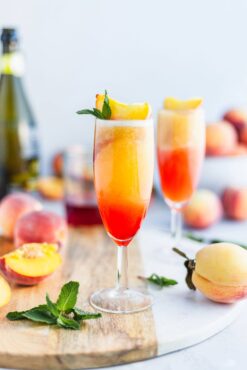 Peach Bellini
Wonderfully light, refreshing and bubbly, this drink only takes three ingredients and five minutes to make.
Ingredients:
3 cups frozen peach slices
1 cup mango nectar
1 bottle prosecco
Instructions:
Combine peach slices and mango nectar in blender until smooth. Pour peach mixture into champagne flutes until half full.
Fill glasses with prosecco and serve immediately topped with peach slices.
To make the bellini or the sorbet mimosa (below) nonalcoholic, try using sparkling water instead of prosecco.
---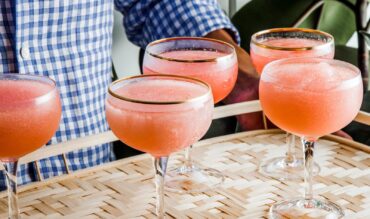 Sorbet Mimosa
This cocktail is the perfect combo of dessert paired with your favorite rosé.
Ingredients:
1/4 cup and 2 tablespoons sugar
1/4 cup and 2 tablespoons water
1 bottle rosé
1/2 bottle prosecco
8 rosemary sprigs to garnish
Instructions:
In a small saucepan, bring the sugar and water to a boil. Simmer 5 minutes until dissolved. Cool and mix in with the rosé.
Freeze in a Pyrex dish, breaking up occasionally until solid. Process in batches in a food processor until smooth, then freeze again until firm.
Scoop into glasses and pour over prosecco. Garnish with rosemary and serve immediately.
---
White Wine Slushie
This super simple white wine slushie looks great and tastes even better.
Ingredients:
1 bottle white wine, divided
2 cups frozen mangoes or peaches
3 cups ice, divided
1 cup frozen strawberries
Instructions:
Blend 2/3 of a bottle of white wine, the frozen mangos or peaches and 2 cups of ice. Pour into wine glasses.
Blend the remaining bottle of wine with the frozen strawberries and 1 cup of ice. Pour into the wine glasses on top of the peach blend. Add a straw and enjoy.
---
For more summer drink recipes, follow @thesocialsip on Facebook or Instagram.