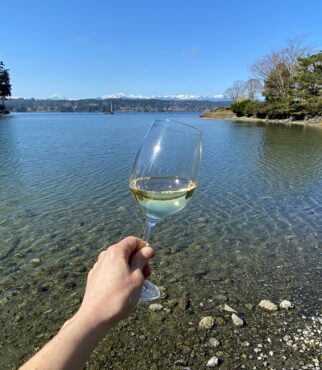 There is nowhere else quite like the Pacific Northwest. We are surrounded by the beauty of nature, fresh air and clear water. And when the weather is just right, there is no other place in the universe where us Washingtonians would rather be than outdoors.
When the urge comes to hit the trails, head to the beach or just sit on a park bench, don't leave your favorite wine behind. I asked several hundred of my closest friends (via the wonderful world of Facebook) where they like to enjoy a glass of wine outside and am sharing the list of our favorites. 'Hope this helps make your summer one of good wine, good friends and the great outdoors.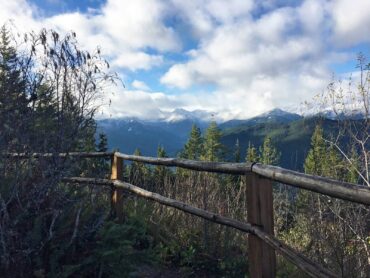 Mount Walker
Did you know that a glass of wine contains about 125 calories (give or take a few, depending on the type of wine in your glass)? A light hike or 10 minutes of running will burn that number of calories. Good news, right?
Wine can easily be incorporated into an active lifestyle. If you're feeling up for some exercise, hike to the top of Mount Walker in the Olympic National Forest. Located near Quilcene, it's a 4-mile round-trip hike, with an elevation gain of 2,000 feet and the highest point at 2,804 feet.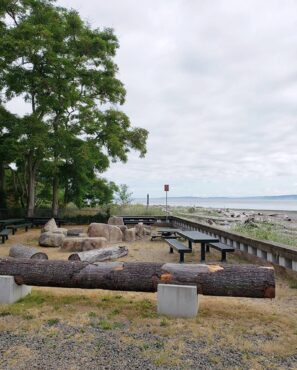 Both the north and south viewpoints have benches for taking in the views and enjoying that glass of wine. From the north viewpoint, you'll see the Hood Canal Bridge, Mount Baker and the Cascades extending into British Columbia. The south viewpoint gives you the long view down Hood Canal, to Mount Rainier and Mount St. Helens, and the Seattle and Tacoma skylines.
Eglon Beach
This is a true community beach on the east side of the northern Kitsap Peninsula, about 5 miles north of Kingston and 3 miles south of Point No Point. Head out with a glass and enjoy a bonfire on the beach.
Salisbury Point Park
On the Poulsbo end of the Hood Canal Bridge, you'll find Salisbury Point Park. This park is a great place to spend the day as a family.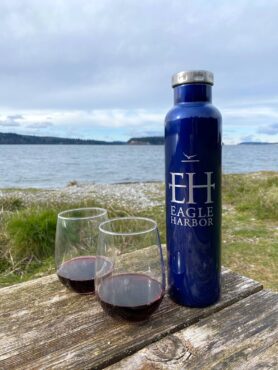 The boat ramp, picnic tables, barbecue areas and playground draw you in for hours of play, as do the sweeping views of Hood Canal. Bring your dinner and plan to stay for a while.
Bainbridge Island Road Ends
There are more than 60 road ends on Bainbridge Island that provide public views or access to the water. Several of the road ends served as landings of the historic Mosquito Fleet steamers, which ran between the 1870s and the 1930s.
In a time when much of the island was inaccessible by land, the Mosquito Fleet served as a primary link between the island communities. Today, these former landings are noted as historic sites.
Lytle Beach is one of my favorite road ends and is easy to miss. It's located just past the area of Lynnwood Center and down Lytle Road. Grab a pizza nearby at Treehouse Cafe and head to the beach with your bottle of wine. Enjoy smooth sand and amazing views of Rich Passage, Washington State Ferries (to and from Bremerton), Mount Rainier, and sea lions on the Coast Guard buoy. Occasionally, you can watch an aircraft carrier or submarine heading into or out of the Puget Sound Naval Shipyard.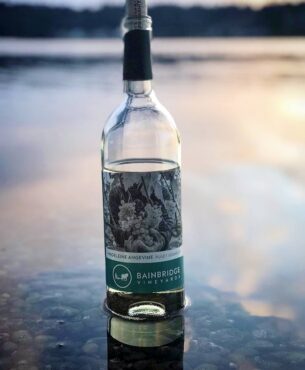 Visit bit.ly/BIRoadEnds for a complete list and map of all the Bainbridge Island road ends and explore them on your own all summer long to find your favorite.
While you might be wondering how you can easily take your wine to these awesome destinations, some local wineries are making it easy. Eagle Harbor Wine Co. on Bainbridge Island, for example, sells an insulated (and very discreet) wine growler. It comes in several colors, is sleek and stylish, and holds a full bottle of wine. My new favorite wine is not even a bottle — it's a vessel and fits perfectly in a backpack.
Many of the individuals I surveyed said that their favorite place to enjoy a glass of wine outdoors was in their own backyard or on their porch. It really doesn't matter much where you enjoy your wine; it matters who you're with.
It's the experience of sharing a great bottle of wine with friends or family that really makes that special spot special.