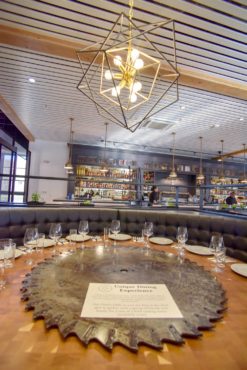 What do locally raised beef, liquor, coffee, chocolate and Kitsap County's coolest, newest restaurant all have in common? Passion and love of community. This is the thread running between these and the focus of the Crabtree family, who are doing big things in Poulsbo.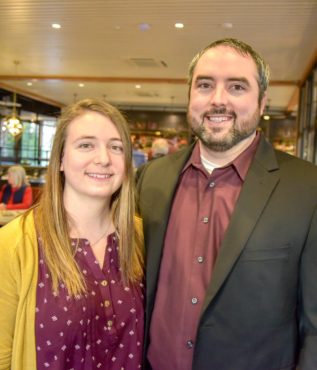 Peter Crabtree discovered his love of chocolate during his freshman year of high school at West Sound Academy. He learned how to make different chocolates during a culinary class and he soon turned his chocolate-making passion into a small business.
To get his business going, Crabtree started selling his chocolates at local farmers markets. Popularity and demand grew and he realized he needed the help of an adult to move his business into something sustainable. While most high school students are concerned about what they will wear at the Friday-night football game or whom they will eat lunch with, Crabtree had greater aspirations. His mom, Colleen, became his business partner.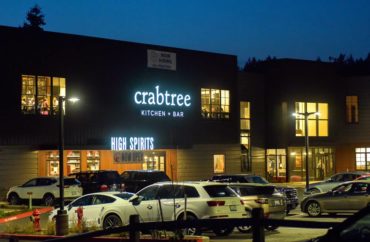 In 2005, Crabtree leased his first commercial kitchen in a 1,200-square-foot space in Poulsbo. In his junior year of high school, in 2007, he opened his first retail chocolate business. Back then, it was called CBC Chocolates, the CBC standing for Crabtree's Best Chocolates.
The Crabtrees know a thing or two about running a business. They are fourth-generation beef farmers from Kingston. They have been raising Black Angus cattle in Kitsap County since the early 1980s.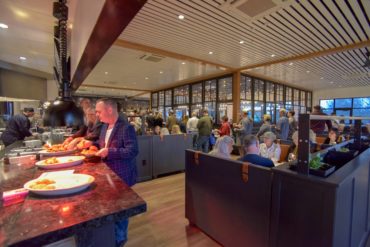 The family raises about 20-30 brood cows and feeds 15-20 steers each year for beef. With this family history and heritage, Crabtree was able to fund his equipment needs for CBC Chocolates by selling animals through 4-H and Future Farmers of America. He even held the record for the highest sold back then.
In 2011, after co-founding an energy business (when does this kid sleep?), Crabtree fully refocused his efforts on chocolate and changed the name to ChocMo. Continuing operations in a small building on Seventh Avenue, ChocMo Chocolatier and Café offered just chocolates and espresso at first. But then, another opportunity came knocking on the door.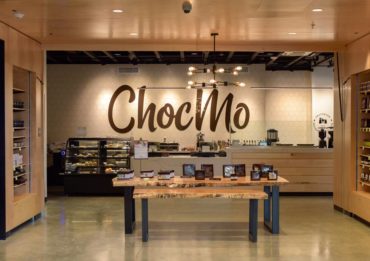 The state-run liquor store adjacent to ChocMo became available for purchase and the Crabtrees jumped at the chance. They wanted to ensure they had good neighbors, and what better way to ensure that than to become your own neighbor? Both the liquor store and ChocMo have a strong local focus and they support local wineries and businesses as much as possible.
With the success of High Spirits Liquor Store and ChocMo, Crabtree saw an opportunity to provide something even better to Poulsbo and Kitsap County. Opened in early 2019, ChocMo and High Spirits have a new home in Poulsbo — and you can't miss it. As you drive down Highway 305, the beautiful, massive two-story building stands bright and shiny, calling visitors and locals to stop in and explore.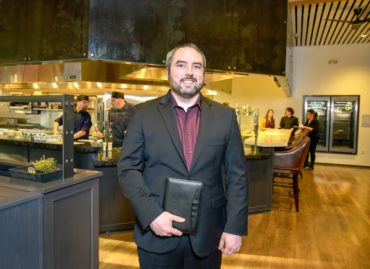 On the bottom floor of this impressive structure, the new ChocMo Chocolatier and Café can be found, offering a great place to meet up or just hang out with coffee, beer and wine on tap, along with yummy noshes like crepes and paninis.
This isn't just any coffee shop. This is a place to experience the artisanal, handmade chocolate with a bean-to-bar exploration. Behind the glass wall, see the raw, fermented cacao beans from South America being roasted and transformed into the chocolates, which are still the heart and soul of the business. This new space produces 1 ton of chocolates a day and has increased the capacity 1,000 times more than the previous location.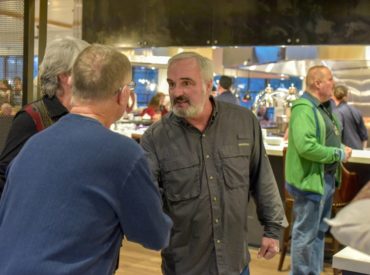 Across the foyer, you'll find a jaw-droppingly gorgeous liquor store and wine cellar. High Spirits, which opened in mid-October, is a big step up in space and grandiose from the previous location. Upon entering, you'll experience a bar offering growler fills with multiple options from local breweries. Explore unique and hard-to-find beer in the 1,000-square-foot walk-in cooler. If you're looking for a local, obscure bottle of liquor, chances are you can find it at High Spirits, with over 4,000 products to choose from.
For the wine lover, High Spirits is heaven. In the back of the liquor store, descend the steps into a wine oasis. The glass-walled classroom hosts education classes and seminars for not just wine but spirits as well. Education and exploration are at the heart of this cellar and the Crabtrees have a strong focus on local products, which has resulted in stronger community connections.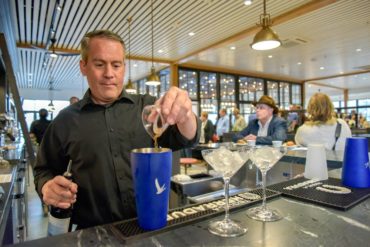 Just about every varietal of wine in every price range can be found in this 3,000-square-foot cellar. Peruse the shelves and grab a bottle to enjoy upstairs with your dinner in a new and big-city-impressive restaurant.
Directly above the liquor store (which is so much more than a liquor store — the name liquor store just doesn't do it justice), you'll find Kitsap County's newest, casual- and fine-dining restaurant, Crabtree Kitchen + Bar. The highest quality products and best design were included to make this restaurant the hot spot on this side of the water.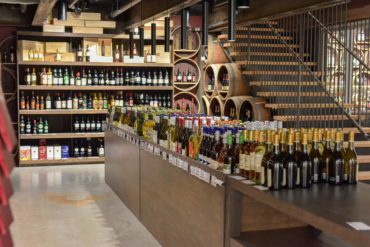 Leather, high-back bar stools surround the chef's table; lettuce grows around the restaurant in planter boxes; and the lighting and booths add the feel of glamour in a very approachable way. The menu includes many options that can be enjoyed as a casual meal and mouthwatering steaks if you're looking for a more special dining experience.
All the beef is locally raised right on the Crabtrees' cattle farm in Kingston, Silver Creek Angus. All the beef is dry-aged for a minimum of 21 days, which helps the steak develop flavor and makes it far more tender than it would be completely fresh.
The restaurant holds seating for 230, with both private and semiprivate options. The Garden Room opens onto a patio overlooking a lush and green Poulsbo park and has skylights creating a true garden-room experience that is available for special events.
Cozy up to the Brazilian soapstone countertops around the bar and enjoy a craft cocktail during happy hour or late into the evening. Most of the tables in the restaurant were handmade by Crabtree using various types of wood to reflect the aesthetics and intentionality of the restaurant.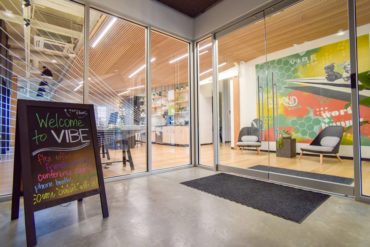 Across the hall from Crabtree Kitchen + Bar on the second floor is a super cool, very modern shared workspace and coworking community, Vibe Coworks. Who wants to work from home when you could work happier, healthier and more connected with these great lunch, dinner or drink spots all within your building?
This will quickly become one of your favorite places to work, grab a bottle, dine or hang out on the Peninsula. All locations are open seven days a week and can be found at 19225 Eighth Avenue, just off Highway 305 in Poulsbo.