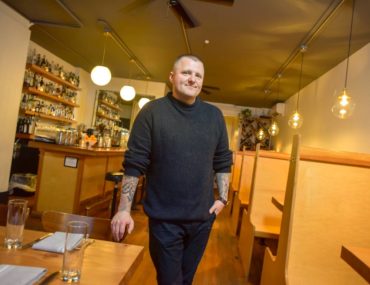 Owning and operating six restaurants can be complicated. Just ask Brendan McGill, founder of Hitchcock on Bainbridge Island and the fabulously popular Bruciato pizzeria across the street.
On one recent morning, McGill sauntered into his Hitchcock Deli, adjacent to his farm-to-table eatery, and had to rescue a barista who was wrestling with a plugged-up coffee grinder.
With a few flicks of his wrists and some gentle instruction, he saved the day as customers were beginning to line up.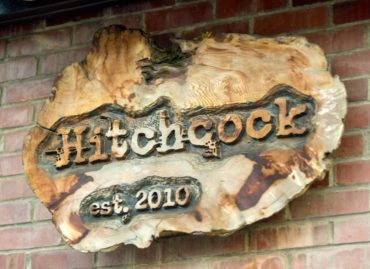 "It's great to be able to do most of this stuff myself," says the 38-year-old award-winning chef and successful entrepreneur. "It's a good way to soak up what's happening at a place and manage by osmosis."
It's this hands-on approach that has allowed McGill to run his diverse menu of restaurants — on Bainbridge Island and in Seattle — without missing a beat.
"Everyone (who works for me) knows I'm hands on, so it's hard to pull the wool over my eyes," he says in a wizened tone that belies his years. "Having lived this (way) my whole life gives me credibility."
Besides Hitchcock, Hitchcock Deli and Bruciato on Bainbridge, he owns and operates the Hitchcock Deli in the Georgetown neighborhood of Seattle and Café Hitchcock at First and Marion streets in downtown Seattle.
This past December, he opened a sixth location, Bar Hitchcock, in a space that became available adjacent to his deli on Winslow Way on Bainbridge.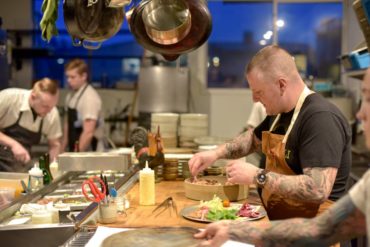 McGill is not your typical Kitsap Peninsula entrepreneur. He wears earrings on either ear, is heavily tattooed on his arms and legs, and is often seen wearing either a fedora or a Hitchcock Deli snapback cap — on his head.
If you were to run into him on the street, you might think he is a musician heading to a gig or an aging skateboarder searching for a challenging bit of sidewalk.
But appearances can be deceiving.
McGill is street-wise and industry-savvy. He did not attend college or the finer culinary schools such as Cordon Blue. Instead, he learned his craft on the job, "grinding it out every day," and later got a degree from the Art Institute of Seattle, where, he says, he paid "a little more attention (than his fellow students) to the cost-containment classes."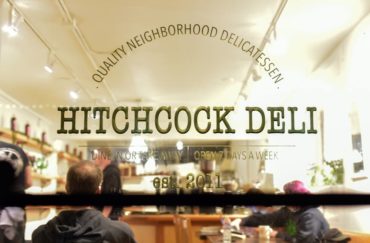 McGill grew up in Fairbanks, Alaska, to parents who were both teachers. Foreign languages were spoken in his house and his dad was a professional in cabinet maker. They taught him to value hard work and encouraged him to find his way in the world.
When friends invited him to move with them to Walla Walla in 1999, he took them up on it. Two years later, he ended up in Seattle and found a job working at the Queen City Grill in Belltown.
It was a decision that shaped the course of his young life.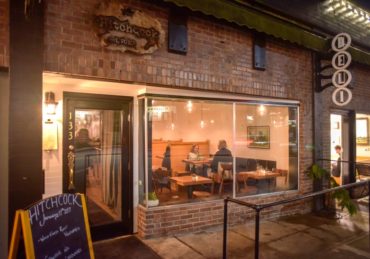 "It was the post-dot-com boom," he recalls. "It was a fast scene: $10,000 nights, (people buying) Cristal champagne. The place would fill up every night. It was opulent."
McGill learned the business from the ground up, working as a dishwasher, busboy, back-bar person and doorman.
His big break came at age 24 when David Selig, the son of Seattle developer Martin Selig, hired him to operate "The Apartment," a small, innovative, upscale restaurant in Belltown.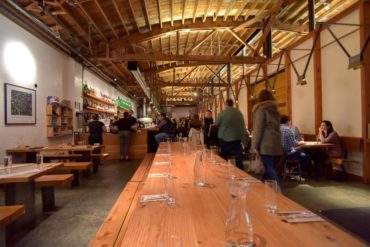 Over the next several years, he got married and toiled away at a number of other fine restaurants in the Seattle area, learning some of the rudiments of the then-emerging Basque-Spanish and French Baroque cuisines, and later traveling to Italy to source tomatoes, vegetables, meats and other gourmet pizza ingredients from the European masters.
"You can't learn it any other way," says McGill, who also realized during this period that "finding your second gear" was essential to success in his industry.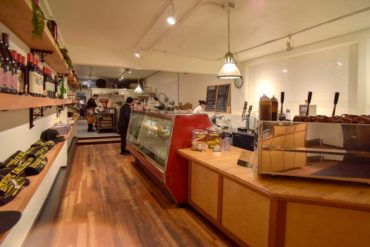 McGill's entrée to Bainbridge came via his wife, Heidi, whose maiden name is Williams. Her family has island roots that go back to the 1890s. The family owned an 11-acre waterfront homestead near Manzanita Bay, which they sold to the city. The city then sold it to the parks department who opened it to the public and named it Williams-Olson Park.
Around 2009 at the height of the recession, he leased a space on Winslow Way with the help of investors and family members that was formerly an Italian restaurant. Doing practically all the work himself, including dealing with regulators and lawyers, he opened Hitchcock in 2010 with a capital outlay of $109,000.
"It was really DIY," he says. "I didn't think I could do a brick-and-mortar concept."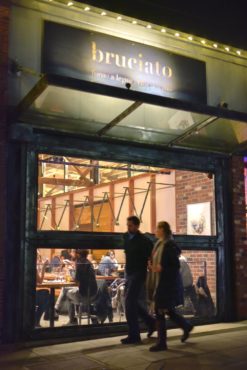 With Hitchcock, McGill perfected the farm-to-table cuisine concept that was just starting to flower in the Northwest.
"I'm just going to try and make nice food," he recalls saying to himself. "Work with local farmers, foragers and fishermen and turn it into a menu."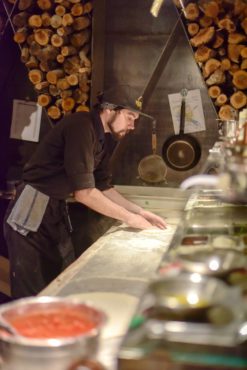 The concept was an immediate hit among locals and tourists, who enjoyed the fresh ingredients and imaginative menu. The restaurant world also took note.
McGill was featured in a number of culinary and regional magazines and was honored as a semifinalist for the 2014 James Beard Award for his outstanding cooking. Food and Wine Magazine awarded him People's Best New Chef award.
"There was zeitgeist with farm-to-table cooking and figuring out what good Northwest food was," he recalls.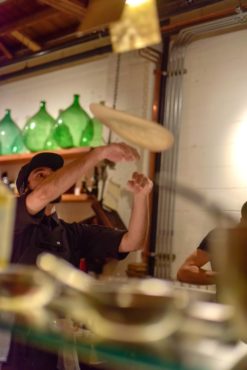 McGill still sources much of his produce, fish and meat from local producers and increasingly from his 4-acre organic farm on Bainbridge, where, in addition to growing vegetables, he raises hogs, a small flock of Icelandic sheep, ducks and other farm animals.
The early success of Hitchcock led to the development of his other concepts, including Bruciato, which began as a pop-up in 2010 to round out Hitchcock's menu on Monday nights.
Six years later, it opened as a unique pizzeria on Bainbridge Island, borrowing from his experiences sourcing foods in Italy with the Neapolitan restaurants and his own farm-to-table experiments.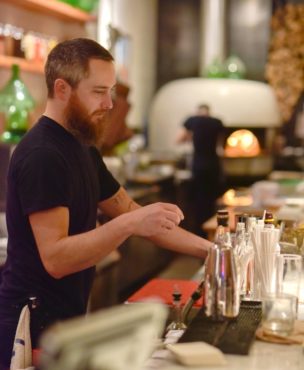 Bruciato is located in half the space of what was once the Winslow Hardware Store. The other half is a real-estate office.
McGill's pizzeria, however, looks nothing like a hardware store, with its wood-fired oven, high-vaulted rafters and beams, Douglas fir table tops and expansive bar with marble tiles.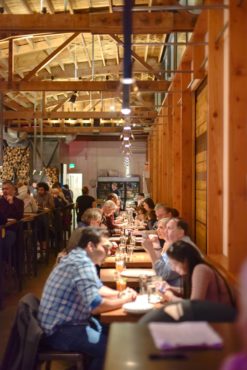 "The big attraction really is the space," McGill says. "Everything is custom made. It's really urban and sophisticated."
Patrons — locally and from afar — love the thin-crust pizza, the tasty wines and the hip atmosphere that are helping make Bruciato McGill's biggest hit so far.
"It was the great convergence of financing with one private investor who was a fan of Hitchcock and (generous) tenant improvements from the landlord," says McGill, who also used a round of crowd sourcing to raise money for the restaurant.
McGill has doubled his sales projections for Bruciato since the fancy pizza hall opened its doors.
"Everyone loves pizza," he says. "It's an easy yes" for tourists who flock off the Seattle-to-Bainbridge ferry or for Kitsapers looking for a more sophisticated restaurant experience.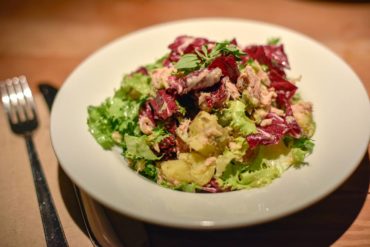 "People tell me, 'I feel like I'm in London or New York when I'm there,'" McGill says. "It solves all the problems (of deciding where to eat). You can bring Grandma, the kids, or have a date night. We cover a lot of territory."
With patrons spending an average of $25 a person at Bruciato, it's also a reasonably priced venue.
Today, McGill has more than 100 full- and part-time employees working in his six separate establishments. Keeping his finger on the pulse of this mini-chain is no easy feat.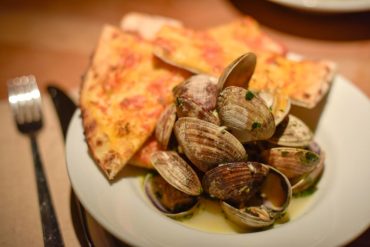 He meets weekly with his managers to discuss menus, strategies, personnel and so on, and relies on outside help for accounting, human resources and other administrative functions.
"It was simple in the beginning," he recalls. "You go to the restaurant, cook and solve problems… When you get more restaurants, it gets murkier. It's a big jump going from being a chef to hiring someone to be a chef… It's a moving target (now)."
His one concession to management structure was hiring an executive assistant who helps with his correspondence, scheduling and social media, and with keeping him on track.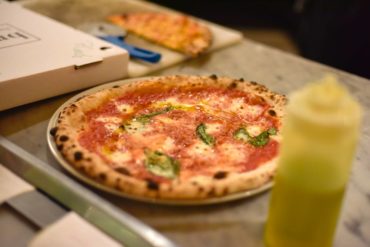 McGill, though, is far from resting on his laurels. He's experimenting with new concepts like his pho pop-up, working in concert with Trinh Nguyen from Pho T&N in Poulsbo to create spontaneous brunch offerings on Sundays at Hitchcock on Bainbridge.
"Their (pho) is as good as anyone's I've seen in Seattle," says McGill, who doesn't mind helping a fellow restaurant entrepreneur. Nguyen has since rented Café Nola's space calling it BaSa Restaurant with upscale Vietnamese cuisine.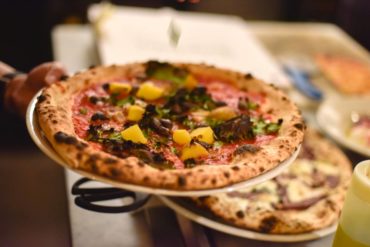 He opened Bar Hitchcock to fill a void in the marketplace between his deli and the fine-dining experience of Hitchcock. The bar essentially is akin to an all-day café, where patrons can order, say, an egg dish and cappuccino in the morning, soups and salads for lunch, and smaller offerings at night.
"It will be a bunch of tasty small dishes — broiled oysters, braised meat dishes, grain/legume dishes, roast vegetables, steamed clams, the kind of food I like to eat," he says.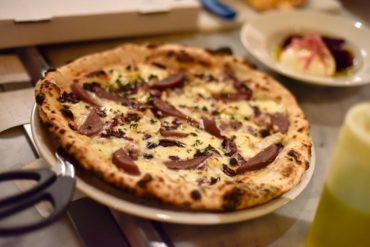 To accommodate his growing inventory, McGill opened a 3,000-square-foot commissary in a business park on Bainbridge that includes walk-in refrigerators and room to warehouse and prepare pizza dough, fermentations, condiments and other foodstuffs.
"Being busy is a good problem," he says, but "you have to manage it." In this space, he can do much more.
McGill, like other entrepreneurs, says his biggest challenge is hiring the right people, especially creative chefs.
"It's always a work in progress, building the best team we can," he says. "The big cooking schools have way fewer people attending them now… There's been a whole generation raised on the Food Network. They look and talk like cooks, but they don't (enjoy) that lifestyle that I (grew) up with. The hardest thing is finding those people, especially on Bainbridge and in Seattle."
Nevertheless, McGill is optimistic about the future. The changing demographics of Bainbridge Island and the larger Kitsap Peninsula are serving him well.
There was a time when few, if any, restaurants were open past 9 p.m. on the island, but that's changing with new arrivals moving to West Puget Sound from San Francisco and Seattle, and tech workers from companies like Amazon and Microsoft discovering his places and enjoying his unique dishes and hip atmosphere.
"Not everyone's been here for 25 years," he says. "You never really know who's going to walk in the door."
---
Hitchcock Roast Chicken with Bitter Green Salad
Recipe courtesy chef Brendan McGill
Hitchcock has offered a brined, roast half chicken since day one. Before the chef's tasting became the focus and it was more of a neighborhood restaurant, it was a focus on the menu. Sourcing an excellent-quality chicken is crucial to making this dish satisfying. Having a wood-fired oven sure helps, but isn't entirely necessary.
Serves 2 to 4
Ingredients:
1 whole chicken, pasture-raised, organic, purchased from a farmer or quality meat shop
1.5 cup kosher salt, plus a pinch for finishing
1 cup white granulated sugar
Bunch thyme
Bay leaf
1 tsp fennel seed
1 tsp black peppercorn
1 tsp coriander
2 tbsp cultured butter
1 tsp wildflower honey
1/2 lb peppery or bitter greens
Instructions:
With sharp poultry shears, cut the backbone out of the chicken. Using a sharp knife, make a slice down the center of the breast on either side of the keel bone. Using the heel of the knife, crack through the wishbone on either side, separating the halves of the chicken from the keel. Using your fingers, carefully pull the remaining wishbone out of the chicken breast. Fold the wing tip back behind its shoulder, like it is in a half-nelson. Now the chicken is ready to brine. Chill in the refrigerator.
Place salt, sugar and all herbs and spices in a small sauce pot. Add 1 quart of water, and bring up to a boil. Once at a boil, bring down to a simmer. Simmer 1 hour. Strain the brine into a 4-quart container, and add ice and water until you have a total of 2 quarts of cool, finished brine. (Note — this is called 3:2:1 brine, as the ratio is 3C salt, 2C sugar to 1 finished gallon of brine. That would be more than you'd need for this chicken, but you are welcome to make extra and save it for brining poultry or pork.)
Submerge the chicken into the brine (refrigerated) for 3 hours, pressed down with some small plates to keep it submerged.
Remove the chicken and allow it to sit in your refrigerator, uncovered, overnight. This will allow the brine to fully distribute within the item as well as the skin to form a tacky pellicle (this will reward you later by crisping up brilliantly).
Add the honey to the tempered (room temperature) butter and beat together in a small dish with a spoon. Using your fingers, rub the honey butter thoroughly into the chicken skin, distributing it evenly.
In a 500-degree oven with convection (ideally a wood-fired oven), drop a chicken in a pan with a roasting rack and roast for 15-20 minutes or until cooked at the joint and aggressively blistered.
Plating, garnish or serving instructions:
Rest for 5 minutes before carving — I like to take off the hindquarter and cut the leg from the thigh, then carve the breast and wing off the ribs, add plate with a big salad of peppery or bitter greens and an emulsified apple cider vinaigrette, and maybe some shaved raw vegetable like radish, turnip, asparagus and romanesco.
~ Bitter Greens ~
I love the way bitter greens taste with salty roast chicken and a piquant vinaigrette. Bitterness is a highly underrated flavor that provides balance to salty, sweet and acidic foods. They are nutritionally dense, good for your digestion and delicious.
Serves 2 to 4
Ingredients:
Heirloom chicories: Castelfranco radicchio, treviso radicchio, dandelion greens, puntarella, curly endive, belgian endive (whitloof chicory), pane di zucchero chic-ories, etc.
Instructions:
Slice bases off chicories then, using your hands, peel the layers off into a bowl. Separate the layers carefully, tearing them into pieces that fit nicely on a fork. Fill the bowl with cold water and wash the chicories carefully. Using a salad spinner, spin the chicories dry and set aside on paper towels in the refrigerator, or in a zip-lock with a paper towel in it for use later.
~ Cider Vinaigrette ~
Ingredients:
200 mL canola oil
50 mL olive oil
100 mL Bragg's Apple Cider Vinegar
Half of a small shallot
Kosher salt
Xantham gum (optional)
Instructions:
In a blender, combine all the liquid ingredients plus the shallot. Blend on high until nice and smooth.
Using the tip of a knife, add a bump of xantham gum. I won't make this confusing with ratios; I'll just say that it is a powerful emulsifier and just a little will hold the oil and vinegar in a nice emulsification. If it appears broken (the oil and vinegar separated,) add another bump while vinaigrette is blending. Add too much and it will become a little snotty, so be careful with this ingredient.
Add salt to taste. You want the vinaigrette to be well-seasoned, so keep adding salt, mixing and tasting until the salt is balanced by the richness from the oil and the acid from the vinegar. Remember this will be seasoning bitter greens, so just when you think it's about right, add a pinch more.
Using a funnel, pour the vinaigrette into a plastic bottle, label "cider vin" and set in your refrigerator until using.
Final assembly instructions:
In a salad bowl, toss your bitter greens with the vinaigrette. Using your hand, toss the greens and make sure they are coated thoroughly. Taste a leaf to check for seasoning; add more vinaigrette if desired, or a little salt if needed.
Plating, garnish or serving instructions:
Serve the carved chicken on a plate, garnish with a mountain of salad.
Wine pairing:
Funky Cru de Beaujolais, like Morgon or Fleurie