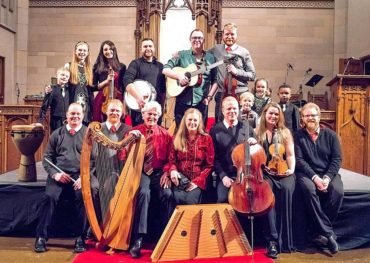 For many West Sound families, the holiday season officially begins with Magical Strings' annual Celtic Yuletide concert.
Magical Strings is an internationally known musical family centered on the Celtic harp and hammered dulcimer of Olalla residents Philip and Pam Boulding. During the holidays and other special times, the ensemble also includes their five children and, for the past several years, assorted spouses, grandchildren and special guests.
Since their humble beginnings in their Olalla home, the Boulding family has played innumerable concerts throughout the United States and abroad, and has recorded 21 CDs of mostly original songs, with an occasional cover or two included just for fun. They've performed on the Prairie Home Companion radio program and toured with popular musician Dan Fogelberg.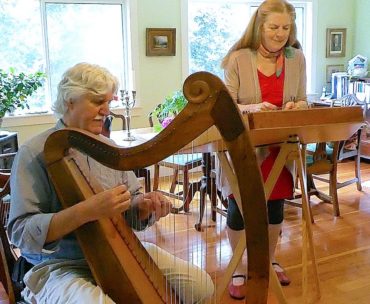 But the highlight of their musical adventures has always been the Celtic Yuletide tour. Every holiday season for the past 40 years, the Boulding family has spread musical cheer throughout the Northwest with the Celtic Yuletide concerts.
Philip Boulding builds and plays Celtic harps and the dulcimers that Pam Boulding plays. Their children — Brenin, Geoffrey, twins Marshall and Morgan, and Brittany — join their parents on cello, harp, harmonium, flute and violin. It's not unusual for the family to also add a whistle, guitar, ukulele and even a concertina.
Several Boulding grandchildren now join in the Celtic Yuletide festivities as members of the Raney Family Irish Dancers and the Tara Academy of Irish Dance, an award-winning dance troop run by Brenin's wife, Sara Raney. The couple's young son, Haydn, brings down the house with his dancing and percussion.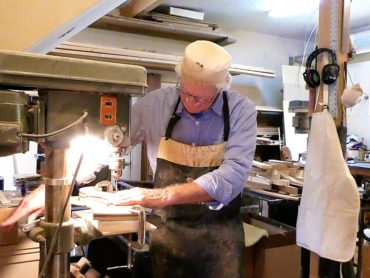 Brittany's husband, Prescott Breeden, a renowned operatic baritone, has also become part of the Yuletide tradition with his show-stopping rendition of "Oh Holy Night."
This year, the Celtic Yuletide program also includes Canadian fiddler Jocelyn Pettit, Dublin guitarist Colm McCarthaigh and percussionist Matt Jerrell.
Yuletide Season Begins
The 2018 tour begins in Kingston on Nov. 25 with a performance at Redeemer United Methodist Church. The concert is a benefit for the local middle school's antibullying program.
"We always start in Kingston," Philip Boulding said. "Our son Morgan lives there, and the energy is always fresh and spontaneous because it's the first concert and everyone is excited to begin the Yuletide season."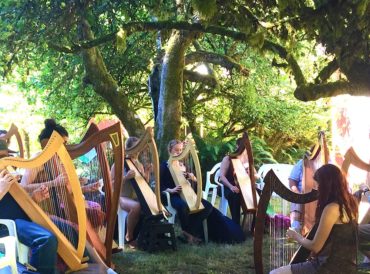 The Kingston concert sells out quickly because it's in a small, intimate space, Pam Boulding added. "It's also one of our best Grand Processions," she said.
The Grand Procession is an audience- participation tradition that begins the second half of every Yuletide concert. "Philip leads the procession wearing a crown and cape and playing his pennywhistle. We bring lots of costumes, and everyone who wants to can don a costume and join the parade," she said.
Each Yuletide performance also includes storytelling, juggling and sing-alongs of familiar holiday tunes, and there are always "little surprises."
"There's always something fresh and fun," Philip Boulding said.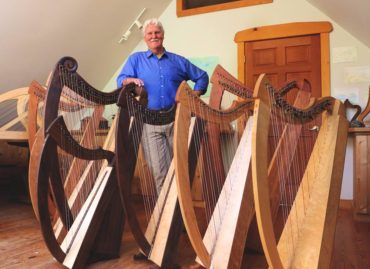 Fairytale Beginnings
The Celtic Yuletide tradition began 40 years ago, not long after Pam and Philip first met.
That meeting is a fairytale story in itself that started once upon a time when Pam heard a hammered dulcimer being played and decided that she simply had to learn to play the instrument herself.
A year-and-a-half-long search finally took her to Philip's studio in Seattle's Pike Place Market, where he was building Celtic harps and dulcimers and teaching classes.
"I longed to hear the harp and dulcimer played together, and I had a vision of having someone to play music with," Philip Boulding recalled. "When Pam arrived in one of my classes, I knew immediately that she was the answer to my vision. The moment we met, we felt like two wings of an eagle."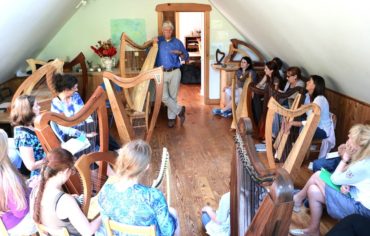 At that time, Pam was living in Olalla and already had the four boys, but she managed to find a reliable sitter every week so she could make the trek to Seattle to attend Philip's classes and practice playing music with him. "We were destined to be together," she said with a smile.
They soon were playing duets together regularly. Every Saturday, they would take the boys to the Grand Central Arcade in Pioneer Square, where the couple would play their instruments while the boys frolicked in front of the big fireplace. Sometimes the boys, who were also learning to play music, would join in.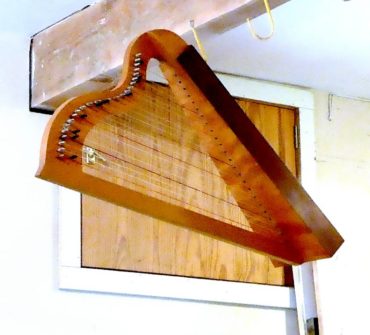 "People started asking us where else we played, so we started a mailing list," Pam Boulding recalled. "And one day, I said, 'We should have a concert.'"
She found a small theater where they could do a show, and made a little drawing promoting the concert. "That's still one of my favorite drawings of hers," Philip Boulding said.
The concert was a sell-out so they scheduled more performances at other Seattle-area venues.
Philip Boulding soon moved to Olalla and thus Magical Strings and the family's Celtic Yuletide tradition were born.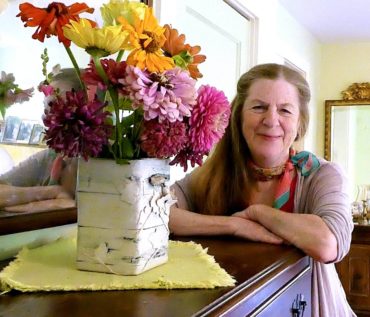 "Back then, when the children were all young, we'd practice together every night from September to November. We'd practice for one hour after dinner, before the dishes even got washed," Pam Boulding recalled.
When Brittany came along, she joined right in and, by the time she was 4 years old, she was playing a little violin and dancing around to the music. (Brittany Boulding is now a professional violinist who plays with the Seattle Symphony and is concertmaster of several other orchestras in the Puget Sound area.)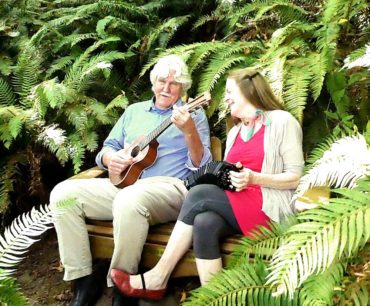 "Philip and I love playing music together and our family loves to play with us. We know that other families have started playing music together because they've seen how much we all enjoy it," Pam Boulding said.
This year's Seattle concert will mark the official 40th anniversary of Celtic Yuletide.
"We have so many fans who come every year and have told us how their parents used to take them to Celtic Yuletide concerts," she said. "Now they're bringing their own children. They tell us that Christmas doesn't happen until Celtic Yuletide."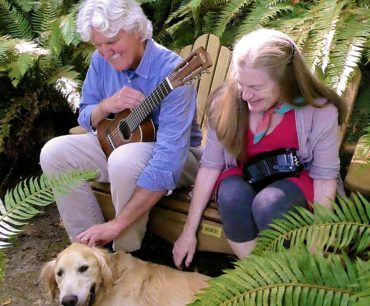 And, she added with a laugh, since many of the concerts take place in churches, "a lot of people tell us it's the only time they go to church."
Because it's such a tradition with so many families throughout the Northwest, Celtic Yuletide is also a priority for the Bouldings.
"Back maybe 20 or 30 years or so ago, we were wondering if we should keep doing our Yuletide concerts. But one of the boys said, 'But mother, what will the people do without us?'
"That's when we realized how important it is," she said. "And so, all our children come from all across the country, and bring their children, to make sure Celtic Yuletide happens every year."