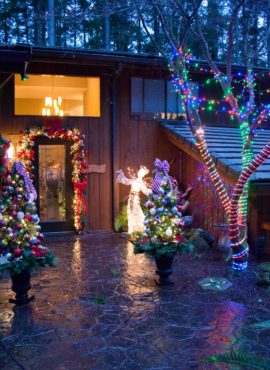 Growing up in the '50s and '60s, Trudy Northover recalls her parents always hosting get-togethers for friends and family. Christmas was a massive celebration at their home.
"Tech has taken so much away (web, email, etc.)," Northover says. "It's such a gloomy time of year, so our appetizer party is a wonderful time to host a get-together."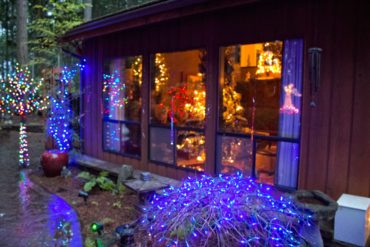 Northover and her husband, Michael (owner of Showcase Cabinetry & Design), have been hosting these holiday parties ever since they moved to Gig Harbor 14 years ago. The planning for the next year's party begins immediately after the current party.
"I start thinking of the colors, the décor and how I'll put it all together. I have several color schemes for Christmas, so it's never the same. Even the tree on the deck is new. I use different combinations every year, considering what theme I want to feature," Northover says.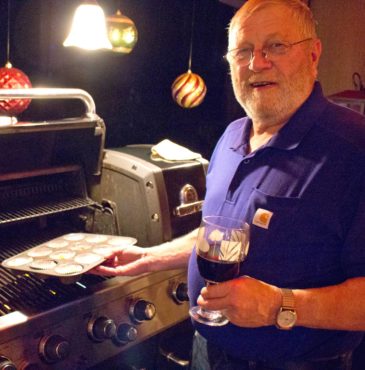 Northover designs the interior and her husband does the outside lighting and music and helps with decorating the inside.
For the menu, she considers what worked in the past. Northover serves a main hot dish, chicken Marsala with scalloped potatoes. In addition, sweet-and-sour meatballs (always a hit), wicked chicken, plus a salmon ball — all are party staples.
Northover admits to being more of a baker, but all her recipes are original, made from scratch. Her specialty dessert is chocolate éclairs (she has been kind enough to provide the recipe). Northover says it took forever to get the chocolate part of the recipe to work. Even her cakes are made from scratch. She says she is always tweaking her recipes.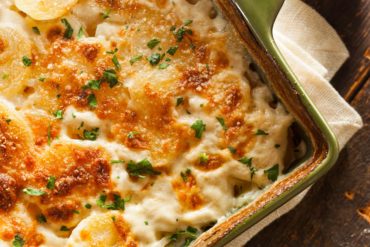 When Michael and Trudy Northover first began their holiday parties, it was a full-on turkey dinner with turkey, mashed potatoes, stuffing, veggies, bread, gravy and dessert. It became too much for the couple to prepare for the amount of partygoers in attendance, so Northover scaled it back, figuring out the most basic foods to serve. She also cut back the menu so she doesn't overcook, as guests now bring an abundance of food as appetizers.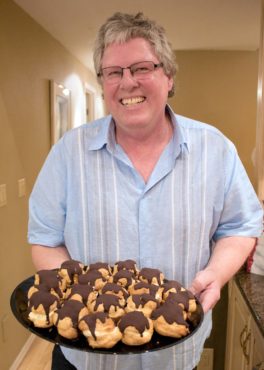 For example, friends Larry and Jean own an RV park at Ocean Park on the coast near Long Beach. Every year, they bring fresh oysters for oyster shooters and barbecued oysters (the two couples met through a happy accident when the Northovers ended up at the wrong RV park while going down to dig for clams). Rose and Kerry always bring lumpia rolls, while Dan and Suzanne bring their original Japanese fried rice. A neighbor brings Michael Northover's favorite dish of all, Sharron's deviled eggs. Friends Jeff and Dan prepare mini Reuben sandwiches on homemade bread. Everyone who comes brings something special to them.
The original invitations used to say, "Bring an appetizer or dessert." Too many guests brought desserts. So that part of the invitation was changed to only an appetizer request. Northover usually provides the desserts.
The guest list is fluid — family, close friends and friends of friends. The Northovers' house is very, very decorated and it makes people excited about Christmas. They want everyone to have a good time and enjoy the holidays.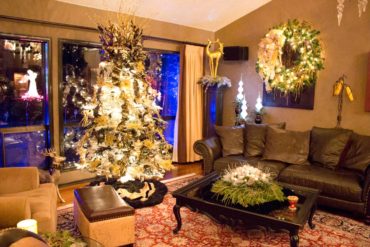 The Northovers have hosted upwards of 60 guests in their home, with an average attendance of around 50. Northover mentioned one year there was a lot of snow the afternoon of the party, and many people had to cancel because they couldn't get there. The food was prepared, decorations done, so the couple invited their neighbors and ended up with 35 people who had a great time, including a couple from Maple Valley who said they wouldn't miss the party no matter what.
One of the Northovers' sons, Larry (who works with his dad at Showroom Cabinetry & Design), is an infamous bartender for the soiree. Northover says her son knows his stuff. He always makes the last drink of the evening, a chocolate-dessert delight in a shot glass with a name that makes guests laugh but will go unnamed. Guests always look forward to this treat.
This year's event may have a surprise entertainment feature, but shhh — we're not telling!
Merry Christmas from the Northovers!
---
Trudy Northover's Éclairs
Pastry:
Ingredients:
1 cup water
1/2 cup butter (1 cube)
1 cup flour
4 eggs
Instructions:
Preheat oven to 400 degrees.
Bring water and butter to a boil.
Stir in flour over low heat until it forms a ball; remove from heat.
Add all the eggs and beat until batter is smooth.
Use a cookie scoop to drop on parchment-lined cookie sheet.
Conventional oven cook time is 35 to 40 minutes.
Convection oven cook time is 28 minutes.
When the pastry has cooled, use a break knife to cut in half.
Clean out the excess dough.
Filling:
Ingredients:
8 oz. cream cheese (room temperature)
1/3 cup sour cream
1-1/2 cup half and half
1-1/2 cup heavy cream
1 large box vanilla instant pudding
1-1/2 tsp almond extract
Instructions:
Mix the half and half, cream, almond and pudding in separate bowl; set aside. You can use a wire whisk to mix together.
In stand mixer, mix the cream cheese until smooth, then add the sour cream, mixing until smooth.
Add the pudding mixture slowly, making sure it does not lump.
Beat well on medium-high speed for 5-8 minutes. Mixture should be creamy and thick.
Use a large cookie scoop to fill the pastry. A regular spoon will also work.
Chocolate:
Ingredients:
1/2 cup butter (1 cube)
4 oz. unsweetened chocolate
4 oz. bittersweet or semisweet chocolate
4 tbsp karo syrup
Instructions:
Add all ingredients to double boiler and stir until melted.
Using a soup spoon, drizzle chocolate over the top of filled pastry.
Make sure you keep your pastry on the parchment paper.
Place in refrigerator for at least an hour before serving.
Put in a sealed container after chocolate has firmed and keep refrigerated.