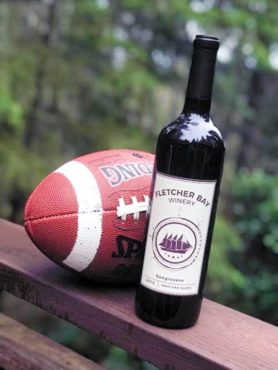 I was skeptical when I first tried it, but after one taste, I was hooked. Chili is a classic fall food that is often served when the weather turns colder. Instead of being outside on the deck, we start to spend Sunday afternoons and Monday nights inside, watching football.
An easy pairing for chili is a beer, but if you're a wine lover, it's often a struggle to find something that will cut through the fat and heartiness of chili. Chili meets its beverage match when paired with a glass of cava. One taste of this pairing, and you'll never have nonsparkling wine with chili again!
Cava is a sparkling wine from Spain. It has fine bubbles and balances nicely with many football-friendly foods like chili, nachos or mac and cheese. Cava is made using the "méthode traditionnelle," a method for sparkling-wine production that creates the effervescence in the wine through a secondary fermentation in the bottle.
Almost 95 percent of cava is produced in Catalonia in northeastern Spain, and the most common grapes are macabeu, parellada and xarello. Some cavas may also include chardonnay, pinot noir, garnacha and monastrell. Cava often has more earthy notes than Champagne, which can taste yeastier, and prosecco tends to be sweeter and fruitier.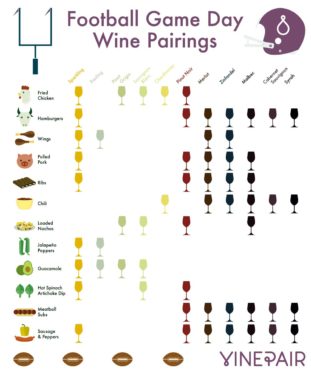 While bubbles are a no-brainer with almost any spicy, hearty food, there are other options that can pair nicely as well. If you favor reds, choose a young, juicy red like a Beaujolais Nouveau or cinsault.
You'll want to choose a red wine with low tannins because favorite football foods like hot wings or spicy cheese dip seem hotter when served with a tannic red wine. If you want to go with a nonsparkling white wine, choose one with a bit of fruit or sweetness like a torrontes or a riesling. Any delicate white tends to taste less flavorful and flabby when served alongside big, bold foods.
Just like fall calls for football and cozy sweaters, it's also the time of year we pull out our slow cookers and hit "go" for all-day cooking. To feed a football crowd, try this pulled pork recipe. It makes great nachos or sliders.
---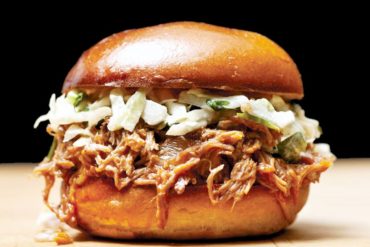 Pulled Pork
Ingredients:
2 medium yellow onions, thinly sliced
5 medium garlic cloves, chopped
1 cup chicken stock
1 tbsp packed dark brown sugar
1 tbsp chili powder
1 tbsp kosher salt, plus more as needed
1/2 tsp ground cumin
1/4 tsp ground cinnamon
1 (4-1/2- to 5-pound) boneless or bone-in pork shoulder (a.k.a. pork butt), with twine or netting removed
2 cups barbecue sauce
1/4 cup ketchup
Instructions:
Combine garlic, onions and chicken stock in the bottom of a slow cooker. In a small bowl, combine the sugar, chili powder, salt, cumin and cinnamon. Using paper towels, pat the pork dry and then rub the spice mixture all over the pork.
Place the meat in the slow cooker, cover and cook on low for 8-10 hours or until meat is fork-tender.
Remove pork from slow cooker and shred into small pieces. Discard the liquid from the slow cooker, reserving the onion mixture. Place shredded pork, onion mixture, barbecue sauce and ketchup back into the slow cooker. Combine and season with extra salt if needed.
Serve this pork on mini pretzel buns for sliders or pile on top of chips with all your favorite additions for nachos. Pair either of these with cava or pinot noir. Pinot noir has crisp acidity and medium tannin levels that balance nicely with the savory flavor of the pork. A full-bodied tempranillo is also another great red option.
What other wines do you like to pair with football foods? Share them with me on Facebook or Instagram @thesocialsip.