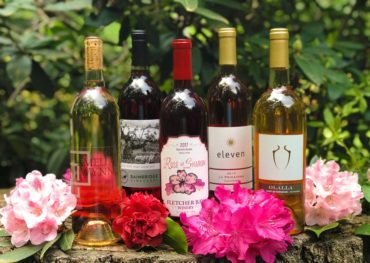 Flip flops, backyard barbecues, ice cream, sand, sunshine and rosé. All things that we enjoy during the beautiful summers in the Pacific Northwest. Many wines can be enjoyed year-round, but rosé is one of the few wines that feels like summertime in a glass. Over the last few years, rosés have been making a name for themselves and have gotten quite the following among wine amateurs and connoisseurs alike.
Origin of Rosé
Ancient Greeks brought wines and vines to southern France around 600 B.C. when they founded the city of Marseille. All wines produced then were generally pale in color — the color of today's rosé. When the Romans reached the area in 125 B.C., the rosé wine produced there had a reputation across the Mediterranean for its high quality. The Romans called the area Provincia Romana, now called Provence.
During the Middle Ages, winemaking in Provence saw a large growth due to the local abbeys that made rosé wine a revenue source for the monasteries. Starting in the 14th century, the nobility and military leaders acquired and managed many vineyards in Provence and rosé became the prestigious wine of royalty and the rich and famous.
At the end of the 19th century, Phylloxera, an aphid-like insect that feeds on the roots of grapevines — cutting off the flow of nutrients and water and as a result killing the vines — reached Provence and devastated the region's vineyards and forced vintners to replant. Winemaking techniques improved, as did the grapes.
While Provence is still the birthplace of rosé, it is now produced all over the world. What started in the United States as sweet, pink wine has now evolved into a wide variety of versatile, easy-drinking, high-quality wines.
What Is a Rosé?
A wine is considered a rosé when it has some color from the grape skins, but not enough to qualify as a red wine. Rosés come in a wide range of styles and colors. The color can range from very pale orange to dark, bright pink, depending on the type of grape and winemaking technique.
Rosés made using the skin-contact method are produced with black-skinned grapes. After crushing, the skins remain in contact with the juice for a short amount of time, usually two to 24 hours. The juice is then pressed out and the skins are discarded. The longer the skin is left in contact with the juice, the more intense and darker the color of the wine.
Rosés also run the range of sweetness levels, from very dry Provencal rosés to sweet white zinfandels, and are made not from one single varietal but from a wide variety of grapes.
Rosé All Day!
In the late 1970s, Sutter Home released the first type of rosé in the United States called white zinfandel and Americans loved it. Until the early 2000s, rosé was thought to be a cheap, sweet wine, but when beach-town restaurants and resorts started offering the dry, Provencal rosé on their lists, it went mainstream. Rosés now have their place at the table (literally) and pink no longer means unsophisticated and sweet.
If you haven't jumped on the rosé bandwagon yet, dip your toe in the water this summer with one of these recommended Washington state producers. These rosés are dry, versatile wines that taste great with a wide variety of foods. Delicious summer sippers and a far cry from your mother's white zinfandel!
Washington Rosés
Amelia Wynn Winery, 2017 Rosé, Crawford Vineyard, Yakima Valley, $20: 100 percent tempranillo and layered with aromas of pink grapefruit, dried rose petals and hints of almond paste. Crisp, dry and fresh on the palate, with a balance between zesty acidity and soft hints of white melon, peach and green tea.
Bainbridge Vineyards, 2017 Emerge Rosé, Puget Sound, $24: Fruit-forward with bright flavors of cranberry, boysenberry and pomegranate followed by a dry and pleasant finish. This wine is made from grapes grown on Bainbridge Island and is a blend of Northern European varietals agria, zweigelt and dunkelfelder.
Eleven Winery, 2017 La Primavera, Washington State, $20: This easy-drinking, dry rosé is a blend of 20 percent tempranillo, 28 percent syrah, 24 percent malbec and 28 percent mourvedre.
Fletcher Bay Winery, 2017 Rosé of Sharon, Crawford Vineyard, Yakima Valley, $24: 100 percent dolcetto and named after the winemaker's wife, Sharon, this rosé is dry, fresh, lively and full of acidity and minerality.
Olalla Vineyards & Winery, 2016 Rosé of Grenache, Red Mountain, $22: Notes of ripe strawberry, orange, hibiscus and a hint of allspice. Moderately high acidity and dry on the finish.