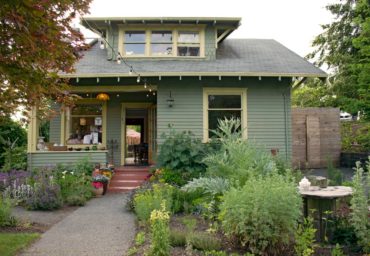 Mossback. It's a slang term for anyone who prefers the gray drizzle of the Pacific Northwest to its elusive, sunny days. And we all know what happens sans sunlight — moss grows.
Except in Kingston. There, Mossback is a restaurant with an ever-changing farm-to-table menu, a supportive community of local family farmers and producers whose organic handiwork inspires the kitchen, and a trio of hardworking owners who don't mind pulling on a pair of overalls and boots to weed and prune in the rain.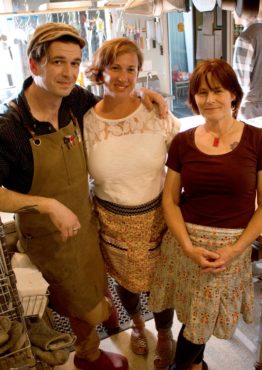 The restaurant resides in a hundred-year-old farmhouse whose history includes chapters as a bed and breakfast, the outpost for a catering company and, for a few residents, their grandmothers' home. If you ask locals for directions today, they'll point to a side street off Kingston's main drag and tell you Mossback is "the little green house behind the bushes."
"It seems fitting that we're taking this age-old approach to food in an age-old house," said co-owner Christy Penney.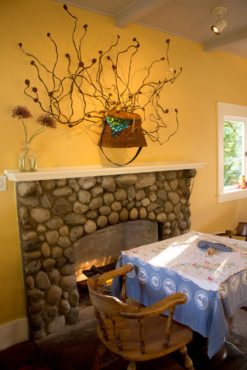 The owners began as Kingston homesteaders: two couples who built self-sustaining homesteads 2 miles apart but didn't know each other. They were drawn together by a common interest in local family farms, food produced organically and made from scratch, and farm-raised meat with animal welfare certification. Pam Buitenveld and a former business partner began the idea of opening a restaurant and found the house.
"John Delp heard about it through the grapevine and tracked down Pam's number, volunteering to help," explained Penney. "Mossback" quickly took on a life and personality of its own, enveloping me in the process."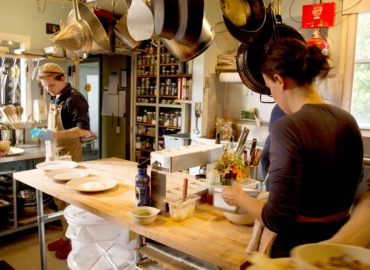 Despite its newest identity, the little, green house-turned-eatery has managed to retain its ambiance as a historic home. Customers enter through the front door to a living room and parlor outfitted with secondhand tables and chairs and antique chandeliers. Those in the know might peek in the old kitchen now sporting commercial restaurant equipment, and then wander out the side door to the patio, seeking the entryway to the former two-car garage transformed to an intimate, inviting cocktail lounge called the Rabbit Hole.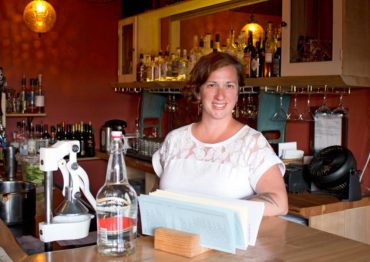 The reference to Lewis Carroll's "Through the Looking Glass" is intentional. The newly remodeled bar feels like an intimate, whimsical otherworld with a cocktail menu of creative elixirs inspired, in part, by seasonal ingredients bearing names such as The Switchel Root featuring turmeric switchel, or Ground Control to Major Pomme – "rimmed with cayenne apple dust."
In the restaurant business, an interesting history, ambiance and great staff aren't enough to create customer loyalty if the menu isn't worthy. Mossback's menu isn't just worthy, it's downright epic. It begins with the eatery's respect for the local vendors.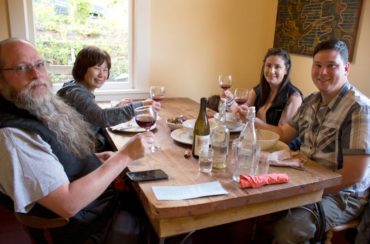 "If our restaurant is good," proclaims Mossback, "it's only because we didn't mess up their hard work."
Weekly, Delp makes the rounds in his green pickup to source local produce and meats that he transforms in the kitchen.
"I have been cooking professionally for most of my adult life but have never taken it seriously until Mossback," he said. "The opportunity to combine the skills and creativity of cooking with the ethics and aesthetics of Mossback, along with the joy of collaborating with the rest of our team, has really tapped into something I didn't know was there."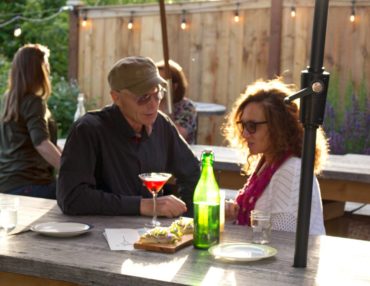 A typical Facebook post with mouthwatering photo credits Mossback's community of farmers and growers: "You can't tell, but underneath that crispy, confit of Rusty Wheel Farm pork belly with the honey balsamic glaze and first-of-the-season arugula is a savory strata, made with Skokomish Ridge shiitake mushrooms, Pink Lady apples, roasted garlic and Mt. Townsend Creamery New Moon cheese. Lots of flavors packed into a simple looking plate!"
Credit to community extends beyond the restaurant's local family-farm partners. Mossback's website reveals just how collaborative the business is. The cooks who make up the back of the house and the staff and servers who make up the front of the house are listed by name.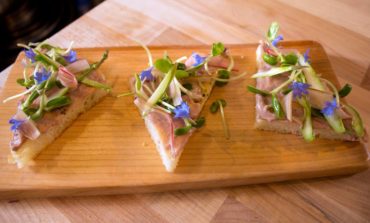 "We look for people who have a voice of their own to add to our fugue, and Mossback is shaped in different ways by each of them as individuals," Buitenveld explained. "We have people with varying backgrounds, some of whom are restaurant veterans, some have never worked in this sort of environment before, and they each bring a different perspective to the task at hand.
"It's a largely nonhierarchical atmosphere, where everyone feels comfortable chiming in, and everyone works together in a way that is rare in this industry. The result is that everyone is constantly learning from everyone else, and everyone feels valued for whatever unique contributions they can bring. It's a family."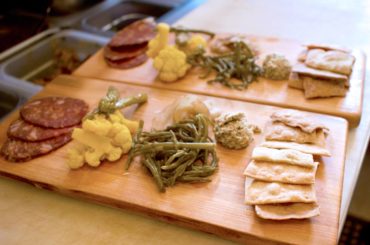 That sense of community was the theme of the restaurant's March 2018 remodel. Paul Smyth from Poulsbo's family-owned Smyth Lumber Mill sourced local Douglas fir for the new bar top in the Rabbit Hole. Delp built the bar back with salvaged materials. Danger, a Bainbridge store featuring local artists, found new metal art for the interior and Mossback employee Kendra Komppa has some of her artwork featured on the newly painted walls.
The collaborative approach has also inspired some spontaneous, onsite, popup Mossback alter egos. Last summer, Mossback occasionally transformed into El Musgo, an informal outside taco joint with live music and a menu of tacos.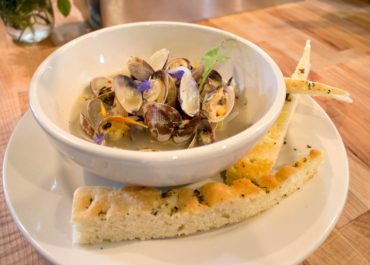 "Tacos are possibly the world's most perfect food but we also featured goat birria, Oaxacan-style roasted corn and horacha cocktails," Penney said.
El Musgo (translation is The Moss) will be back again in 2018 on the first Saturday of the month between May and September with an expanded menu.
In January, Mossback joined forces with Bainbridge Island's Good Egg café, metamorphosing both eateries into MOX, a one-night restaurant serving up an Eastern European menu and music for the evening.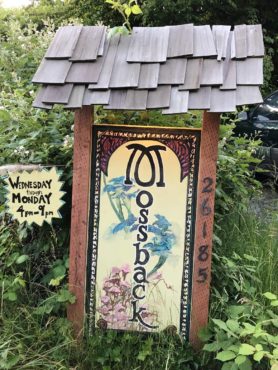 "The idea to call these popups a whole new restaurant temporarily felt very freeing. We didn't have to fit into the conventions of Mossback. Instead, we could throw it out the window for a night and try something entirely new," Buitenveld said.
Mossback's reputation for fun, moody, romantic dining and an occasional good party has spread organically by word of mouth and social media, echoing the organic, slow-food philosophy of Buitenveld, Delp and Penney.
"We often say that Mossback chose us, as opposed to us creating Mossback," Penney said. "It's somehow more than the sum of our individual contributions, and something none of us ever would have dreamt up on our own. And it's still evolving."