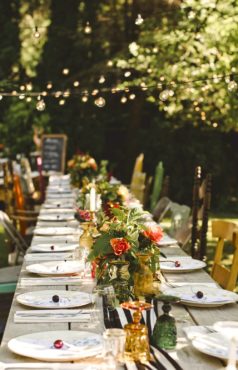 It started as a way of helping girls who were being sold into human trafficking and turned into something much more than expected. Kelly Welk, owner, event designer and top dreamer at CiderPress Lane, heard about Seattle nonprofit Rescue Freedom International, whose goal is to help stop human trafficking, and as a mother of three young kids, she felt compelled to help.
With 27 million victims of human trafficking in the world today, Welk wanted to do something to bring about change. She loves to cook and entertain and with those two passions in mind, an idea formed. She and her husband, Aaron, decided to invite friends over for dinner one night and charge them for the meal to raise money for Rescue Freedom.
They weren't sure any of their friends would be willing to pay to have dinner at their house, but seven people showed up to that inaugural dinner and $300 was given to fight human trafficking. That one dinner turned into another, with invitations for more friends who also wanted to be involved in something bigger. Since that first dinner three years ago, they've fed more than 400 people in their Bremerton home and orchard and donated over $19,000.
Food and wine is always the center of her community dinners and interactive workshops. Welk believes that life happens around the table and great food and good wine are meant to be shared with friends. CidperPress Lane recently published its first cookbook, "Dinner Changes Everything," which includes six full menus and more than 40 individual recipes complete with wine pairing and party prep instructions. One of Welk's favorites is a grilled salmon with blueberry salsa recipe that she shared with WestSound Magazine readers.
When you think of what kind of wine to pair with salmon, white or rosé wine is a no brainer. A rich, oily fish like salmon typically tastes wonderful when served alongside an oak-aged chardonnay or a viognier, but syrah is also a great red wine to pair with this dish.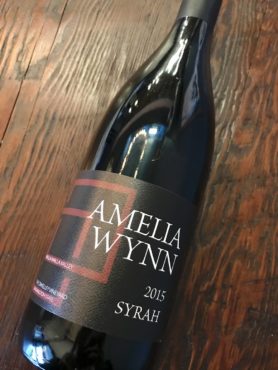 A sockeye salmon has bolder flavors and when grilling, it adds a slight char and smokey flavor that really complements the wine. The salmon and the grilling enhance the earthy, smokey qualities in syrah, but the blueberry salsa brings out the jammy, fruity flavors inherent to syrah.
One of my favorites is the 2015 Syrah from Amelia Wynn Winery. The grapes for this wine are sourced from the Dwelley Vineyard in the Walla Walla Valley and the wine is made locally on Bainbridge Island. This syrah is loaded with flavors of fresh black fruit and savory notes of herbs with crushed basalt and soft black pepper on the finish. The tannins are fine and velvety and well balanced with soft yet distinct acid. Delicious now but will also drink well in another five or more years.
You can find the entire dinner party menu that accompanies this recipe in the cookbook "Dinner Changes Everything." This cookbook can be purchased at www.ciderpresslane.com/shop. The online shop is also filled with the Freedom Collection. This collection is a compilation of dinnerware and kitchen goods that are fair trade, and many of the items are made by women saved out of sex slavery. Every item in the shop gives back to the fight against human trafficking.
A little effort and a bit of planning can go a long way to bring about change for the better.
---
Blackened Salmon with Blueberry Salsa
Ingredients:
8 4-ounce salmon steaks (this recipe also works well with a white fish like tilapia)
Cajun seasoning
Salsa:
1 cup blueberries plus 1 cup strawberries (or mango if it's in season), chopped
1/4 cup red onion, minced
1/4 cup red pepper, diced
1/4 cup cilantro, chopped
1-2 tbsp jalapeno, minced (start with 1 tsp and add more if you prefer)
1 lime, squeezed
2 tsp sugar
Instructions:
Combine the salsa ingredients in a medium bowl; stir, cover and set aside.
To create the salmon steaks, cut the filet into 2-inch strips. Butterfly the 2-inch strips by cutting them down the middle just to the skin. Leave the skin intact. Now open like a book. The skin will fold back on itself (if this is hard to visualize, look up a video on how to butterfly a salmon filet). Brush both sides of the salmon steak with olive oil and season generously with the Cajun seasoning and salt.
Turn the grill to high heat and place a cast iron skillet on the grill, allowing it to heat up. Once heated, drizzle a tablespoon of olive oil onto the skillet and put on the salmon steaks. You will be able to see the flesh color change as the salmon cooks from a bright translucent pink to a solid matte pink, starting from the bottom and rising. Cook the salmon for 2-3 minutes per side.
Serve the salmon on a large platter with the salsa on the side, allowing guests to individually add the amount they would like.