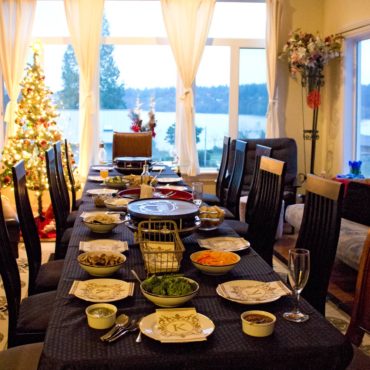 "The general idea that I like most about a raclette evening is that it is a unique and engaging way to break bread with somebody, constantly communicating with people and getting feedback." ~ Doña Keating
Reinvented for the modern era, a raclette grill is the perfect addition to a dinner party or social gathering. Designed to cook for several people at once, these indoor grills offer unique tabletop entertainment, healthy preparation and excellent results.
The cooking surface on the top offers lots of room for grilling meat, fish, vegetables and more. Eight dishes underneath allow the diner to melt cheeses or other warm sauces, combining the top and bottom ingredients to enjoy a sumptuous meal.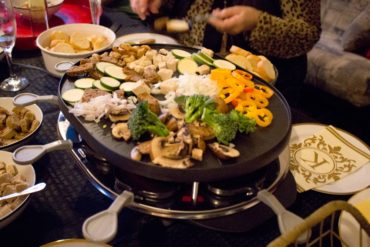 Like the similar Swiss tradition of fondue, the raclette encourages an informal, relaxed dining atmosphere, where diners take care of handling the food to cook and serve themselves. Traditional raclette meals are intended to be leisurely and can last for hours, many times accompanied by several bottles of wine.
Charles and Doña Keating of Bainbridge Island have been entertaining friends at raclette events for approximately seven years. The couple has enjoyed their raclette so much, they invested in two more raclette grills. At times, they host informal events; other times, themed parties (Mexican, Italian, even breakfast), along with an annual New Year's Eve party.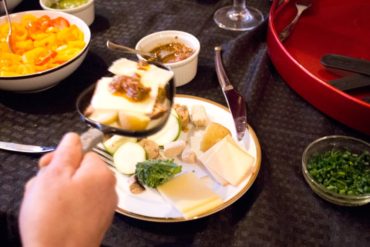 For the New Year's Eve event, the guest list is a mixed group of 25 to 30 people. The list changes every year. The only limitation is the number of chairs available. There is a core group of guests, usually living within walking distance, as the group started out with mostly neighbors. The couple then adds people they have met or would like to get to know better.
They also provide a kids' table, introducing the young people to a variety of savory edibles.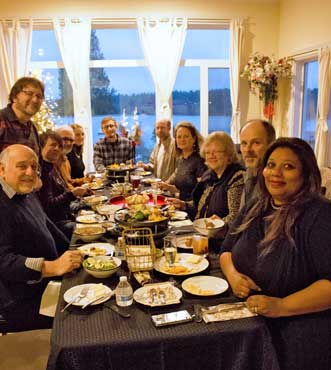 This will be the fifth year for the event. As the Keatings prepare for their annual event, they consider the menu. They like to mix it up and decide what goes together. As ovo-lacto vegetarians, their choices run to a variety of vegetables, breads, exotic cheeses, condiments and the always sought-after potato dishes. To ensure everything is fresh, prepping is a three- to four-hour task the morning of. Once that chore is complete, they are ready to greet guests, as the guests will be cooking their own dinner.
"If somebody has never experienced a raclette meal, you can just watch their eyes light up, as they enjoy something new," Doña Keating notes.
The party is an enjoyable evening of engagement, pretty much relegating the electronics to a corner. After all, it's difficult to check your Facebook account if you're grilling your dinner.