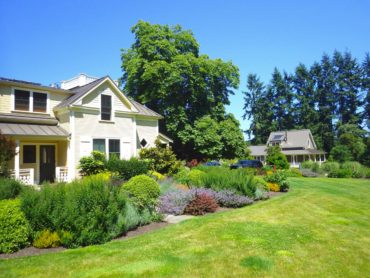 In the morning shade of a large, commanding horse-chestnut tree sits a bright-yellow farmhouse that greets visitors to Heyday Farm on Bainbridge Island. Right away, guests are met with beautiful flower gardens, country architecture and the smiles of staff passionate about their work.
The front lawn is surrounded by a perfectly selected flower garden that has something in bloom nearly every week. It is inviting — like stepping into a storybook fantasy of a farm house.
"Heyday Farm is about connecting food, community and table," says Shari Stoddard, the farm's friendly and enthusiastic host.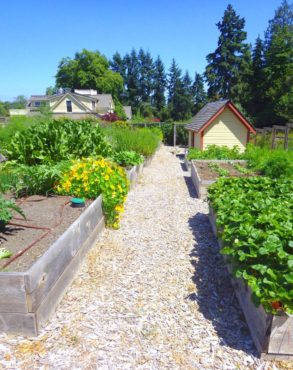 These connections define Heyday Farm. In the 1920s, the current farm site was owned by Adolph and Emma Pederson, who provided nearby Port Blakely Mill workers and surrounding communities with food. The farm strives to return to the "heyday" of Bainbridge Island farms, when much of the food was locally sourced.
Current owners Steve Romein and Ty Cramer purchased the old farmland while it was slated for residential development. Influenced by Romein's upbringing and farming experiences, they sparked new life into the once-productive land and Heyday Farm was born in 2011 to reconnect people with their food. More than just grow food, they wanted Heyday to bring food to the people and people to the food.
To this end, Romein and Cramer enlisted the help of longtime Bainbridge Island farmer Brian McWhorter and popular island chef Tad Mitsui, well known from the island's Streamliner Diner. McWhorter manages Heyday Farm's wholesale food production, selling produce to local restaurants. Chef Mitsui oversees the kitchen garden, dining, bed and breakfast, education, and farm store for the purpose of bringing the farm to the community.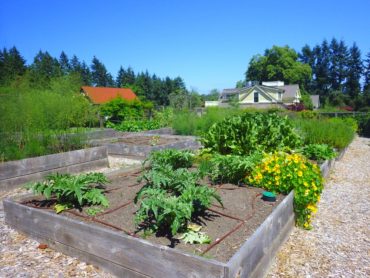 The Kitchen Garden
A stroll through the raised beds of the Kitchen Garden drives home the careful planning and plant selection that is core to how Heyday Farm operates. There is intention and thoughtfulness with plant selection and even in the decision to use raised beds. Much of what they grow is different than originally grown by the Pedersons; to survive, small farms must grow crops that will sell.
Mitsui, sous-chef Noel Arsenault and "jane-of-all-trades" Meg Herndon select crops for seasonal menus and dining-room floral displays. Constant crop rotation helps maintain a year-round selection of vegetables for diners. Crop choices are geared toward Northwest recipes but also some Italian and other Mediterranean options as well.
Care of a commercial kitchen garden is a lot of work. Herndon, along with summer interns and all farmhouse staff, tend the garden into a beautiful and productive marvel. Diners benefit from food grown with care and passion.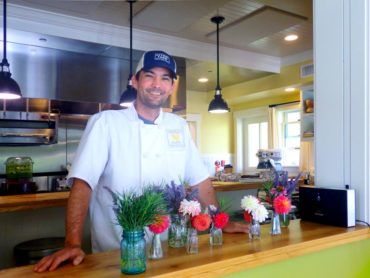 Dining
Mitsui explains his philosophy this way: "I try not to get fussy with the food. I try to make sure that the quality of ingredients are so high that it's more about technique. So If you're cooking things correctly, you don't need to put too much into them to make them taste delicious. We just try to make sure we are sound in our techniques and that it comes out with how fresh things are. It can be up to half an hour out of garden to the plate."
Presently, Heyday hosts a weekly Tuesday dinner of locally sourced offerings, with few international exceptions on the wine list. Mitsui's many fans from his time working in other kitchens around the island wanted a way to dine with him and so they inspired these weekly dinners. There are no reservations but waiting to be seated with a glass of wine in the gardens or in the shade of the chestnut tree is not a bad way to spend an evening. Heyday plans to expand its dining programs by adding special dinners for which people can reserve space.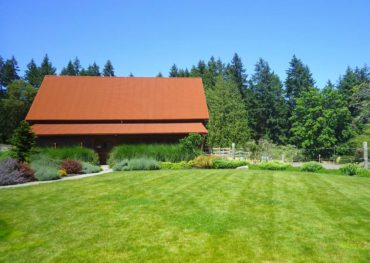 In an ongoing effort to bring the community to the farm, there are public events like cider pressings and concerts. For the holiday season, Heyday has turkey pickups and sells pies. Weddings are encouraged at the farm, complete with scenic facilities and sustainably grown Northwest food, for sustainability-minded lovebirds. This allows newlyweds to begin their sustainable marriages in an idyllic, fairytale setting.
Heyday also does the reverse and brings the farm to the community. It does some event catering with locally grown foods, has catered the Bloedel Reserve's 2017 garden party and was a vendor there in 2016. The food and the message of eating local have been well received. Heyday is also available for private dinners and is amenable to non-Northwest menus upon request.
Farm Store
Heyday maintains its farm store in Lynnwood Center below the lodging rooms. Mitsui and Herndon manage the store and make local produce even more accessible to the community. While some of the produce is from the farm, Heyday also sells items produced by other local farms and businesses. Various jams, sauces, spreads, drinks, honey, fruit and vegetables are sold along with farm-themed artwork and potted herbs. Shopping at this store is a great way to support local growers.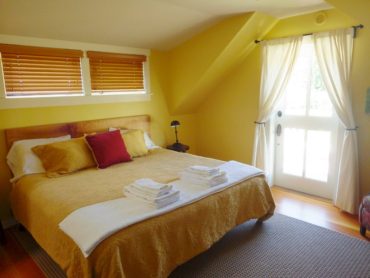 Farm Lodging
Along the lines of connecting farms with people and promoting agritourism, Heyday Farm provides guest lodging at the farm and above its Lynwood Center store at the Farm House Annex. With four rooms at each location, Heyday has much to offer guests.
Visitors to the farm location can stay in lovingly decorated rooms with views of the farm and surrounding woods. As the farm is located well away from busy highways, a quiet stay is assured. Guests can stroll through the kitchen garden and around the surrounding flower beds.
The Farm House Annex at Lynwood Center provides access to a host of shops, restaurants, a historic movie theater, a beach and rentals from Island Outfitters. Both lodging locations are ideal for people who do not just need a place to stay but also seek a wonderful vacation spot. Guests at this location are conveniently close to the main farm site and can make a quick trip over to visit the farm.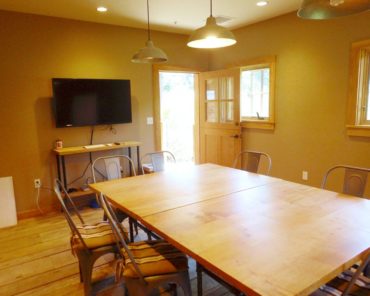 Meetings and Retreats
Like most farmers, the Pedersons had a barn on their farm for livestock. Time had taken a toll on that original building but Heyday built a new, beautifully designed barn on the original footprint. Much of the wood used in its construction is from the property, and all the wood is sourced from Bainbridge Island. The building is as much a work of art as it is functional.
Organizations can rent the barn for meetings and retreats. Part of the building is a meeting room complete with WiFi and other business amenities. The central barn is open and available for indoor activities requiring more space. And what retreat is complete without beautiful, relaxing surroundings? The manicured grounds are available for attendees to wander on breaks or perhaps conduct meetings outside.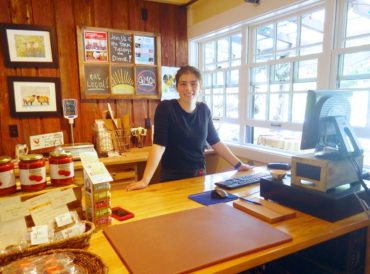 Community Education
Giving back to the community is an integral part of Heyday Farm's identity and it achieves this through "educulture," or farm-related education. Staff do some adult cooking classes but much of their educational outreach is with Bainbridge Island schools.
For the last two school years, kindergartners have attended Heyday's "Follow the Egg" educational experience. Students from Ordway and Wilkes are bussed to the main Heyday Farm property. Blakely students go to the Johnson Farm on the south end of the island. Four such events were hosted the first year, nearly doubling to seven in the most recent school year.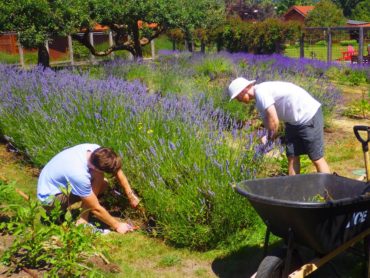 Students get to compare fresh, farm-grown eggs with store-bought eggs. A little ruefully, Mitsui admits that kids prefer the store-bought eggs at first because that is what is familiar. He likes to think that he wins them over to better-flavored, farm-fresh eggs when the kids make and eat a souffle from eggs they helped gather.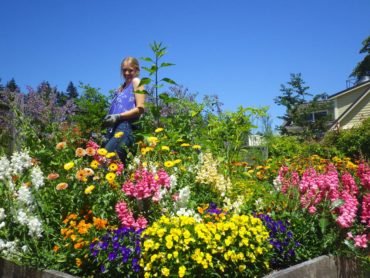 Besides offering direct education, Heyday Farms partners with numerous local nonprofit organizations that align with Heyday's mission of sustainability. It plans to host three benefit field dinners, with the meals cooked and served to guests seated at a table in the field. The proceeds go toward transporting students to the farm for hands-on experiences. The farm is proud to support Bainbridge Island Schools Foundation with a large-ticket auction item: a private dinner for up to 12 people.
Experience Heyday
Environmental sustainability is coupled with economic sustainability in the Heyday business model. Every activity takes this into account, from dining to the farm store, to crop selection and landscape design. The public is invited to visit the farm for a self-guided tour to experience the special flavor of sustainable, farm-to-table hospitality.