You are invited!
Please join us as WestSound Home and Garden takes a look at the joys and challenges of entertaining. With a bit of preplanning and some sage advice from our entertaining experts, throwing a party can be as much fun for the host as it is for the guests.
The candles are lit. The hors d'oeuvres are out. Rhythm and blues is setting the mood. It's time for your guests to arrive. Now, however, comes the big question: Are you relaxed and excited to welcome your friends, or are you a nervous wreck?
If it feels like imagining is the best part of a party — and it's all downhill from there — what you need is a little encouragement and some insider strategies to ensure you, too, feel like a guest at your get-together.
Entertaining needn't be difficult or daunting. Neither does it take pots of money to pull off an unforgettable evening. What it requires is a little advance planning, creativity and guests who are ready to have a good time engaging with one another.
A full-blown dinner party is a classic way to entertain but it's only one way to bring friends together. Consider a holiday dessert party, a summer barbecue, a progressive dinner or a casual what's-in-the-fridge party. An evening gathering on a weekday can be good therapy after work. After all, there's nothing like laughter and conversation to counter the stress of a busy day, and there's nothing like home to encourage it in a way no restaurant can.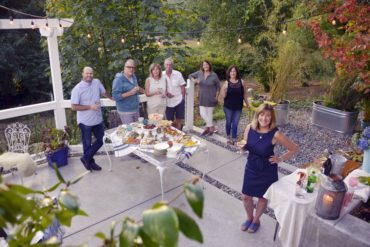 A fancy home and fancy food is all very well but what really matters is an atmosphere of comfort and belonging. Whether the occasion is more appropriate to putting your hair up or letting it down, hospitality is, at its heart, about creating an experience that brings people together.
Experts on entertaining — such as Martha Stewart — say the recipe for success is simply paying attention to your guests and feeding them good food and wine. But what about the details? For those, WestSound Home and Garden turned to three experienced North Kitsap hosts: Carol Roach, Heidi Dudley and John Blanchard.
Give Guests a Role
Carol Roach and her husband, Rick, entertain frequently at their sunny home on Poulsbo's Lemolo shore. In summer, their lucky guests may enjoy a rejuvenating repast at the couple's waterside gazebo. Roach's friends, Heidi Dudley and her photographer husband, Paul, welcome guests to their country-casual home in Poulsbo's Big Valley. Yet another member of this socially experienced group, John Blanchard hosts gatherings with his longtime companion, Chelsey, at his Indianola Spit saltbox.
They all agree on the importance of letting friends pitch in. They find that guests are usually happy to bring a dish and be given a role.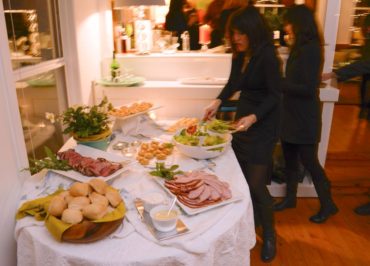 "Have everybody contribute to the meal," Roach advises. "Give them a specific category: a side dish, an appetizer, a dessert. People like to share and show what they can do."
"As the host, you provide the main course," Dudley agrees. "Don't take on so much yourself that you spend your party stuck in the kitchen."
Blanchard shares another wise strategy: Give your guests a job. This is especially useful when the party includes at least a few "regulars" who know their way around your kitchen.
"Parties at my house are very much a contact sport. Someone's mixing cocktails, someone else is shucking corn, and someone's checking the steaks," he says. "Guests walk in and are given something to do. Or they can self-select a job. It helps them interact."
Hygge Hospitality
Blanchard likes his parties low-key and interactive. If there were a recurring theme, it would be "come as you are." He subscribes to the Danish concept of hygge (pronounced hue-guh), an ideal of contentment and coziness experienced through the simple things in life. Guests are encouraged to jump into Puget Sound or the hot tub, wrap up in a blanket by the fire or change the music on Pandora. Squads of teens play ping-pong in the garage. Get-togethers may even revolve around televised events such as presidential debates.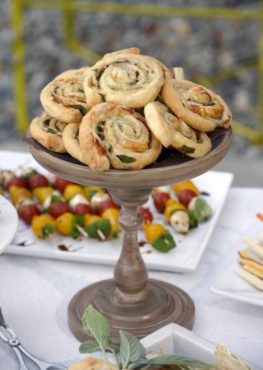 "There's no schedule, not even vaguely," Blanchard says with a smile. "There are appetizers, but we may not eat dinner for hours after the guests arrive."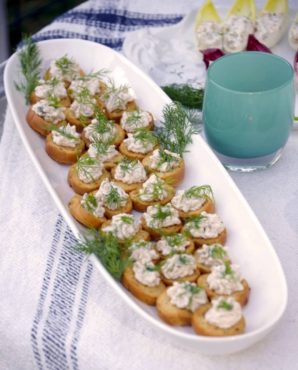 He frequently lets his home's location on Miller Bay do the entertaining with swimming, kayaking, stargazing and enjoying beach fires. The main course at these events is often sockeye on the grill, which Blanchard lets the teenagers prepare. Long beach walks are common while the food cooks. In the winter, the party goes indoors with the addition of board games such as the irreverent Cards Against Humanity.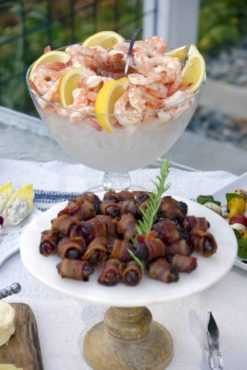 Casual entertaining is a good fit for the Kitsap Peninsula but structured gatherings have a place, too. Roach often works these events around special occasions such as the Christmastime passing of the Argosy Cruise ships. Roach and Dudley, who is an event stylist for Simply Bainbridge catering, relish the challenge of table-staging, seating and menu planning.
Although spontaneity has its charms and last minute can be its own kind of fun ("One of the best parties we ever had was a New Year's Eve party we decided to have two days before," Dudley recalls.), all parties benefit from some preplanning. The less planning, the more the preparation will resemble a category 4 hurricane, Dudley says.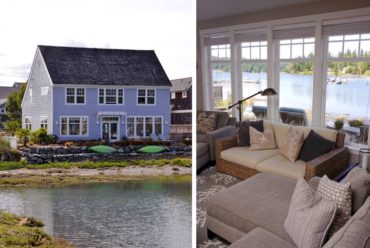 The Importance of Advance Planning
"Have everything done in advance so you can be present at your party," Roach suggests. "Prep as much as you can in advance. Fill a box with everything that will go on the table."
Underline a theme with music. Pandora is an easy way to access Bossa Nova, French café tunes, Hawaiian luau music or any genre you choose. Be thoughtful with the guest list; ask yourself if these people will be a good mix. If you're not sure what food to serve, check out what's on sale at your favorite grocery. For Dudley, the menu is often determined by Central Market's Market Buy sheet.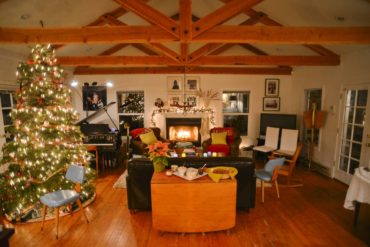 She recommends using familiar, reliable recipes: "My go-to dinners are usually from the Barefoot Contessa. My motto is that if it's good enough for the Hamptons, it's good enough for Kitsap County. She has very simple recipes that are easy to follow. My favorites are her 'week-night Bolognese' and herb-marinated loin of pork.'"
Serving it Up
Dudley and Roach recommend staging a buffet table with varying heights and being creative with vases, cups and things you already own. Turn to inexpensive sources such as Goodwill for anything else you need. Dudley remembers one party at which Goodwill provided an all-white table. Roach frequently uses the clear-glass plates she found on sale at a discount store for a dollar each. Another advantage of inexpensive table settings, she adds, is that "if they break, they break, and no one has to feel bad."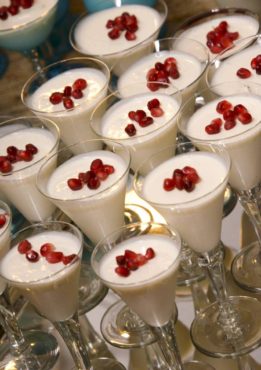 When it's time to platter the food, Google can be a good source of inspiration. Dudley likes to pick rosemary and sage for garnishing and keep them in a glass of water until they're needed. Edible flowers and many other garnishes can be found in the garden; check online if you're unsure what's safe to put on a plate.
Attractive platter presentation is important, Dudley says with a smile, because "if the food isn't good, at least it looks good."
If you don't feel like cooking, hire a caterer if you can afford it. Or hire one or more teenagers to serve and clear at your event. Dudley once sewed jewel-toned aprons for a group a high-school girls who assisted at one of her parties. Having someone on hand to pass the appetizers, replenish the food and clean up throughout allows the host to focus on the guests.
After all, your guests are what it's all about.
"You have to be at ease," Dudley says. "Show newbies around."
"Keep scanning the room," Roach adds. "Watch for anyone alone."
Dive In
The point of entertaining is, after all, about spending time with friends. If you're nervous about playing host, start with close friends, Roach urges. Have a casual gathering, like a barbecue. Start small and keep it manageable.
"Dive in and have a party," she says. "The more you do it, the easier it gets."
"Life's too short not to entertain," Dudley adds.
"There's so much chaos everywhere," Blanchard concludes. "There's a civilizing aspect to entertaining. It's about friends taking time to stay connected. It's something to look forward to. It's a way of showing gratitude for the life we have and the friends we have."
---
A Few Favorite Go-To Recipes From Your Hosts
---
Baked Sockeye Salmon
Ingredients:
1 pound salmon fillet
1 fresh lemon
1 tbsp minced ginger
2 tbsp olive oil
2 tbsp lemon juice
Dried lemon pepper
Dried basil
Instructions:
Preheat convection oven to 350. In a small mixing bowl combine ginger, oil, lemon juice and dried pepper/basil to taste, and whip 30 seconds with fork. Lay salmon skin down in a seasoned glass pan or baking sheet, drizzle sauce over entire fillet, garnish with lemon slices. Bake 12-15 minutes. Serves 3-5.
---
Summer linguine
Sauté prawns in garlic with fresh cherry tomatoes, asparagus, fresh basil, Parmesan and a little lemon zest. Serve over linguini noodles.
---
Shrimp and Vegetable Salad
From "The Best Recipes of the San Juan Islands" cookbook
Ingredients:
1 small head cauliflower, cut into florets
2 bunches broccoli (about 1 pound) cut into florets stalks peeled and sliced
1 (8-1/2 ounce) can water chestnuts, drained and thinly sliced
1/2 cup thinly sliced celery
1/3 cup finely chopped green onions
2 cups cooked small shrimp
Salt and pepper, to taste
Dressing (see below)
Instructions:
In a large bowl, combine all salad ingredients.
Prepare dressing and pour over salad and toss gently. Salt and pepper to taste. Cover and chill at least 3 hours before serving. 8 servings.
Dressing:
1 cup mayonnaise
2 tbsp lemon juice
1 tsp dried dill weed
4 tsp red wine vinegar
2 tsp Dijon mustard
---
Salmon Salad with Lemon-Dill Dressing
A delicious way to use leftover salmon.
From "The Best Recipes of the San Juan Islands" cookbook
Ingredients:
6 ounces shell-shaped pasta
1 cup frozen peas
2 cups cooked salmon, broken into chunks
3/4 cup chopped celery
1/2 red bell pepper, diced
1/4 cup chopped green onion
1/3 cup sliced green olives
Salt and pepper, to taste
Lettuce
Lemon wedges
Lemon-dill dressing (below)
Instructions:
Prepare lemon-dill dressing and set aside.
In a large pot, cook pasta al dente, according to the package directions. Drain and return to pot and toss with lemon-dill dressing. Set aside.
Place peas in colander and rinse with warm water until peas separate. Drain and pour over pasta. Add next 6 ingredients. Toss gently. Salt and pepper to taste. Cover and chill for at least 3 hours.
To serve, line 4 plates with crisp greens, spoon on salmon salad and garnish with lemon wedges. 8 servings.
Lemon-dill dressing
3/4 cup mayonnaise
1/4 cup fresh lemon juice
2 tsp Dijon mustard
1 tsp dried dill weed
Salt and pepper, to taste
In a small bowl, combine dressing ingredients. Makes 1 cup.
---
Lemon Drop Vodka Martini
Ingredients:
3-4 ounces vodka
2 ounces fresh lemon juice
2 ounces simple syrup
Fresh mint
1 tray ice cubes
Instructions:
Together with handful of ice, mix vodka, lemon juice and syrup in a cocktail shaker (or small pitcher). Shake well to dissolve syrup. Garnish with 2-3 leaves of mint. Serves 2.
---
French 75 cocktail
Ingredients:
2 ounces Champagne
1/2 ounces lemon juice
1 ounces gin
2 dashes simple syrup
---
Roast Tenderloin of Beef with Mushroom-port Sauce
From the "Bon Appetit" cookbook.
Ingredients:
2 780-ml bottles dry red wine (such as cabernet sauvignon)
1 780-ml bottle tawny port
4 cups beef broth
6 tbsp butter, divided
1-1/2 pounds onions, chipped
2 tbsp chopped fresh thyme or 2 tea. dried
2 pounds assorted fresh wild mushrooms (such as crimini and stemmed shiitake), thickly sliced
2 tbsp all-purpose flour
8 tbsp olive oil, divided
2 2-1/4 to 2-3/4 pounds trimmed beef tenderloin roasts (from center or thick end)
6 garlic cloves, minced
2-1/2 tbsp minced fresh thyme, divided
2-1/2 tbsp minced fresh rosemary, divided
6 tbsp Dijon mustard
Instructions:
Preheat oven to 375 degrees. Rub 1 tbsp oil over each beef roast. Sprinkle with salt and pepper. Heat 2 large nonstick skillets over high heat. Add 1 roast to each; brown beef on all sides, about 10 minutes.
Place beef roast in large roasting pan. Mix remaining 6 tbsp oil, garlic, 2 tbsp thyme, and 2 tbsp rosemary in small bowl. Coat top and sides of beef pieces with mustard, then herb mixture. Roast until meat thermometer inserted into center of meat registers 125 degrees for rare, about 45 minutes. Transfer to platter. Let stand 15 minutes.
Cut beef crosswise into 1/2-inch-thick slices. Sprinkle with remaining thyme and rosemary. 10 servings.
---
Chicken Marbella
From "The Silver Palate" Cookbook
Ingredients:
4 chickens, (2-1/2 pounds each), quartered 16 pieces, 10 or more portions
1/2 cup olive oil
1/2 cup red wine vinegar
1 cup pitted prunes
1/2 pitted Spanish green olives
1/2 cup capers with a bit of juice
6 bay leaves
1 head of garlic, peeled and finely pureed
1/4 cup dried oregano
Coarse salt and freshly ground black pepper, to taste
1 cup brown sugar
1 cup dry white wine
1/4 cup fresh Italian (flat-leaf) parsley or fresh cilantro, finely chopped
Instructions:
Combine the olive oil, vinegar, prunes, olives, capers and juice, bay leaves, garlic, oregano, and salt and pepper in a large bowl. Add the chicken and stir to coat. Cover the bowl and refrigerate overnight.
Preheat the oven to 350 degrees.
Arrange the chicken in a single layer in one or two large, shallow baking pans and spoon the marinade over it evenly. Sprinkle the chicken pieces with the brown sugar and pour the white wine around them.
Bake, basting frequently with the pan juices, until the thigh pieces yield clear yellow (rather than pink) juice when pricked with a fork, 50 minutes to 1 hour.
With a slotted spoon, transfer the chicken, prunes, olives and capers to a serving platter. Moisten with a few spoonfuls of the pan juices and sprinkle generously with the parsley or cilantro. Pass the remaining pan juices in a sauceboat.