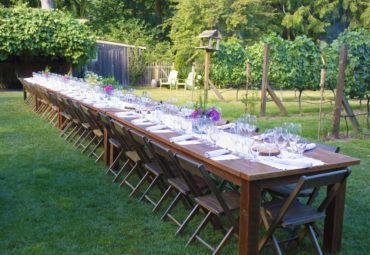 It's been almost two years since Mary Ellen Houston and her husband, Stuart Chisholm, purchased the Olalla Valley Winery in December 2015. Much has changed in that time, but much has stayed the same, as well.
They still grow and harvest many of the grapes that were planted back in 2008 by Joe and Konnie Serka, the winery's founders and original owners, including pinot gris, gewurztraminer, viognier, syrah, merlot, pinot noir and golubek. And they still ferment the grapes in handmade, clay amphorae.
"Our philosophy is to keep our wines as clean and natural as possible, with minimal interference in the wine-making process," Houston said. "Fermenting the grapes in amphorae binds the fermentation to the earth, where the grapes originated."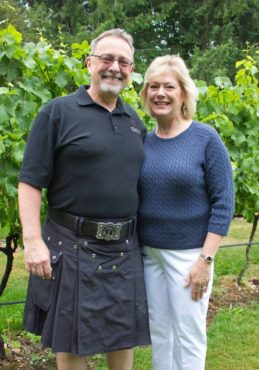 It's an ancient method that was used for centuries by the Greeks and the Romans, and it creates clean, fruit-forward wine that replicates the best of the classic, old-world style vintages, she said.
"It's a 'renaissance' approach that seems to be gaining traction in the wine-making industry," Houston said.
The couple has also learned a lot more about growing grapes and turning them into wine.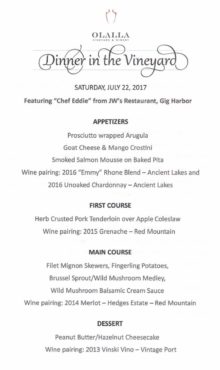 "We knew absolutely nothing about growing grapes or making wine, but when you're just starting out with something, you don't know what you don't know," she said. "Joe [Serka] was a wonderful mentor for us the first year but now Stuart is pretty much in charge of the vineyard and he's been taking viniculture classes. We also have a student intern who's studying viniculture."
They're also adding a refrigeration system, which the Serkas never had. "You have to keep things at a constant temperature of 55 degrees," Houston said.
Not all the grape varieties they grow do well in the Puget Sound region.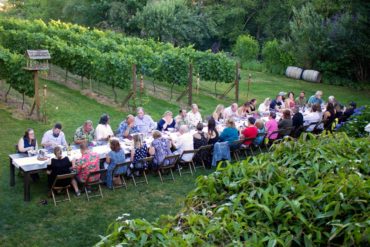 "The pinot noir and golubek really thrive here," she said. "Golubek is from the Ukraine and has cabernet sauvignon parentage. It does extremely well in our cool temperatures and damp conditions. It likes to have wet feet. It's sort of our flagship wine.
"But some other varieties just don't do as well as they do on the other side of the Cascades. Grapes like pinot gris, merlot and syrah need hot, dry air to get the higher brix level that's needed for good wine," she added.
The couple recently began making the trek to Eastern Washington and buying excess bulk wine directly from vintners there.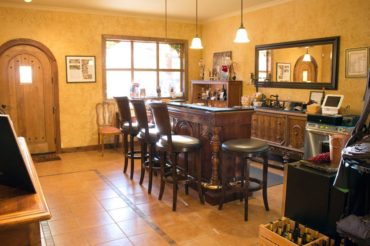 "We taste different wines and when we find something unique that we know our customers will like, we bring back. We've found a really nice, unoaked chardonnay and a white rhone blend that have become really popular here," Houston said.
They're also turning the winery into a true destination, hosting weekly music concerts, monthly dinners in the vineyard, harvest parties, ladies' nights with jewelry showings and paint-and-sip parties, and even private events like weddings, birthday parties, reunions and retirement celebrations.
There's also a cozy room upstairs in the main building that can be rented for smaller events like entertaining clients or hosting a meeting.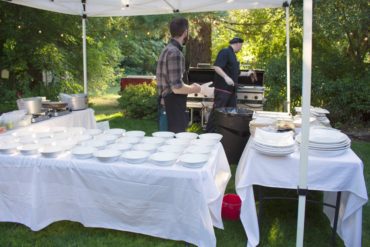 "It's a great place to celebrate success or any other thing that's worth celebrating," she said with a smile.
Houston handles the events side of the business.
"This really is such a sweet venue," she said. "Joe and Konnie made it such a beautiful place — not just with the vineyards, but also with all the perennials and trees they planted.
"People love coming here just for the experience — to wander through the vineyards, hear the music, enjoy a gourmet dinner or just sit in a chair and look around. Sometimes people bring a picnic lunch and we also make little picnic baskets that they can buy, with smoked salmon and cheese and other tasty treats, always from local providers. And, of course, a bottle of our wine."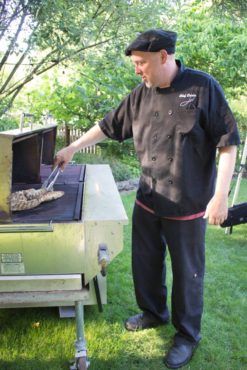 The couple loves to give tours of the winery "whenever we can take time away from the daily tasks," Houston said. They hope to add barrel tastings in the future.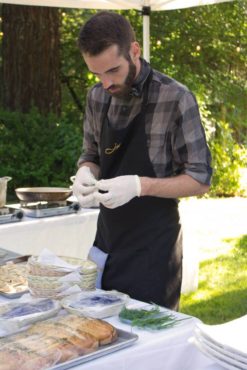 The monthly dinners in the vineyard have proved to be very popular. Houston and Chisholm try to have a different chef at each dinner so there's always something new and different. Each dinner can accommodate 30 people, and everything is served family style so there are lots of opportunities to meet new people and make new friends. And, of course, try new wines.
They're also working with a French chef who'll give cooking lessons at the vineyard, perhaps as often as twice a month.
Sometime this fall, they'll have a harvest party for which people can sign up to help pick grapes and join in an old-fashioned grape-stomping. That event sold out last year.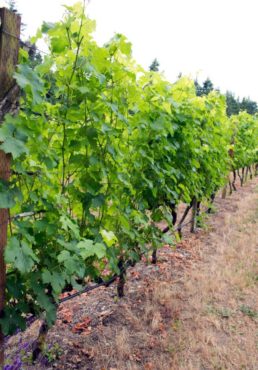 During the holidays, Houston plans to have a wreath-making party to benefit Mary Bridge Children's Hospital, another repeat event.
"Having people come here and enjoy themselves in this wonderful place is my favorite thing about owning this winery," Houston said. "I just love being part of a community. We even have a handful of folks who have claimed our place as their own personal winery. When they have visitors or want to entertain friends, they tell them, 'We'll take you to our winery,' as though it's their own private little secret."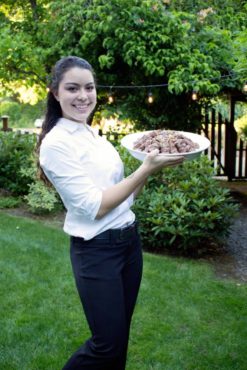 But the secret is definitely out and Chisholm and Houston are welcoming more and more visitors and making new fans and friends every day.
"We don't want to have hundreds of people here all at once," she said. "We want to stay small and intimate and give people a good impression with good service and wonderful wines. We want them to come back again and again."
From May through October, the winery is usually open Wednesday through Sunday, but it will be closed for 10 days in early September, when the couple will be visiting Chisholm's family in Scotland. During the winter months, the winery will open only on weekends.
One thing Houston and Chisholm have been reminded of again and again in the short time they've owned the winery is that it takes passion to grow grapes and run the business.
"We're so blessed to have all this," Houston said. "We really believe that if you have a passion and a dream, you'll find the right people to help you and you'll know that failure is not an option."