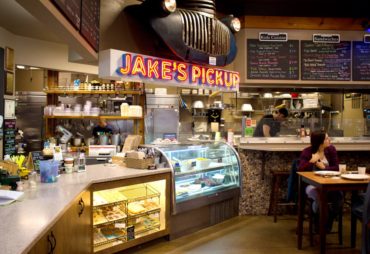 It's Cinnamon Roll Saturday at the Bainbridge Island eatery Jake's Pickup. The business' Facebook page is live with streaming video of owner Jake Angel, working the kitchen of his deli/takeout or dine-in/espresso bar and explaining the difference between a bench knife and a bowl scraper and how to get French dough to "come clean off the bowl." The giant, made-from-scratch pastries sell out so quickly that loyal fans receive a text message letting them know when they'll be hot from the oven.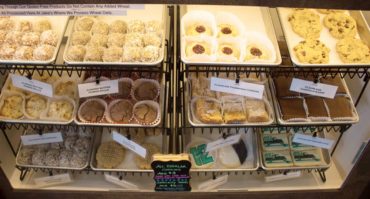 Jake's Pickup is advertised as a mostly organic, gourmet, chef-inspired and chef-prepared takeout spot located inside the Hungry Bear Market of the Chevron Station on Bainbridge Island. That's right. Foodies, take note. It's an organic, gourmet, made-from-scratch food establishment that's located in a gas station and whose healthy, flavorsome cuisine will charm your taste buds.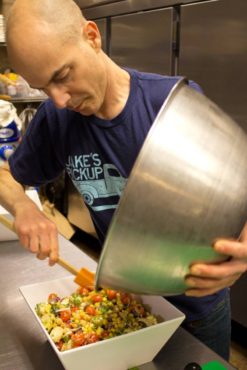 In its short history, the eatery has acquired an extremely loyal following of customers who drop by for coffee and something from the cases of freshly baked, mostly gluten-free pastries; for Southern cooking like Shrimp Po-Boys and Memphis Style Barbecue or for entire meals for Thanksgiving and Christmas.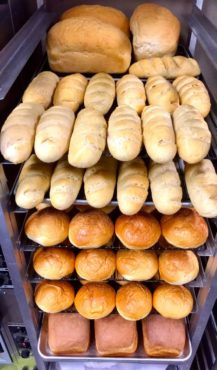 Since its opening day in April 2014, Jake's Pickup has also become a gathering place.
"We want it to feel like the TV show 'Cheers,' where everybody knows your name," Angel says.
When local car aficionados discovered Angel's affinity for vintage vehicles, Jake's Pickup became the weekly pit stop for gearheads talking shop over coffee. Called Cars 'n Coffee, the group meets early on Thursday mornings and by later that day, the business Facebook page might just feature a photo of a green 911 Porsche or a yellow Lotus parked in the business' parking lot.
On other days, there are close-up photos of pulled pork sandwiches or rice pilaf with toasted pecans, griddled local vegetables and local andouille sausage. And occasionally there's a mashup of two of Angel's loves, cars and food, like the photo of the Egg Sandwich on a Jake's 51 Chevy Pickup Roll.
The idea of serving organic takeout food in a gas station was a combination of savvy business experience, a family passion for kitchen creativity and serendipity.
"It was the Sconenuts that got it all started," Angel says, laughing.
"No, it started earlier," claims his Brooklyn-born mother, Barbara, who creates new recipes and works behind the counter. "Jake had strong taste buds as a baby and could identify subtle taste differences then."
"It may have been the secret recipe for Buntyn Rolls that my mom convinced a Memphis baker to give her," counters Jake. "I discovered pastry that could melt in your mouth."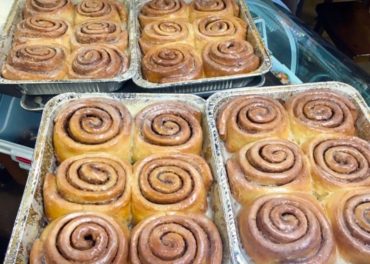 The cooking DNA came from his mother and grandparents but running a restaurant wasn't Angel's original career path. He tap-danced as a child. Then he wanted to be a writer, graduating with a degree in children's art and literature from the University of Alabama.
But years of mother-son home kitchen bake-offs when he was younger, plus several stints in restaurants beginning at age 15, ran deep. He couldn't shake the feeling the kitchen was his true calling, providing the active creative outlet that he wanted. Graduation from a Colorado culinary school and the mentoring from an award-winning French pastry chef convinced him that baking was his real forte.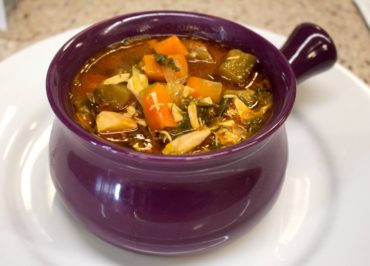 Following culinary school, Angel and his wife, Kristi, moved in 1999 to the San Juan Islands, where he was hired as head chef at the Orcas Hotel, succeeded by the job of head chef at the prestigious Christina's on Orcas.
That was followed by 10 years of running Angel's Food, a job that took the couple all over the country as a two-person catering operation working weddings and events and serving as personal chefs for families. It was the catering trips that inspired the Angels' next venture. They couldn't find healthy, organic fast food on the road. And they wanted to settle down in a place that reminded them of their beloved San Juan Islands. Bainbridge Island was a good fit.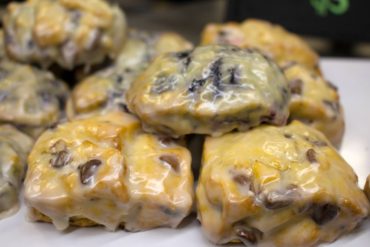 After they scouted possibilities, the original plan was to serve organic fast food from a food truck (Jake's Pickup) parked somewhere next to the busy Highway 305 corridor. But when Angel asked about parking it at the Bainbridge Chevron station, the owners countered with something better — moving the whole operation inside their newly built gas station and letting him design the kitchen space and have control over the menu and operation.
They opened on Earth Day, a date that speaks to another value of Jake, Kristi and Barbara — a commitment to environmentally friendly business practices. The eatery sources food locally whenever possible, even spontaneously incorporating into the menu the excess produce that local farmers have been known to bring by.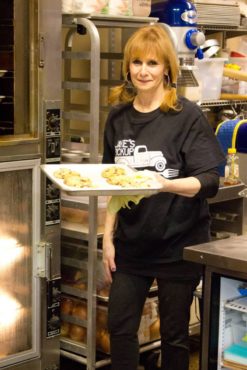 Poulsbo's Grounds for Change, a fair trade, organic coffee roaster, provides the beans roasted to Angel's specifications for his popular Jake's Pickup WA Leaded and Unleaded coffee brand. The food packaging is biodegradable. And most of the food is organic and flourless, though as Jake and Barbara make clear, the kitchen facility isn't certified gluten-free – "yet."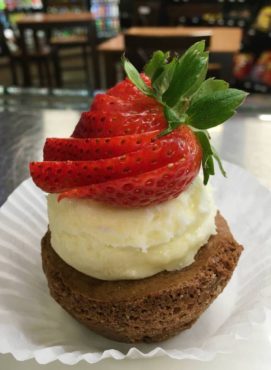 Angel and his mother regularly experiment with ingredients that create the tasty, gluten-free baked goods coming out of the kitchen daily. They've discovered an ingredient, ground to varying consistencies, that produces a variety of flavor and moisture contents that form the basis for their flourless pastries.
"The emphasis is on wholesome and flavorful," Angel says. "Gluten-free baked goods shouldn't taste like cardboard."
The most popular pastry feature is Sconenuts, a melt-in-your mouth specialty recipe that was created by Angel and was the inspiration for Jake's Pickup. Sconenuts are a cross between a doughnut and a scone. Baked, not fried, they come in a variety of daily specialty flavors, including the most popular four: blueberry, chocolate chip, orange raisin and strawberry coconut. So popular, customers say if you haven't arrived by noon for your Sconenut, you're out of luck until the next day.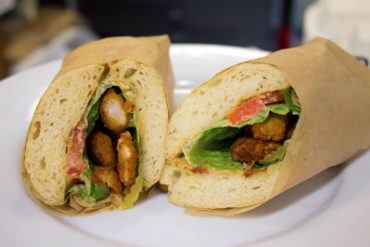 In addition to the menu, the food truck that became a restaurant has a Grab 'N Go deli case for customers who want that option. And, going back to their previous incarnation, Angel still caters, offering Southern delicacies like Six Packs of Barbecued Pulled Pork, a meal that includes coleslaw, potato salad and house-made sauce and buns for six for $65; and a full menu of hors d'oeuvres, desserts and sliders. High-end, custom menus are also available.
"We can't stop the catering business," Angel says. "We were voted 'best caterer on Bainbridge last year and that means a lot."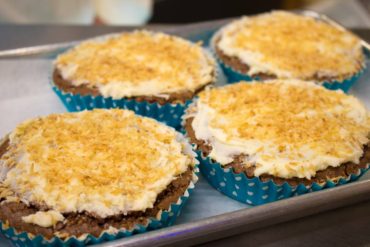 What he doesn't mention is that the business also won "best boss" and "best vegetarian fare" in the Best of Bainbridge poll.
Jake's Pickup has a commitment to community. It was a fixture at the Bainbridge Farmers Market. The business also works with Bainbridge High School's work-based learning program providing internships and then hiring students who want to learn the restaurant and baking business.
"And we're 12s" Barbara says, proudly. "For the past two years, we've baked one hundred cookies frosted with the Seahawks emblem and the No. 12 and sent them to the team before a game. We love the Hawks."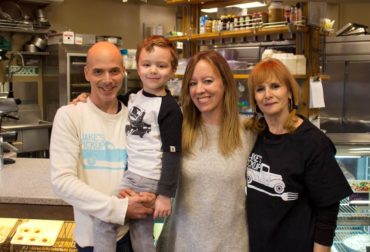 This coming summer, the stand won't be at the farmers market. Instead, Jake's Pickup will be introducing its newest business venture, Jake and Bake, a packaged, make-at-home version of the most popular products like Flourless Chocolate Chip Cookies, Power Balls and dry rubs. "Jake it 'til you bake it will be the motto," Angel says with a laugh.
The popularity of the Sconenuts and the morning run for the baked goods by loyal customers created the demand. Over the past several months, the kitchen in a gas station has been testing Jake and Bake possibilities by giving samples to customers and friends to try at home.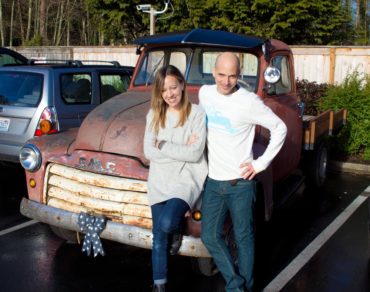 Getting feedback from them has allowed Jake and Barbara to make decisions on details such as the feasibility of packaging both dry and specialized wet container ingredients, like the almond butter that goes into their Power Balls, a popular, high-energy sphere of deliciousness.
Soon, the Jake and Bake product line will be ready to hit the retail market in local businesses and in the online sales venture that's part of the business plan.
With expanded products, the original design of the eatery's kitchen and deli service needed an adjustment. Plans are afoot for an expanded and redesigned space that meets customer and employee needs better. With a food truck theme. Because yes, Jake's Pickup will still be startling new customers and impressing loyal fans in the gas station.