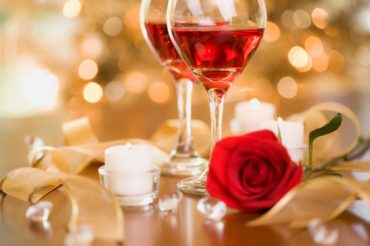 St. Valentine's Day is always a special day at our house for a number of reasons: It's the day we celebrate love, especially love of family because it was my father's birthday. Marrying my wife was the best thing I've ever done in my life; we raised four lovely daughters and two sons; both sons married great women; and we have 10 fantastic grandchildren, three of whom are girls.
Don't ask me why I focus on the female side of the house for St. Valentine's Day, I'm a romantic Italian. (By the way, it's not pronounced "eye-talian," it's "ah-'talian." Be sure to put the em-'fassas on the right syl-'ahlable.)
Many will celebrate Valentine's Day with dessert wines like late harvest, ice wines or port. Grapes for the late harvest and ice wines are left on the vine long after the normal grape harvest. A mold or fungus called botrytis cinerea attacks grapes left on the vine and penetrates the skin without breaking it, thus without exposing the pulp to air.
If all goes well, the grape withers, loses much of its juice, and the remaining juice becomes sugar concentrated. As the fruit shrinks, the loss of acidity is greater than the loss of sugar. In the end, the juice that remains is smooth, very sweet and high in alcohol, and makes only a small amount of wine, which is what makes it expensive.
The best known of these late harvest, sweet, white wines are the Sauternes, Barsac and chenin wines of Anjou and Touraine, France. The best of these improve in the bottle for up to 25 years. Lately you can find late harvest wines from Washington, Oregon and California on most store shelves in 375 ml bottles.
Late harvest is a term applied to wines made from grapes left on the vine longer than usual and is usually an indication of a sweet dessert wine, such as late harvest riesling. Late harvest grapes are often more similar to raisins but have been naturally dehydrated while on the vine.
Late harvest riesling grapes are very rarely blended with other grapes in the development of wines, and for good reason. These pale grapes, which originated in the cool Rhine Valley of Germany, are notable for their "transparency" of flavor, which allows the characteristics of their terroir (pronounced terrwa) to shine through in wonderful ways.
The result of this is a wine that carries a wide range of interesting flavors quite unlike those found in other white wines, finished off with the distinctively floral perfume that riesling supplies so well.
Many wineries in Germany and elsewhere tend to harvest their riesling grapes very late, as often as late as January, in order to make the most of their natural sweetness. Other methods, such as encouraging the noble rot fungus, help the riesling grape varietal present some truly unique and exciting flavors in the glass, and the variety of wines this varietal can produce means it is one of the finest and most interesting available anywhere.
Try the Washington 2014 Hills Late Harvest Riesling, $10.
Ice wine is a sweet, dessert wine made from frozen grapes. It is made from grapes ripening on the vine long into fall or even winter. The frozen grapes are harvested and rushed to the winery to be crushed before they thaw. Sugar solutions resist freezing, so the sweetest part of each grape yields the juice, and the less sweet part stays frozen.
The best wines are richly sweet, balanced and concentrated. Botrytis helps quality but is not an intrinsic element in ice wine.
Try the Kestrel Ice Wine, Yakima Valley, $35.99. Vibrant and bursting with clean ripe flavors of tangerine, baked peaches, apricot preserves, honey, dried pineapple, golden raisins and honeysuckle.
Port derives its name from Oporto, the second largest city in Portugal. It is a fortified wine, made by adding 150-proof, clear grape spirits while fermenting. This results in a sweet wine with an 18 to 20 percent alcohol content.
There are two broad styles, cask aged or bottle aged, and a number of substyles: ruby, tawny, aged tawny, vintage, colheita meaning "harvest" or "crop," late-bottled vintage (LBV), single quinta vintage, crusting, garrafeira (reserve) and moscatel.
Try the Graham's, Portugal, NV, 20-Year Tawny Port, $29. A delicate tawny color with green tinted edge; aromas of marmalade, dried fig and almond, with a floral background; palate/flavors: sweet fruit, rich, smooth, velvet texture; full body; balanced finish. Food pairing: nuts, dried fruits and fruitcake or vanilla ice cream or crème brulee. (Alcohol by volume: 20 percent)
Another favorite dessert wine to serve with chocolate is the King Estate, Oregon, 2006 Vin Glace, $18.