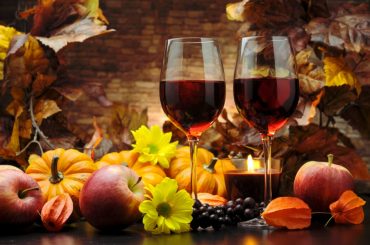 If you're looking for a Thanksgiving or Christmas gift to give a wine lover, take a look at the many port wines made by our excellent Washington state wineries.
In the United States, there is a problem calling wines "ports" because it is a geographical name. An agreement signed in March 2006 between the United States and the European Union restricts the use of the term "port" for any U.S. wine imported to Europe. However, American wineries using "port" on a label prior to that time can continue to do so.
Many wineries making "ports" after March 2006 have come up with interesting names. Others simply term it a red or white dessert wine. Regardless of the wine names, the state has a treasure trove for port-style lovers.
Red port can be consumed alone and generally as an after-dinner wine, though it does have food applications. Try it with cheeses such as sharp cheddar, Parmigiani, Roquefort and Stilton. Pair with almonds, hazelnuts, pecans, walnuts, dates, chocolate and caramel desserts, coffee cake, pecan pie and chocolate chip cookies. White ports can match well with pâté or a crème brûlée.
Regular retail outlets usually have a very limited selection of Pacific Northwest ports. Your best bet is to buy directly from the winery. Here are a few recommendations.
Hinzerling Winery NV Rainy Day Fine Tawny Port; Yakima Valley, $45
Mike Wallace moved to the Yakima Valley town of Prosser in the early 1970s and started Hinzerling in 1976, making it one of the oldest in the state. Over the years, Wallace has established himself as Washington's preeminent crafter of port-style wines.
Each year, a portion of this wine is bottled and the rest is blended into the next of three tiers. This "solera" style of wine began in 1982, thus this wine represents more than a quarter-century of winemaking. It offers aromas of hazelnuts and plums with flavors of golden raisins, caramel and maple syrup.
This one is a classic (50 cases, 18 percent alcohol by volume). Many years ago, Hinzerling was one of the first ports we purchased when we went to Prosser.
Hinzerling Winery NV Angeliqua; Yakima Valley, $29
Wallace has crafted this Gewürztraminer-based fortified wine for many, many years, and it's a favorite with Hinzerling regulars. It opens with aromas of almonds and citrus, followed by flavors of apples and pumpkin pie (200 cases, 18 percent alcohol).
Kestrel Vintners 10-year Tawny Port; Yakima Valley, $75
The color has a slight brown tint at its margins and is still impressively dark at its heart. In the nose, you will be greeted with aromas of elderberry and plum jams, licorice, figs and dried fruits soaked in brandy.
On the palate, you will find candied cherries, ripe brambleberries, cola, roasted hazelnuts and a warm glow that will surely keep you toasty on the coldest of nights. Perfect for an after-dinner drink or just by the fire.
Thurston Wolfe Winery 2003 JTW Port; Prosser, $20
Longtime Washington winemaker Wade Wolfe uses classic Portugese grapes touriga nacional and souzao as well as petite sirah and cabernet sauvignon from vineyards in the Yakima Valley and Horse Heaven Hills.
It has aromas of black cherries, black pepper and caramel, and rich, juicy flavors of plums, cherries and chocolate. It should pair beautifully with dark chocolate.
Thurston Wolfe Winery Touriga Nacional Port; Prosser, $16
Touriga nacional is one of the traditional Portuguese port varieties from the Douro region of Portugal. Thurston Wolfe has used this variety in its port blends since 2000, sourcing the fruit from the Lonesome Spring Vineyard in the Yakima Valley. The 2014 vintage was exceptional enough for a single varietal port.
Barnard Griffin 2009 Syrah Port; Columbia Valley, $17
Winemaker Rob Griffin has been crafting a port from syrah for several years, and it is a real favorite among Northwest port drinkers. It reveals aromas of black cherries and black pepper, followed by mouth-coating flavors of blackberry jam (1,200 cases, 18 percent alcohol).