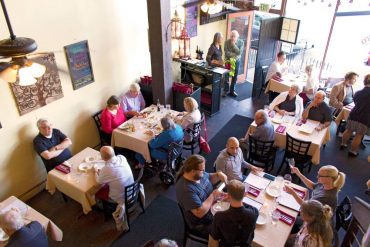 Just on a lark one night, Southworth resident Deanna Miller searched online for the term "fine dining, Port Orchard." After a week and some change on the road for his travel products company, her husband, Brady, wanted a nice evening out with his wife.
"We knew about the casual quality and family friendly atmosphere at Amy's [on the Bay] but wanted something just for the two of us — no kids," Brady explains.
Deanna's work as a general in clothing retail and Brady's work life as a road warrior challenged the couple to find time together, and for two confirmed foodies that meant fine dining.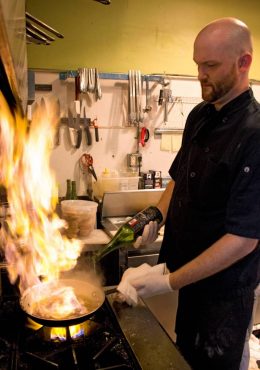 Much to their great surprise, the search revealed Bay Street Bistro, right in the heart of downtown Port Orchard. The bistro quickly turned into their go-to spot for date night and like many other loyalists, they became friendly with general manager Nathan Abbott.
"One night, we came in and he told us there was a buyer for the place," Brady says. "I spontaneously offered that if the purchase fell through, we wanted to buy the bistro. It was like an impulse buy off a grocery store shelf — a gut-level, immediate decision."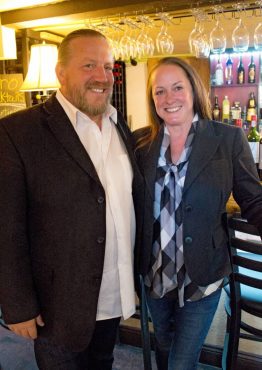 It turned out to be a decision that the community has benefitted from ever since.
"We gently updated the menu with an eye toward community," Deanna says.
The value of local, fresh ingredients is embraced fully at the Bay Street Bistro and in the summer the menu often features items from the Port Orchard's farmers market. One of the many examples is found on the starters menu.
"Our cheese platter features goat cheese from Sagging Fence Farm just down the road from our home," she says.
Otherwise, everything stayed mostly the same. After traipsing around places like New York, Paris and the French Quarter in New Orleans, Brady revamped the bar area at the back of the restaurant. He also brought home recipe and drink ideas to share with Deanna and the rest of the bistro team. What resulted is the continuation — and strengthening — of a fine dining experience that earned them a King 5's Best in Western Washington title in the fine dining category, coming in just behind Seattle legend Canlis.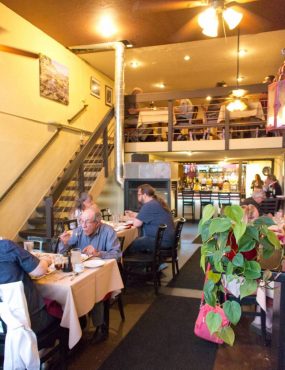 "But the biggest difference is that we offer a casual elegance," Brady explains.
That means people can wear what they feel comfortable in rather than a required jacket and tie found in most fine dining experiences. Question: What does it matter what you are wearing when savoring one of the bistro's famous Sunday dinners, like roast prime rib, seasonal halibut or even sweet Thai pork loin? Answer: Not. One. Bit.
"We have guests that come every Sunday," Brady says of these dinners, which have an almost cult-like following. "Some evenings, Deanna and I spend the entire time visiting with regulars. It's amazing to see them and we are grateful."
Such popularity inspires growth. So, the Millers are bumping out walls and reconnecting century-old spaces one and two doors down. Their expansion envisions a space between featuring a tapas menu and an expanded bar, complete with a stage for music and comedy. The space on the other side of that reconnects what is historically recognized as a section of what once was a hotel and later a real estate office. The addition will allow more space for fine dining in a casual, eclectic atmosphere.
"We were inspired to expand after turning away too many people," Brady says.
And, with their growth, they can invite many others to enjoy the casual elegance that Bay Street Bistro is so well regarded for. Guests know they can expect a consistently delightful experience.
On a recent afternoon, the sun streamed down the sidewalk and diners caught a final, fleeting glimpse of light before dusk announced evening's arrival. An enterprising fellow in a fedora played guitar at the corner of Sidney Avenue and Bay Street. His music blended beautifully with what spilled out from inside the bistro for those enjoying a bit of dining al fresco before the night got too cold.
"From the start, Deanna and I immersed ourselves in the Bay Street Bistro as a labor of love," Brady says of their venture. "We've treated it like a living thing and to beautify it or maybe even romance it a bit more but not change it; just maybe give it a bigger heart."
Not stuffy or pretentious, the Bay Street Bistro has flourished with such love while still remaining a comfortable, casual, fine dining experience.