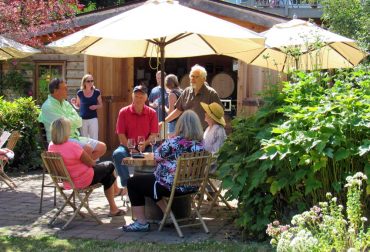 Two of Bainbridge Island's wineries are located in lush vineyards producing estate wines. Another's tasting room was named Best Essence of Puget Sound by Seattle Met. A fourth shares patio space with a craft brewpub. Two are owned and run by women vintners. One is named after the smallest cog on a racing bike by its owner, a former bicycle racer; another is named after the winemaker's twin grandchildren.
Though each of Bainbridge Island's seven wineries have their own distinct character, what they have in common is the production of high-quality wines that have won amateur and professional awards. They also share a quarterly event: Wine on the Rock.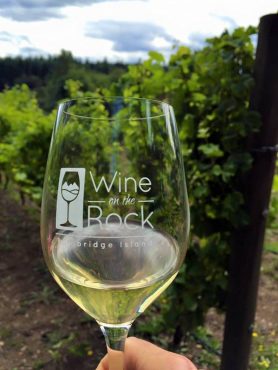 Sponsored by the Winery Alliance of Bainbridge Island, a cooperative effort of all seven wineries, the most recent Wine on the Rock weekend event in July was sold out, drawing more than 300 fans from as far away as Canada and as close as the winery's neighbors, who popped by to taste the wine, sample food pairings and listen to music ranging from country to jazz and classic rock.
The Saturday and Sunday tastings are intended to showcase the variety in Bainbridge's growing wine industry that a 2010 edition of Sunset Magazine called "the Northwest's new wine destination."
The weather cooperated brilliantly over the July weekend event, allowing for an outdoor wine tasting affair at all of the venues. Tables and chairs were set up under colorful umbrellas on landscaped patios and lawns, musicians played from makeshift stages and the winemakers poured wine and wandered from table to table greeting guests, answering questions and getting feedback on their pours.
Food pairings prepared by local chefs gave attendees a chance to sample everything from paella to smoked halibut mousse and lamb.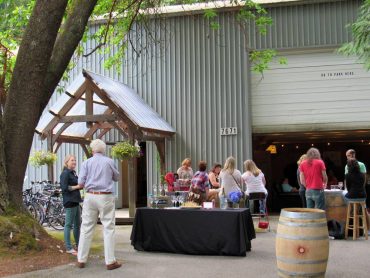 "We saw the event on Facebook and decided to take a day trip," said retired Tacoma dentist Isaac Morton. "My wife and I had never been to Bainbridge Island. Who knew it has so many great wineries? We're telling our friends to drive north instead of east to the Yakima Valley for wine tasting."
Wine on the Rock is an intimate affair. That's because each of the wineries is locally owned by winemakers who have a knack for creating small batches of handcrafted wines. The wineries are small — a few oak barrels and stainless steel casks and a lot of friends and fans who volunteer to pick and crush grapes and help with bottling and events. You can even buy shares in the co-op Bainbridge Winery. There's a strong cooperative spirit among the winemakers that has them trading equipment and ideas and promoting each other.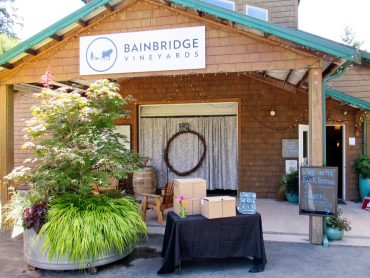 They all began, as many artisan winemakers do, brewing in their basements and garages for friends and family. By 2004, they'd formalized the Winery Alliance of Bainbridge Island. Today, they have a following of loyal wine connoisseurs. Many of them walked away from the July Wine on the Rock event carrying cartons of newly purchased reds, roses and whites.
The Bainbridge wineries belong to the Puget Sound Viticultural Area (AVA), one of 14 Washington wine producing regions, and contribute to the state's status as the second-largest wine producer in the United States. The state has a total of 971 licensed wineries.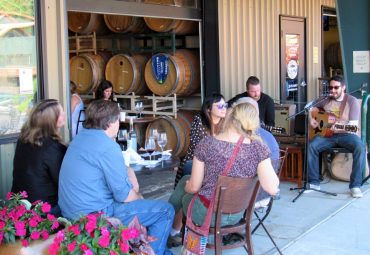 It's a common misconception that Western Washington's wineries get their grapes from Eastern Washington's vineyards because the climate on this side of the mountains isn't kind to wine grapes. Not true for some of Bainbridge's wineries that are successfully cultivating maritime wine grapes in their own vineyards, which can be visited during events and opening hours.
Bainbridge Vineyards, established in 1977 and licensed in 1982 (chronologically it's No. 84 of the 971 bonded wineries), owns 8 acres of vineyard on historic Bainbridge farmland sold to the winery's original owners by Akio Suyematsu, a Japanese-American farmer who had successfully cultivated the land for years. One hundred percent of Bainbridge Vineyard's red, white and rose wines come from their vineyard grapes.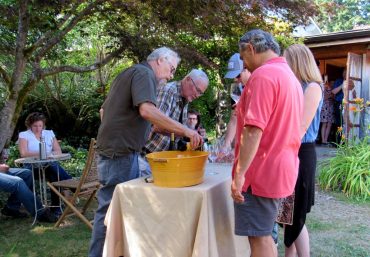 The winery's new owner, who took over in 2013, operates it as a cooperative, allowing anyone to buy shares and become a part-time vintner.
Next-door Perennial Vintners is a "one-man-plus-friends" operation. The owner planted a 3-acre vineyard in 2003 and while waiting for the plants to mature enough to make wine, leased grapes from Bainbridge Vineyard.
Nearby, Rolling Bay Winery prides itself on grapes sourced from an Eastern Washington Snipes Mountain vineyard that's one of the oldest in the state.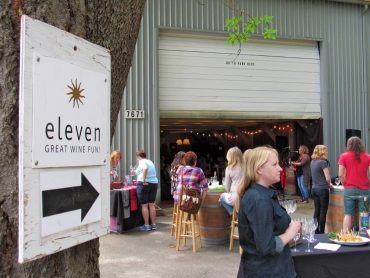 "Our Old Vine Cabernet comes from vines planted in 1979 that have been featured on the cover of Washington Tasting Room magazine," said winemaker Alphonse de Klerk.
The moniker, Wine on the Rock (Bainbridge residents affectionately call the island "The Rock"), is new this year, as was preselling a limited number of $30 tickets for the weekend to promote an exclusive vibe. Brooke Huffman, marketing manager for the alliance, said that all the vintners were enthusiastic during the event debrief a week later, deciding that the sellout was such a success, they're going to continue promoting the quarterly event with ticket sales.
The alliance has been trying joint promotions for about six years.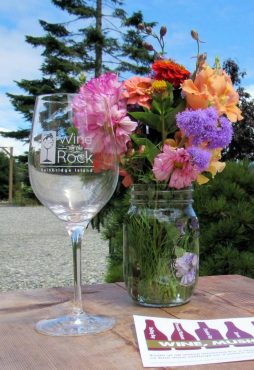 "While Bainbridge Island is home to seven great wineries, most established 10-plus years ago, many wine consumers in Seattle and on the island don't even know we are here," said Jim Wilford, Fletcher Bay Winery winemaker and owner.
For its first attempt, the alliance sponsored a February pre-Valentine Day red wine and chocolate tasting to promote the vintners' reds. The success of that event led to a fall wine tasting, giving visitors a chance to learn more about the winemaking process since the wineries still have barrels of fermenting wines. The group has also sponsored an April wine-and-cheese tasting.
Under the new headline name Wine on the Rock, the 2016 fall wine tasting is scheduled for Nov. 12-13 (Fall Wines and Charcuterie) and the 2017 February event on the 11th and 12th (Red Wine and Chocolate). The November and February events will be indoors and given the space limitations inside the small artisan wineries, ticket sales will be limited. The April and July dates have yet to be scheduled.
If you prefer to visit before the next Wine on the Rock event, each winery has open tasting room hours (generally on the weekends and sometimes with music). Four of the wineries have tasting rooms on the main street of downtown Winslow. Most of them have wine clubs and some welcome volunteers.
The Winery Alliance of Bainbridge Island webpage (www.bainbridgewineries.com) has links to each of the wineries' websites, maps and schedules of events and a Facebook page that regularly updates winery happenings.