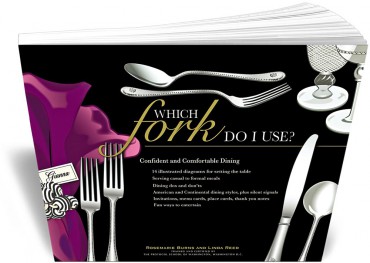 Is the prospect of a fancy Christmas dinner giving you cold feet? Four forks, three knives, five glasses — where do you begin? And what about that little salt dish with no spoon?
To answer those questions and many more, Rosemarie Burns and Linda Reed have come up with "Which Fork Do I Use? Confident and Comfortable Dining," a book complete with tips and illustrated diagrams. You'll find advice whether you're hosting or attending a gathering that involves food, and not just the fanciest of dinners.
Burns and Reed, owners of Manners Simply, are certified to instruct in several areas related to etiquette and dining and have been teaching seminars to all sorts of audiences.
Their tips range from common sense — like not texting or talking on the phone during the meal and keeping your elbows off the table — to more sticky situations. Like how to properly eat prawns or what to do with those kabob skewers.
For the hosts and hostesses, the book has ideas for themed parties, proper table settings for various situations and even an illustrated guide to several dozen types of serving utensils. Who knew that asparagus, horseradish and even jelly have their own special servers?
Five-Course Sophisticated Affair
(set continental style)
First Course Appetizer: Prawns with cocktail sauce
Second Course Soup: Pureé of butternut squash, dinner rolls
Third Course Main: Roasted rack of lamb with pomegranate sauce, potato gratin, dressed green beans
Fourth Course Salad: Green salad
Fifth Course Desert: Bread pudding with chocolate chunks and bananas
Courtesy "Which Fork Do I Use" Confident and Comfortable Dining