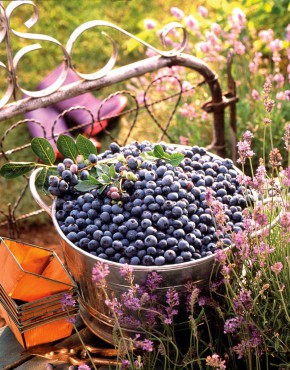 I love blueberries! Each year, I look forward to the first time I get to slide those little globes between my teeth and pop the purple ambrosia over my tongue. Luckily our cafe's main farmer, Paul Gregory, has a blueberry CSA, so we get them fresh every year. Kitsap has a u-pick farm on Bainbridge and a few other farmers grow them, though not enough for the public to pick.
According to the The George Mateljan Foundation, blueberries are the second most popular berry in the United States, with strawberries as No. 1. They also have one of the highest antioxidant capacities among all foods.
As one of the few fruits native to North America, blueberries have been consumed by Native Americans for hundreds of years. They have also enjoyed great popularity around the world in cuisines from Asia to the Mediterranean.
When picking, choose firm berries with a bright, uniform hue and a whitish bloom. Wash berries just before eating, not before storing, as washing will remove the bloom that protects the berries' skins from degradation. Store ripe blueberries in a covered container in the refrigerator, where they will keep for up to three days.
Here are some of my favorite ways to use them, if I ever have enough left after just eating them: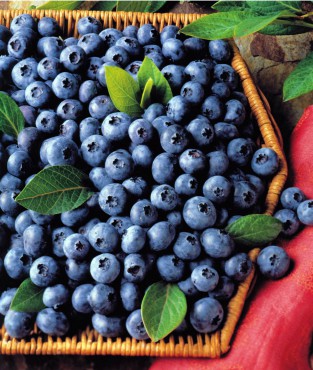 Freeze them. This will slightly change their texture and flavor, but it is a great way to have for cooking all year long. First, wash and remove any damaged berries, and let them dry completely. To better ensure uniform texture upon thawing, spread the berries in one single layer on a parchment-lined baking pan and place in the freezer until frozen; then put the berries in a plastic bag for storage in the freezer.
Add fresh blueberries to salads. Fresh or frozen berries can be used to make jams, crisps, fools, clafoutis, pies and infused beverages. Add them to oatmeal or pancakes, quick breads, yogurt, tarts, turnovers, scones, chilled soups, stuffing, any meat dish and so much more.
Monica Downen is the owner of Monica's Waterfront Bakery in Silverdale with her husband, Mark. For more information, go to www.WaterfrontBakery.com.
---
Blueberry-Stuffed French Toast
Ingredients
Cooking spray
6 eggs
1 tsp grated orange peel
2/3 cup orange juice
3 tbsp sugar, divide
Pinch salt, optional
1 cup fresh or frozen blueberries (thawed and drained, if frozen)
8 slices (1-1/4 inches thick) Italian bread
1/3 cup sliced almonds
Blueberry Orange Sauce (recipe follows)
Instructions
Preheat oven to 400°F and spray a large baking sheet with cooking spray.
In a medium bowl beat eggs, peel, juice, 2 tbsp of the sugar and the salt until well blended.
Pour into a 13 x 9 x 2-inch baking pan; set aside.
In a small bowl combine blueberries and the remaining 1 tbsp sugar; set aside.
With the tip of a sharp knife, cut a 1-1/2-inch wide pocket in the side of each bread slice.
Fill pockets with reserved blueberry mixture, dividing evenly.
Place filled slices in egg mixture.
Let stand, turning once, until egg mixture is absorbed, about 5 minutes on each side.
Arrange bread on prepared baking sheet; sprinkle with almonds.
Bake until golden brown, about 15 minutes, turning slices after 10 minutes.
Serve with Blueberry Orange Sauce, see next recipe. Yield: 4 portions
Blueberry Orange Sauce: In a cup combine 3 tbsp sugar, 1 tbsp cornstarch and 1/8 tsp salt; set aside. In a small saucepan bring 1/4 cup of orange juice and 1/4 cup water to a boil. Add 1cup of blueberries and 1 cup of orange sections. Return to a boil; cook until liquid is released from fruit, about 2 minutes. Stir in sugar mixture; cook, stirring constantly, until sauce thickens, 1 to 2 minutes. Yield: 2 cups
---
Blueberry-Shrimp Salad with Lemon Vinaigrette
Ingredients
3/4 pound (about 20) shelled medium-size shrimp, boiled or grilled
1 cup fresh blueberries
1/2 cup toasted walnut pieces
1/2 cup edamame or green peas, cooked
5 ounces (about 4 cups) mixed salad greens
Lemon Vinaigrette (recipe follows)
2 ounces (about 1/2 cup) firm white cheese, such as feta, crumbled
Instructions
In a large salad bowl, toss shrimp, blueberries, walnut pieces, edamame or peas and salad greens.
Evenly divide salad onto six plates; drizzle with Lemon Vinaigrette.
Sprinkle cheese around edges of salad. Yield: 6 portions
Lemon Vinaigrette: In a small mixing bowl, whisk 1/4 cup vegetable oil, 2 tbsp lemon juice, 1 tsp sugar, 1/8 tsp salt, 1/8 tsp coarsely ground black pepper, and 1/8 tsp ground red pepper.
---
Roast Cornish Game Hens with Sautéed Blueberries
Ingredients
4 halves (about 3 pounds) Cornish game hens or squabs, halved
2 tbsp balsamic vinegar
1 tsp salt
1/4 tsp ground black pepper
16 garlic cloves, peeled
2 tbsp unsalted butter, divided
2 tbsp honey
6 thyme sprigs
1/3 cup shallot, minced
2 cups blueberries
1 tbsp red wine vinegar
Instructions
Preheat oven to 375ºF.
Rub hens with balsamic vinegar; season with salt and pepper.
Place on a rack in a roasting pan; roast until thigh juices run clear, about 35 minutes.
To prepare garlic: Blanch cloves in boiling water. In a skillet, combine 1 tbsp of the butter, the honey, thyme, garlic and 1/2 cup water. Simmer until liquid is reduced to a syrup and garlic turns golden brown, stirring often, about 20 minutes; remove thyme sprigs.
To prepare sautéed blueberries: In a skillet, over medium heat, melt the remaining 1 tbsp butter. Add shallots; cook and stir until tender, about 3 minutes. Add blueberries; cook until they soften, about 4 minutes. Stir in red wine vinegar; simmer until mixture has a saucy consistency, about 2 minutes.
To serve: Arrange each hen half on wilted escarole, if desired. Spoon sautéed blueberries and sweet garlic cloves around hens. Yield: 8 portions (about 2 cups sauce)