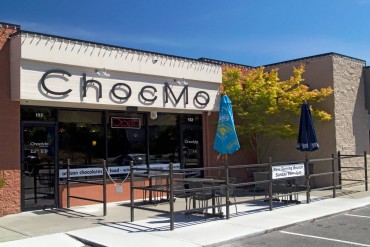 Poulsbo's ChocMo is a business that never stands still. From its original beginnings as a tiny chocolate shop, it has evolved into a full-fledged restaurant that continues to surprise.
Case in point: A new lunch menu being introduced this fall that takes the focus off sandwiches to include more entrees. Keeping up with the tradition of showcasing interesting food, the menu will have choices like a chocolate linguini, paired likely with a bacon cream sauce and blackened chicken breast.
"We focus on local and fun things, and we try to showcase the chocolate too," says Peter Crabtree, who owns ChocMo with his mother, Colleen.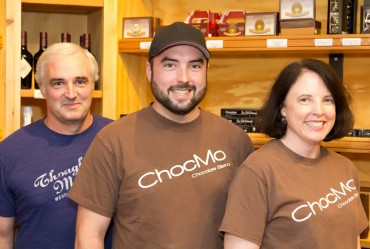 Among the local things featured is Black Angus beef, pasture-raised by the Crabtrees themselves on their family farm, Silver Creek Angus. ChocMo has become so popular that the farm operations — 40 acres of pasture — will have to be expanded to keep up.
"We expected demand to increase but not this fast," Crabtree says.
Rapid Growth to Popular Destination
Crabtree, a fourth-generation farmer, grew up helping raise animals on the farm. He sold pigs and steers at the Kitsap County Fair through the 4-H program — and used the earnings, as a teen, to start CBC Chocolates a decade ago.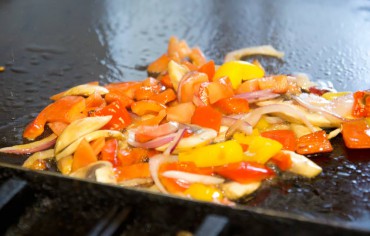 Originally, the chocolates were sold at the farmers market but within two years, a small retail spot opened doors on 7th Avenue in Poulsbo. Operated by Crabtree with the help of just one employee, the shop didn't stay small for long.
"We wanted to create a cool space for people to come in and enjoy our chocolate, and provide more of an experience," Crabtree says.
Luckily, there was space for a physical expansion, and ChocMo was born as a bistro in April 2011. For a year, the menu consisted of paninis, salads, coffee and desserts. The next evolution wasn't far behind — a remodel, just a year later, and a new menu of burgers and such.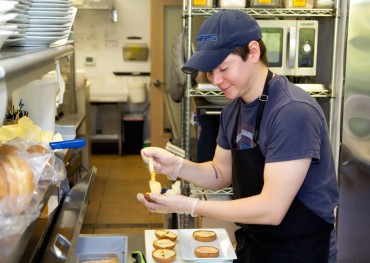 "A bistro has a menu that's changing and is driven by whatever the fun things the owners want to showcase," Crabtree says. "It gives us the flexibility to try new things instead of being pigeonholed into a particular cuisine."
Through a few other evolutions, ChocMo grew to serve dinner and weekend brunch. Popular choices include Peter's Burger for lunch and dinner (with Beecher's cheese, bacon, tomato, lettuce and chipotle aioli) and the signature Corned Beef Hash for brunch.
"We try to make just about everything in-house," Crabtree says.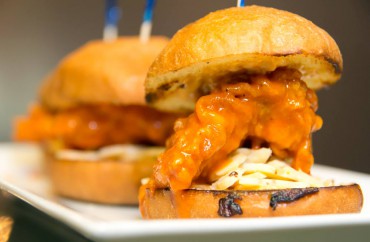 In addition to the local beef, other local ingredients include smoked salmon from Crimson Cove and Viking Feast ice cream. The dessert menu, of course, is abundant with chocolate — like a mocha tortoni (frozen mocha mousse in a handmade chocolate cup) — but there are plenty of other mouthwatering options, like pistachio crème brulee.
Some of the bistro's recipes, such as the mocha tortoni, come from the Crabtree family.
"We dig back into our heritage and that's the cool thing about being a bistro — we can show off our roots and we don't have to stick to one kind of menu," Crabtree says.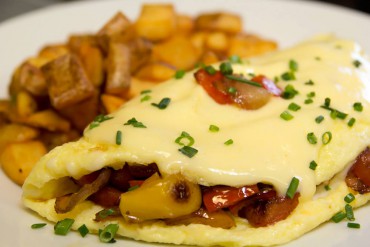 Chef Robert Goninan gets the credit, too, for coming up with fun ideas. "He is really great at thinking outside the box," Crabtree says.
ChocMo quickly became a popular spot for small groups meeting over lunch or coffee and laptop-toting workaholics taking advantage of Wi-Fi. And while the bistro is still a popular destination for those patrons, Crabtree says he is seeing more and more customers coming in specifically to dine.
The biggest compliment, he says, was from longtime customers who left a note on a comment card.
"They wrote that every time they come in, we're doing something better than before," he says. "It made me smile. In my mind, that's what we're here for, that's how we grow. To hear that from a customer is very rewarding."
Chocolate, Food and Spirits
The story of the evolution of this family business doesn't end there.
When the state changed its regulations on liquor stores, in 2012 the state-owned shop next door was up for sale. The Crabtrees were concerned about having a good neighbor that would complement the restaurant. So Peter and his parents bought it, created a tasting room (made of reclaimed materials), added thousands of new products — and opened doors as High Spirits. His father, Glen, runs that business.
"All three of us are very hands-on," Crabtree says. "All three of us are here an insane number of hours every week."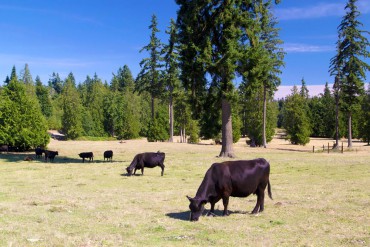 High Spirits, indeed, serves to complement the bistro and chocolate shop. The wide selection includes many unique wines, beers and spirits not easily found anywhere else.
"We go out of our way to bring in interesting things and find unique items," Crabtree says.
The three sides — chocolates, bistro, spirits — seem to work well together in synergy. It's all come a long way since Crabtree decided to sell chocolates to finance college. And it wouldn't be surprising at all to see many more evolutions of ChocMo to come.