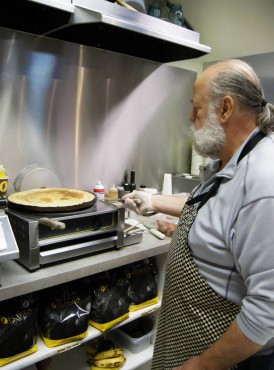 If you walk past the Occasions Coffee and Crepes "hole-in-the-wall" spot in Gig Harbor too fast, your first impression is likely to be that of a coffee/gift shop. Walk a little slower, and you many notice the menu by the door — and realize that there's much more to the spot than meets the eye.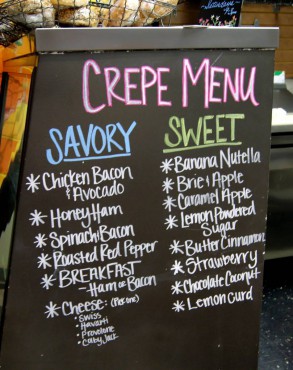 Regulars, of course, know that the hidden café — tucked inside the St. Anthony Prompt Care building on Point Fosdick Drive — offers much more than coffee and artsy gifts. Despite the lack of a real kitchen, Occasions Coffee and Crepes boasts an extensive menu of crepes, grilled paninis, salads, sandwiches and soups.
What's even more impressive is the fact that many of the ingredients are prepared in-house, from the sun-dried tomato pesto to the lemon curd. But the kitchen — the size of about four of the small seating tables that are available in the building's lobby — only has crepe and panini grills for cooking equipment.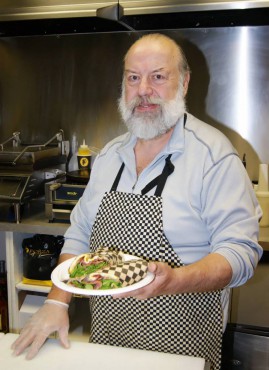 "We really make an effort to use fresh ingredients. I think that's what shows the most," says Ray Wainright, who owns the café with his wife, Janet.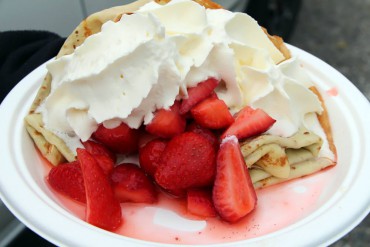 The café caters both to the medical center's visitors looking for food on the go and to those who make Occasions their destination. Group pre-orders are also available.
Those in a rush can choose from a selection of paninis that have been premade in the morning.
"We get pretty creative when we make them in the morning," Wainright says.
For customers who don't mind waiting, the possibilities are endless. Nothing on the panini or crepe menu sound quite right? Come up with your own idea based on the list of available ingredients, from prosciutto and salami to eggplant.
"We'll make just about anything someone wants," Wainright says. "We encourage people that if they don't see something they want, tell us and we'll put it together."
(above) Savory spinach, egg and cheese with bacon breakfast crepe
Custom requests may even make their way to the regular menu. That's how the roasted red pepper and spinach crepe was born — by regular request from a physician. The crepe, which also includes fresh avocado, roasted eggplant, sun-dried-tomato pesto and feta cheese, would make any vegetarian lick his or her fingers. But don't worry, meat lovers — try the popular chicken, bacon and avocado crepe, and you'll be reassured that your taste buds get just as much respect at Occasions.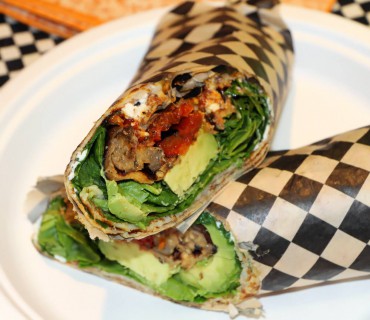 In addition to savory crepes, there are sweet temptations such as caramel apple, banana Nutella, and chocolate and coconut. One of the more popular crepes, made with fresh strawberries, is only available seasonally. Customers can even opt to buy a plain crepe — whose recipe has been perfected over time to make it more flavorful.
"I had to play around with it to come up with something the public likes," Wainright says. "Typical French crepes don't have a lot of flavor."
Asked whether there is a special ingredient, Wainright says with a smile, "I'd rather keep the recipe to myself."
Growing with Demand
Wainright is no stranger to recipe experimentation. He owned a catering company in Gig Harbor for 12 years, offering custom menus for all sorts of occasions.
He started out in the Point Fosdick building by selling muffins, sandwiches and such to the owner of a coffee kiosk called Brenda's. When the building's management wanted an expanded food presence about 14 years ago, Brenda's owner sold her business to Wainright because she didn't want to expand.
Wainright knew exactly what kind of food he'd offer.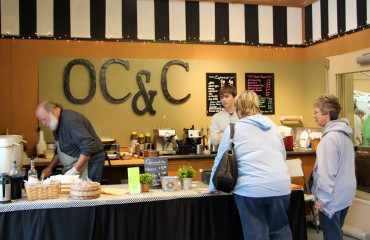 "I always wanted to do crepes somewhere," he says.
He created the menu based on things he likes, sourcing ingredients from around the Northwest.
The business was created with sustainability in mind. Since opening day, Wainright has been using recyclable or compostable containers and cutlery — a novel idea back in early 2000s. The coffee comes from Gig Harbor-based Forza, which roasts its beans at Dillanos Coffee Roasters in Sumner. Occasions also supports local artists, who sell their wares at the shop — including Wainwright's wife, Janet, who sews and makes pottery.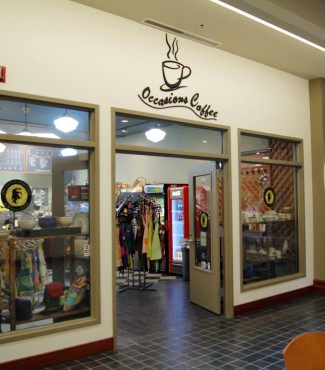 Wainright had experimented with expanding his business over the years, for a time running additional cafés in the MultiCare medical center across the street and at the Gig Harbor Y. While he now only has one location, he did respond to customer demand recently for Saturday hours.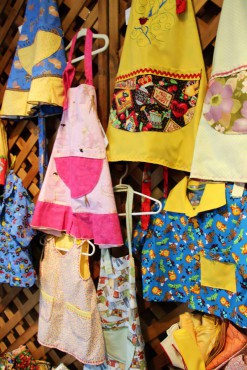 Since there's not a lot of traffic in the medical building on Saturdays, Occasions became a permanent vendor this year at the Saturday Gig Harbor Farmers Market, located in a PenMet Parks building that formerly was home to Peninsula Gardens. The menu is limited there, but offers the more popular items. So far, response has been "fabulous, way above expectations," Wainright says.
He's working at the business every day (which means his weekends just got shorter) but Wainright doesn't seem to mind. He does get a "break" every year — in August he takes a "working vacation" so he can cook at a sport-fishing camp in Alaska. The café, however, is in good hands — the small staff is cross-trained to do everything.
Wainright says that the bottom line for the business is doing everything possible to satisfy the customers.
"I really like it when someone comes in to tell us they've had a wonderful meal," he says. "I also love it when I'm out and about and people come up to me and tell me how great their experience was."