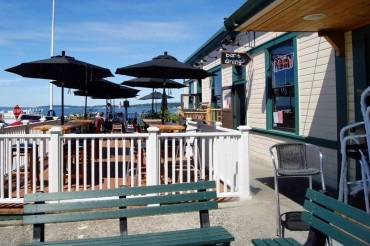 Editor's Note: In this issue, we revisit restaurant owners we've featured in the past to check in following either a major expansion or a complete transformation. In both cases, the resulting restaurants were different enough to invite a second look or — better yet — a second helping.
Port Gamble General Store
and Café
When Erik Kleiva and Kim Campbell, husband-and-wife owners of Port Gamble General Store and Café, found out that the office spaces adjacent to their establishment would be vacated, they quickly seized the opportunity to expand their popular restaurant and open a bar.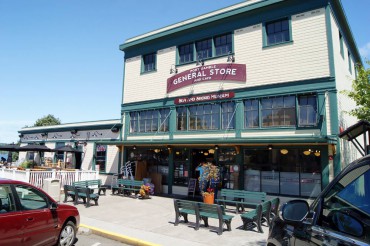 Once they got the go-ahead from the property's managers and pulled together the financing, they sat down with Patti Horton and Adam Sawasy, who run the kitchen, to create a functional design for a complete kitchen remodel. The old kitchen was cramped, for one thing — the new one is three times the size, with room for four cooks to work comfortably on the line together and a separate area for baking the café's delectable desserts and pastries.
Kleiva served as the general contractor for the entire remodel and expansion.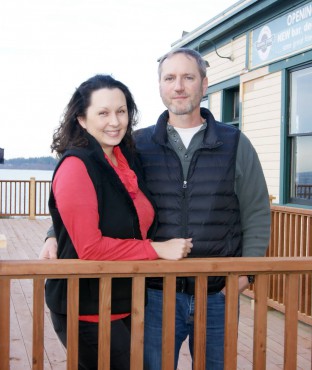 "It's the largest project I've ever run in my life," he says. Kleiva hired local carpenter Jose Olmedo to help him complete the project in a timely fashion, reducing both the amount of time the restaurant had to be closed and the resulting lost income.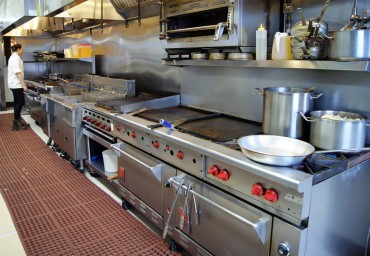 In January of this year, the couple closed the restaurant; 39 days later they'd completely gutted, expanded and finished the new kitchen. Campbell used the time to paint the original dining room in shades of green, cream and dark eggplant instead of the gray walls she'd lived with since taking over the restaurant four years earlier.
"I felt like I was in a battleship," she says.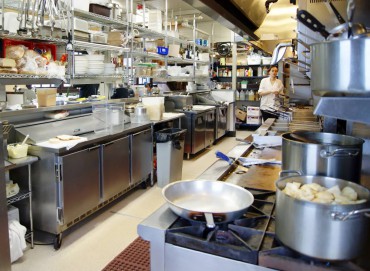 With the kitchen remodel complete and the original dining room reopened, they undertook the remodeling of the old Pope & Talbot offices and doctor's office into what is now a full-service bar and adjacent dining room.
In the end, they would triple the seating capacity inside the restaurant as well as add a large deck (both the new dining room and the deck take advantage of sweeping north-facing views). The expansion required the hiring of 20 additional employees and gave them essentially two restaurants with two separate entrances (and two hostesses who communicate with one another on phones about the waiting list on busy days).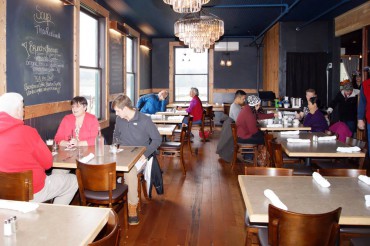 Most of the wood used for the remodel came from the old Pope & Talbot mill site and is itself worth a closer look. Milled from boomsticks — long logs used to contain floating rafts of log bundles — the wood had spent from 20 to 50 years in saltwater before being repurposed. The result is an appearance akin to Swiss cheese, due to infestation by teredos, or wood-boring clams.
The boomsticks milled into teredo lumber are mostly Douglas fir or Western hemlock, many of them old-growth logs and some of them more than 500 years old. Port Gamble is currently one of the only places in the world where teredo lumber is milled and produced.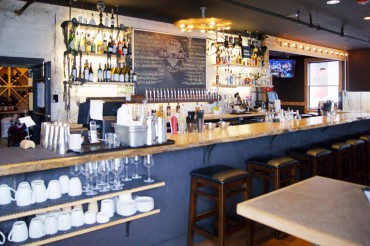 Campbell and Kleiva used the teredo wood to build the bar as well as to construct window trim, chair rails and wainscoting. For the floor, they used reclaimed Douglas fir to cover over tile.
Two chandeliers in the new space were constructed out of saw blades from the old mill. The old Pope & Talbot vault, which once held two safes, is now used as wine storage and as a walk-in cooler for beer. The result is a space that feels at once new and as though it's been around forever.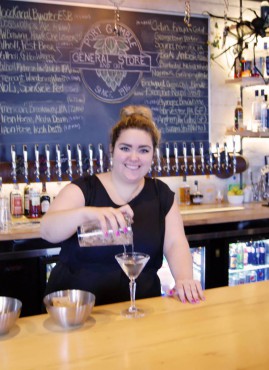 The couple planned to open the expanded restaurant on May 1, hoping for a "soft" opening that would give the kitchen and staff time to adjust to all the changes. Delays pushed the opening back to the following Mother's Day weekend.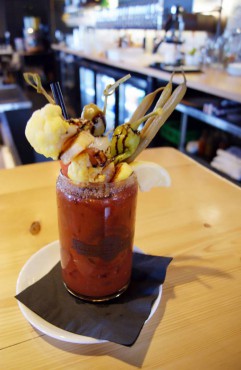 "It was anything but soft," Campbell says. "It was a stampede."
Since then, they've been working to adjust and fine-tune staff and the timing of the kitchen to accommodate the increased number of customers. One of the adjustments was to close two days a week to take the pressure off the staff and give everyone guaranteed days off, although Campbell says they are planning to be open for lunch seven days a week by next spring.
They are also focusing more on dinners to take advantage of "the talent in the kitchen." They streamlined their menu offerings, adding new dishes and subtracting others while retaining some favorites.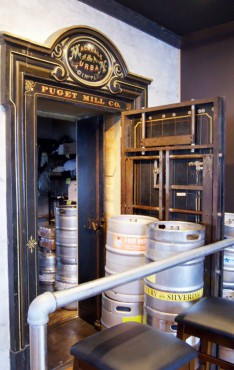 "I never intended to open a restaurant and have the same menu 20 years later," Campbell says. "A business is always a work in progress, to stay fresh and not get stale."
One thing that has not changed is Campbell's and Kleiva's commitment to made-from-scratch, locally sourced food, which Campbell calls "her passion."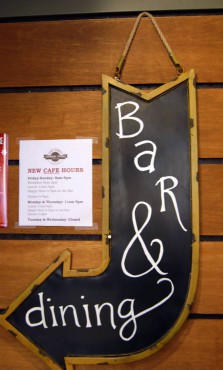 This commitment to what she terms "pure" ingredients carries over into the bar, which she seeks to stock as much as she can with small-batch artisan liquors, Washington beers and Pacific Northwest wines. She and her crew have had a lot of fun learning "good, old-fashioned mixology," even going the extra step to make their own grenadine and other syrups.
"There are no blue drinks in the bar," she says, "unless it comes from a blueberry." The bloody mary alone includes juiced cucumber and jalapeno and comes adorned with enough house-pickled vegetables to qualify both as a recommended serving of vegetables and an appetizer.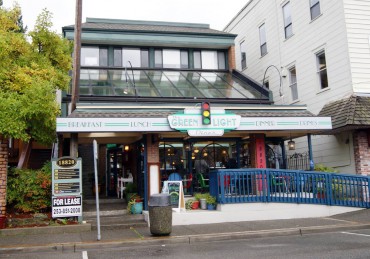 "The menu's what it is because I care about what I serve people," Campbell says. "I want to do what's right for people's bodies. Obviously I want it to be tasty and enjoyable, too."
Green Light Diner
"Life happens in the diner," says Green Light Diner owner John Nesby. "It's the memory maker."
When Nesby and his wife and co-owner, Laura, decided to shutter their beloved Mor Mor Bistro & Bar in Poulsbo for something entirely new, they returned to their roots and a shared love of the 1950s.
Laura's first job was at the Sky Drive-In off Route 66 in Northern California. John's family owned several businesses in Kitsap County over the years, including Len's Café (owned by his great-grandfather Len Haskin) and the Big Apple Diner (owned to this day by his parents), where John spent many of his after-school hours washing dishes and bussing tables. Diners were in their DNA.
Both went on from those early experiences to continue their culinary educations in fine dining, eventually opening Mor Mor, which became a local favorite, in 2004. Not surprisingly, customers had a hard time understanding the decision to close the popular restaurant, a decision the couple made a full year before Mor Mor served its last meal.
"It was like putting Old Yeller down," Nesby says. "I mourned it for a long time."
But there was no second-guessing the decision once it was made. "There's nothing that I love more than cooking an exquisite six-course meal … but I was ready to go to the next chapter," Nesby says.
And that next chapter includes, for one thing, a more diverse clientele.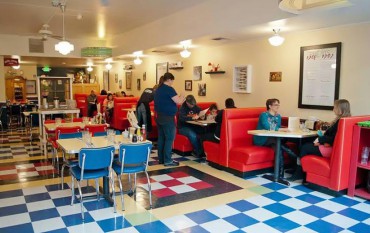 "A diner and casual cuisine is at the heart of what a restaurant is all about," Nesby says. "At the diner, we have people who eat here three times a day. We're trying to create more of a community gathering place, an extension of someone's living room. It's just a huge, broad net of people that's in here. A diner is kind of a great culinary equalizer. You expect great food and great service, but there's no pretension to it.
"We've seen people laughing at tables, people crying at tables, people saying hello, people saying goodbye," Nesby says. "With graduation, we thought we were going to have to start handing out Kleenex."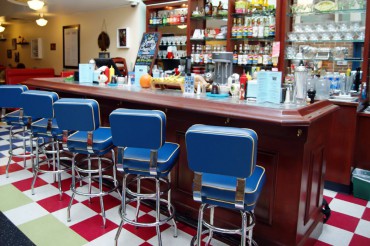 One thing that has not changed is the Nesby's use of quality ingredients. "It might be simple food and diner food," Nesby says, "but it's quality food. We're filling it full of quality products from local people and trying to support local businesses."
The hamburger buns come from down-the-street neighbor Sluys Bakery, ingredients for the old-fashioned soda fountain (you knew there had to be one of those, right?) from Puget Sound Dairy in Bremerton and Three Sisters in Oregon, and many of the bottled and draft beers and liquors from local breweries, to cite a few examples. (The soda machine produces creative cocktails as well as classic malts and milkshakes.)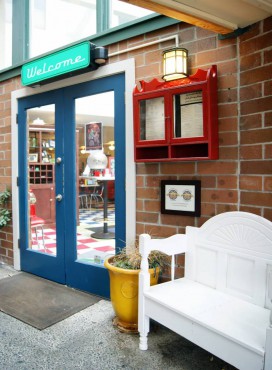 The couple also tries to accommodate most dietary requests — including those for gluten-free and dairy-free options — and allergy restrictions, banning peanuts and walnuts from the restaurant altogether and opting instead for almonds and pecans.
When time came to transform the space itself, Nesby did much of the work himself with the help of Jim Snodgrass (former chef at the Boat Shed Restaurant), striving for authenticity throughout the décor.
"We didn't want it to be a shrine or Disney-inspired tribute to the '50s," Nesby says. "It's just supposed to be a café that has a real 1950s flavor."
For the interior design, the couple had the help of Michele Doyle of Michele Interiors in Poulsbo to translate their vision for the new space into reality.
"Laura and I had this swimming pool of ideas, and Michele helped us streamline them," Nesby says.
Among Doyle's most striking contributions are the hand-designed patterns for the vinyl composition tiles throughout the restaurant, including the large stoplight embedded in tiles just inside the front entrance.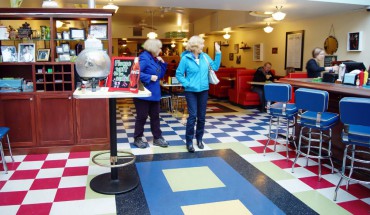 "A lot of this project is very do-it-yourself," Nesby says, adding that he was "cutting and painting" every night for a month until the wee hours.
The result is a feast of fun colors and decorations throughout the restaurant. Bright-red booths come complete with decks of cards ("Laura and I said, let's try to give people a reason to stay off their phones," Nesby says). Posters designed by Brian Baker, a local artist and former cook at the restaurant, frame the 1950s trivia questions on the walls. Shadowboxes showcase the couple's 15-year-old collection of red-handled kitchenware.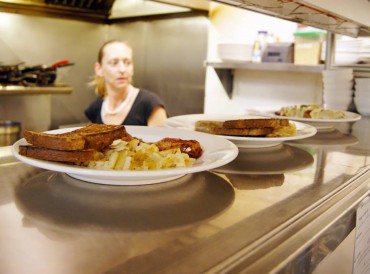 The corner light and speaker covers are shaped like the corners of a traditional railroad diner car (many diners were built from old rail cars, according to Nesby) — Nesby's father helped him pick out the trim online, which came from old Chevy Silverado, and Hanson Signs of Silverdale did the acrylic work (as well as the diner's new sign out front). Longtime customers will be happy to know that the vintage family photos also survived the transition.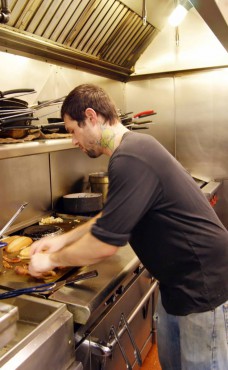 For Nesby, the diner is more than a natural step in his evolution as a restaurant owner. It's an opportunity to foster community. He looks forward to starting to host special events again.
"I want to do things for people," he says. "More than I like good food and good wine, I like people.
"A diner is the most honest representation of the American food experience," he says. "France has the bistro. England has the pub. Germany has the beer house. Spain has the tapas bar. America has the diner. We should be proud of it. We should embrace it."