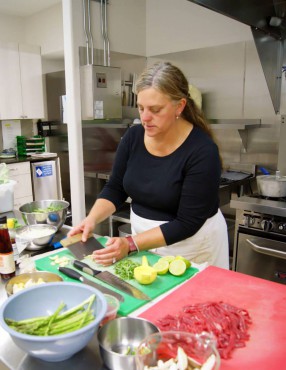 Everyone should have friends like Jamie Villella.
When Villella, owner and operator of Mama Villella's Personal Chef Service on Bainbridge Island, needed to test-drive her new business, she recruited her friends to be "pilot clients." For their honest opinions about her food, they received one meal a week from Villella at a reduced price.
Besides providing her with valuable feedback, it was a smart marketing move.
"Some are still clients today," Villella said recently while sitting inside Pegasus Coffee House on Bainbridge Island, owned by good friends Jeff and Jocelyn Wait.
Villella has lived on the island since 2001 with husband Charlie King, a personal coach, and their two children.
To understand her lifelong relationship with good food, however, requires reaching back to her Ohio childhood growing up in an Italian family. Both her grandmother "Nona" and grandfather cooked, bringing with them traditions and recipes from Italy, and Villella grew up comfortable with all aspects of kitchen duty. There was no sitting idle.
"If you were going to be in the kitchen and participating in conversation, you were going to be busy with your hands," she says.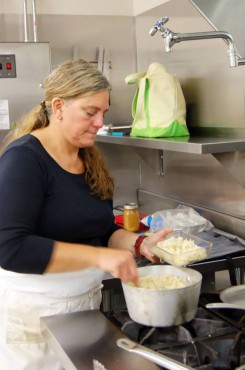 When time came to head off to Ohio University, Villella studied zoology and biology with plans to become a marine biologist or physical therapist. After college — to escape the "terrible winters of Ohio" — she moved to Florida (she had relatives living in Tampa Bay), where she stayed for the next 10 years, working in restaurants and traveling. She never had trouble finding a job.
"I had lots of knowledge and skills from growing up in an Italian family," she says. In the first restaurant she worked in, she started out as a hostess before beginning to wait tables.
"Part of being a waitress was, you had to work in the back of the house first," she says, "and the owners also had cooks come out to be hostesses and wait tables." The cross-training approach impressed her. "I thought it was a brilliant way of training staff," she says.
She stayed at the first restaurant for five years before moving on to several other restaurants, including a Tex-Mex one with 150 tables she describes as "super, duper busy," where she also worked for a while bartending. During this time, Villella also traveled up and down the East Coast and to Europe. She always had a job when she came home.
"It was quite a nice thing, because when you came back, you could pick up where you left off," Villella says.
Eventually, she was asked to take on management responsibilities. "It made life really interesting," she says. "I got more of an education than I did in college. My husband and I have told our children that they will work in the service industry for a while."
It was during this time that Villella started hatching a plan to travel out west. A co-worker had moved to Santa Fe, N.M, and when he returned to see his family in Florida, he invited Villella to visit and travel with him to the Grand Canyon.
One night when Villella came home from work, she happened upon a documentary on the Discovery Channel about the Grand Canyon. Convinced she had to see it for herself, she sold everything she owned and found someone to take care of her cats. Her friend returned to make the drive with her, and they set out in Villella's '61 Rambler.
"We had a couple of delays getting to New Mexico," she says.
Her friend fell ill, for one thing, and had to spend time in a hospital. In Albuquerque, only 60 miles from their destination, her car rebelled at the altitude and required a new alternator.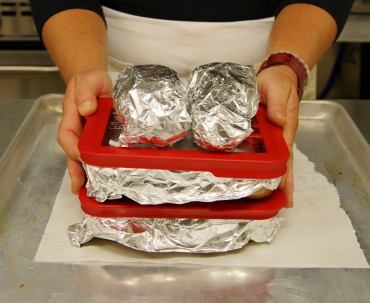 Even in Santa Fe, things didn't go exactly as planned. Villella's friend, still struggling with health issues, had to bow out of the Grand Canyon trip. Villella needed to work, so she got a job at a natural foods grocery (her interest in organic agriculture had been sparked while working on an organic citrus farm in Florida) and another job bartending at a Mexican restaurant. One of her customers was King. A relationship blossomed.
King was a graduate of the National Outdoor Leadership School and an experienced hiker and outdoorsman. Because Villella's friend was still sidelined by illness, she and King embarked upon the Grand Canyon trip together.
"It was an unbelievable trip," Villella says. "It was arduous. It was lovely. It was hard. I had breakdowns on the trail when I thought I couldn't do another switchback. He (King) was an amazing guide and mentor, but also just so patient. He let me have all those breakdowns and just sat with me.
"We saw each other at the best and worst — the good, the bad and the ugly," she says.
Villella adds with a laugh that when they tell friends about the trip, the common response is, "You guys are married? You survived all that?"
Following what came to be known as "The Big Trip," Villella went to work for Wild Oats (which would later be bought by Whole Foods), beginning as a stocker and eventually becoming the assistant manager. At one point, she ran the produce department, which entailed (among other duties) visiting the organic farms that supplied the store's fresh produce. One of her takeaways: "Eating in your season is super important."
One of the store's suppliers was a salmon fisherman from Bellingham, who offered to take Villella and King on a tour of the Puget Sound area should they ever make it up that way. Intrigued, the couple decided to take him up on his offer and embarked upon a 10-day visit in August. Bainbridge Island ended up on the itinerary because one of King's best friends lived there.
When the fishing trip fell through, Villella's fisherman friend proposed a driving tour through the Cascade Mountains, during which Villella and King camped at Ross Lake in a floating cabin, went kayaking and canoeing, and visited several orchards.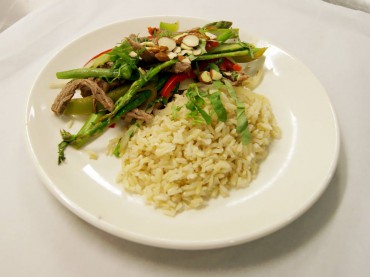 Back in Santa Fe and seduced by the summertime beauty of Washington, the couple decided it was time for a change and began plotting their move. They considered relocating to several areas in Western Washington, but the connection with King's friend drew them to the island.
In the interim, Villella got pregnant, and the couple postponed their move until after their daughter was born. In June 2001, with a 6-month-old baby, they finally relocated.
Villella began looking for a preschool for her daughter, eventually deciding on Madrona (Waldorf) School. Her son was born in 2003, and both children attend the school to this day. Villella eventually joined the staff, first as a substitute teacher and then as a kindergarten assistant.
During this time, she also found herself being asked to prepare food and cook not only for the kids at the school but also for potlucks and meal trains. In some instances, people offered to pay her to cook or bartend for special events.
Last year, ready for yet another change, she decided to take her lifetime of experience with good, wholesome food and go into business. She'd worked big catering jobs during her time in restaurants and knew it wasn't what she wanted.
"I wanted to do something where I can actually feed people the way I want to feed them and not spend all those hours you do catering," she says.
For one thing, she needed to be able to balance her working hours with taking care of her children. For another, she didn't want to cook in people's homes. With the necessary licenses in hand, she began cooking for clients out of her home but her business soon grew big enough to require a commercial kitchen. Eventually she found what she was looking for in the newly remodeled, certified kitchen at St. Barnabas Episcopal Church.
These days, her business has settled into a comfortable routine. She typically shops on weekends and Mondays to take advantage of farmers markets, then cooks Tuesdays through Thursdays. Food is delivered the same day it's cooked to clients in reusable glass dishes for reheating (although she mentions that she is making the transition to compostable containers after one-too-many lost lids).
She can accommodate most dietary requests. She spent 13 years as a vegetarian in her late teens and 20s, so she always offers vegetarian options. She also does what she can to source ingredients locally.
"Along with eating in your season, I think it's really important to eat in your region as much as you can," she says, adding that fall and winter root vegetables like beets, potatoes, parsnips, rutabagas and carrots, along with winter squash, are some of her favorite foods.
Villella's commitment to healthy food is perhaps best illustrated by this simple and remarkable fact: Neither one of her children have ever been to a fast-food restaurant. She tells the story of her son, who attended a weeklong soccer camp last summer, where every day lunch was catered by a fast-food restaurant. One day, Villella showed up to watch soccer practice and noticed that he was "droopy." When Villella asked him about it, he admitted he hadn't eaten lunch, at which point his sister donated hers.
"I was so proud of him for standing up and making that choice," Villella says, "that someone his age could make a choice like that in front of everyone else."
For Villella, food choices have ramifications far beyond what simply tastes good. "I fully believe that you can put something in your body that's good for you, or you can pay for it in the end," she says.
"For as long as I can remember, food has been a focal point in my life," Villella says. "It started as the centerpiece of family connections and visits. Helped me build pathways with friends and new acquaintances. As I got older, more independent and educated, it became a purposeful lifestyle for staying healthy and out of the doctor's office.
"Today it is used for all of these things in my life," she says, "and is something I love to share with my own family, friends and clients."