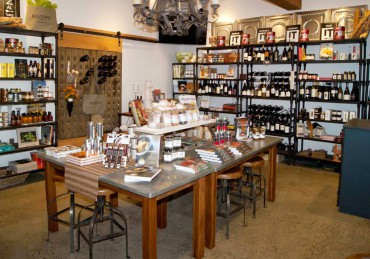 A casual drop-in to Intentional Table on Bainbridge Island is likely to reveal a spot not unlike other small shops strung along the island's Winslow district and its many nooks and crannies. The 700 square feet of space is home to a demonstration kitchen, a variety of foodie products for sale and ample space for mingling.
But wander in during a scheduled class or another event, and you'll see Intentional Table spring to life with people enjoying themselves and learning about food or wine.
Owner Zoe-Ann Bartlett admits that it's a challenge to explain what her business does because it doesn't fit neatly into a box. The working title — food and wine studio — only explains part of what Intentional Table is about.
"You have to come here and experience it to understand it," she says. "It's not just a cooking school."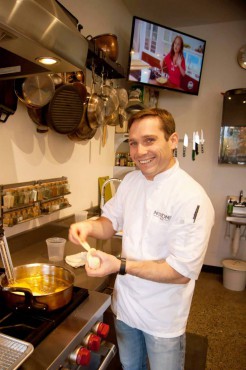 A perusal of the schedule, posted online, shows events that range from basic classes like knife skills and one-hour "lunchtime learnings" to three-hour classes featuring ethnic cuisines. But not all the events are on site — and soon, some won't even be in the country.
One experience, for example, took foodies on a canoe trip to Blake Island, where they enjoyed a gourmet lunch. On another occasion, a class included a stop at the farmers market nearby.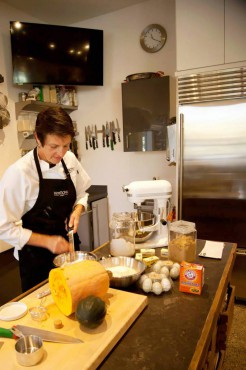 "We try to do things that are unique and different and are experience-based," Bartlett says.
A recent "culinary experience" event hosted by Intentional Table at Sweetlife Farm epitomizes what may be challenging to describe in words.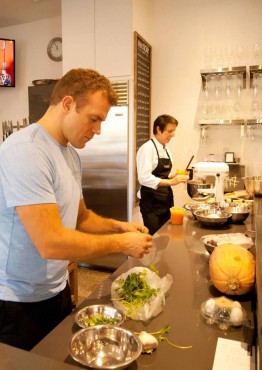 Sweetlife Farm, owned by fellow foodies Bob and Nancy Fortner, is what one visitor described as "a fairytale version of what a farm looks like." The beautiful grounds are lush with gardens that have been featured on garden tours and are also home to a commercial kitchen where the Fortners make products from their garden bounty.
Last year, Bartlett approached the couple with the idea of hosting an event under their arbor — a narrow, intimate, leafy enclosure. The event was so popular that Bartlett brought it back this past August, with more than 50 people in attendance.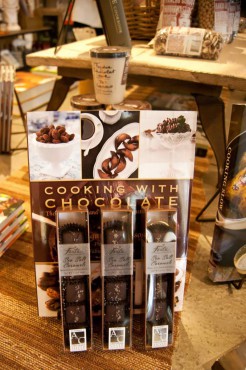 The evening started at 4:30, as guests were greeted with cocktails. They wandered around the grounds, listened to a trio playing music, watched the chefs prepare pizza in the outdoor wood-fired oven, and easily drifted in and out of each other's conversations.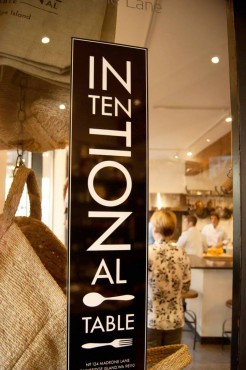 "I've never had an experience like this where you were welcome into strangers' conversations," says Catherine Adams, who brought along a friend visiting from California.
The linen-covered table was impressive and beautifully served, Adams says, and the immersive event was "really quite remarkable."
"It was such a pleasurable experience that nobody wanted to leave," says Adams, who lives in Seattle and on Bainbridge Island.
The last guests, in fact, didn't leave until 10 p.m. But Nancy Fortner says the evening was paced just right.
"It didn't feel like I wanted it to move any faster — we enjoyed each part as it unfolded," she says. "We felt kindred spirits with strangers. It was magical both times."
Sharing a Passion for Food
Bartlett says her love of food began when she was 4 years old and would only eat raw vegetables she could harvest from her mom's garden. Her parents were foodies long before the word became ubiquitous, and she grew up canning and freezing produce every year.
"My mom and stepdad were great at creating experiences," Bartlett says. "Mom always made it fun for us and it always involved food."
Her career took her down the travel and hospitality path — she worked for hotel chains and later as lead of Microsoft's global travel management program.
Ten years ago, Bartlett took a sabbatical and spent two months in France, learning how to cook from renowned chef Robert Reynolds (the founder of Portland's Chef Studio). Living in a rural area, they visited farms and farmers markets daily and then studied regional foods, wines and menus.
"The day he took us to the middle of a field and had us pick up a hand of dirt, I fell in love," she says.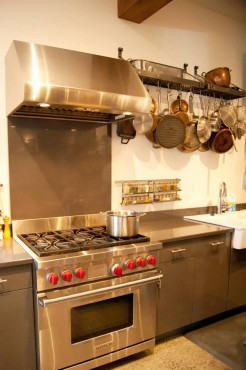 After returning home, Bartlett contemplated the idea of the corporate world again. Instead, she started a cupcake company called Wink after her mother sent her a dozen cupcakes from a well-known bakery and Bartlett thought she could do better.
She ran the business for about a year and a half and sold it, briefly returning to a corporate job but realizing that was no longer where she wanted to be.
"Wink was very successful but too one-dimensional for what she wanted to do. She had a more global approach to food," says Adams, who has known Bartlett before Wink was born. "It took a while for her to fine-tune the (Intentional Table) concept and the impetus was her move to Bainbridge."
The new business was a serendipitous adventure that may not have happened if the stars hadn't aligned right.
Bartlett launched Intentional Table on a small scale, online, until she met Linda Brandt, who owns the building on Madrone Lane. Bartlett had recently lost her father when she and her husband moved to the island. The couple were in the process of creating a space so Bartlett's mother could move in with them.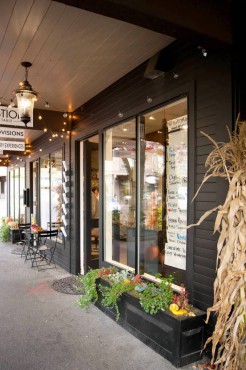 When Bartlett saw Brandt's available space, she liked it but didn't want to pursue it. As the couple vacationed in Hawaii, she received a text from Brandt saying they should move forward (Brandt would become a silent partner). After a discussion with her husband, Bartlett decided to take the risk and made the commitment to Brandt.
The next day, her mother died.
"We remodeled our home, settled mom's estate and opened the business, all in one year," Bartlett says. "I don't remember much of it."
Her inheritance became an investment into the business, where her parents' spirits live on.
"It was one of those things where the magic happened and things unfolded as they were supposed to," she says. "This is my happy place."
And she's trying to make it a happy place for her customers. A sign on the wall at the studio embodies the Intentional Table philosophy: "Discover it. Experience it. Celebrate it. Share it."
"There's a quality about Zoe that is so infectiously happy," Adams says. "She is so passionate about food, you can't help but smile when you are around her."
Always Evolving
One of the reasons it's hard to put Intentional Table in a box is because it's constantly evolving. Bartlett is always reinventing and fine-tuning, adding new programs and experiences. She says it's a little bit like using Legos because "you can build anything with Legos."
"The food and wine world is exponential. If you can dream it, you can create it," she says.
Among the newest additions to the business are catering services and culinary tours overseas. Bartlett is also working on a food and wine event similar to the Aspen Food & Wine Classic, as well as a cookbook with heirloom recipes from customers and the stories behind them.
Newly hired chef Bryan Lewis is heading up the catering. He joined a team that includes two other chefs, Heather Andrus and Josh Perlatti, both of whom grew up on the island.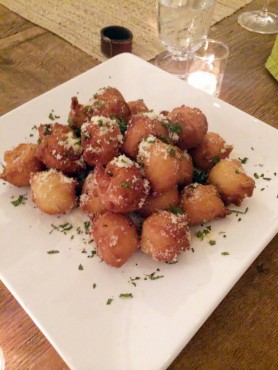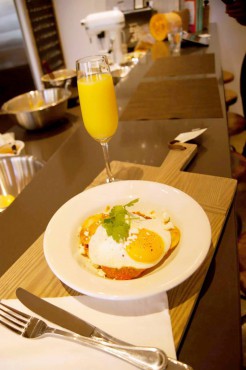 "We're trying to create new experiences and bring people closer to the food in the community and present it in a way they haven't seen before," Lewis says.
With the business just two years old, Bartlett has already achieved many of the things she wanted to do. She says it feels like she's creating her life's work — and doing what she loves.
Her hospitality gene compels her to make people feel good, and that, in a nutshell, describes the inspiration behind Intentional Table.
"What she brings to the table is a real creativity about coming up with small and big ways to bring people together, and food is just the commonality. It's about slowing down and taking the time to incorporate all the sensory pleasures that come together with food," Fortner says. "I really believe it's a business that comes from the heart and soul."