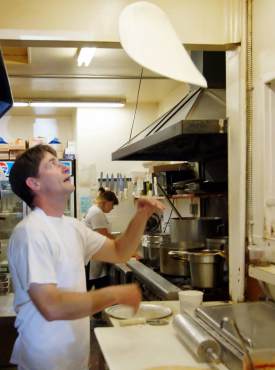 You may call it Filippi's Pizza or Tony's Pizza — it depends on how long you have lived on the Kitsap Peninsula. Either way, you will find nostalgia on a pizza pie, served up with a generous helping of Italian family love, at this favorite Bremerton eatery on Kitsap Way.
For more than 48 years, this is where Bremerton residents have celebrated events large and small: first dates, engagements, birthdays, proms and everything in between. Filippi's Pizza (1966- 1995) and Tony's Pizza & Italian Restaurant (1995-today) holds a remarkable place in the hearts of thousands of loyal fans and friends.
All small towns have a gathering place — a soda shop, a hamburger joint, a drive-in. But if you grew up in the '60s and '70s, the chance of that wistful place still being there is improbable. It's a sad fact; family owned "mom and pop" restaurants are of a bygone era, a melancholic reminder of today's fast-food, chain-restaurant society.
Filippi's Pizza was — and is — special for the food, the ambiance and the prices. But most of all, it was special because of one man, Tony Zampella, the iconic Italian owner who, to this day, fills Bremertonites with nostalgia, posthumously.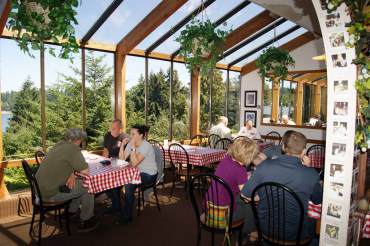 Ask any longtime Bremerton resident about Tony and you will hear words like "legend," "character" and "institution." A recent post by Rosa Zampella, his daughter, on the Facebook page "If you grew up in Bremerton" generated literally hundreds of nostalgic comments and memories from fans around the world, warming Rosa's heart. Tony's smooth, often loud, generous and hard-working ways built a gathering place that to this day feels like "home" to customers old and new, near an far.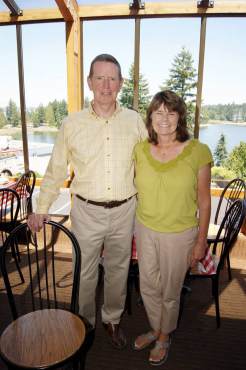 Antimo Zampella was born in Caserta, Italy, and came to Bremerton in 1966 to work in a pizza parlor for an old family friend, Richard de Filippi. Zampella was a natural and by 1969 he owned the place.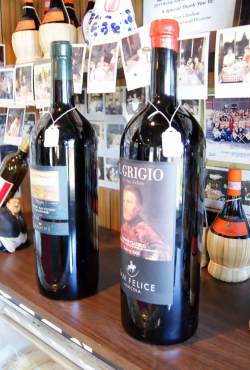 Throughout the '60s and '70s, Zampella would be in the kitchen tossing dough. His children, Rosa and Anthony, recall his business ethos: "You got-a give-a back to the business," he'd exclaim in his thick accent.
Over the years, Zampella hired more staff and spent more time out with the customers. It was very common to see him, in his iconic, red-checkered shirt, sitting at table No. 2 and smoking. At other times, he would be sitting and sharing a meal with guests. He treated everyone like family, and family-style food was cooked and enjoyed. It's what brought customers back to Filippi's again and again.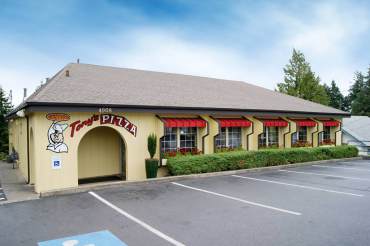 "My dad raised generations of pizza eaters," Anthony Zampella said. "Many of Dad's customers grew up in our restaurant and then brought their own children and grandchildren to sample his pizza, pasta and personality."
By the time Zampella was ready to retire from the business, Mike Malane had been working for him for seven years as the pasta cook. Malane wanted to continue the tradition and purchased the restaurant in 1995.
"It has changed very little. Generations of families come here and we try to keep things the same," Malane said. "Everyone in Bremerton is my customer and it makes it fun to work here. On a busy night, it's like a reunion."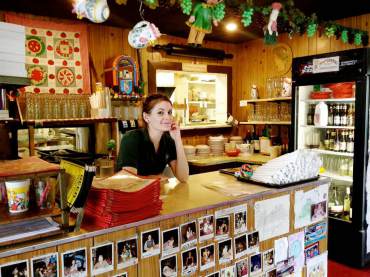 Malane and his wife, Tami (whom he met at Filippi's), continued the tradition of posting Polaroid shots of customers celebrating special events. There are hundreds of photos covering the walls of the restaurant.
"Tony started doing this in 1973 but they don't make Polaroid film anymore," Malane lamented. "Sometimes people come in with their own photos for the wall today."
With Malane at the helm, the menu has changed very little. There are a few new additions but all the old favorites remain, including the popular mini-breadsticks and butter, the antipasto salad and the bestselling "The Works" pizza (pepperoni, salami, mushrooms, Italian sausage, meatballs, onions and anchovies).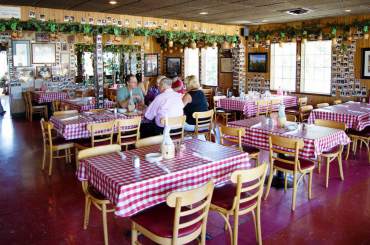 Eric Branson has been making pizza at Tony's for 26 years. He still recalls how he came to the restaurant to see if they were hiring.
"Tony interviewed me right there," Branson said, "but I didn't understand most of what he said because his accent was so thick. But he told me to come back on Wednesday at 5 p.m. so I did."
Branson has been there ever since.
"It took me a long time to understand him or to read his handwriting," he said. "But I really cared about him and he cared about me. He was a father figure to me. I still miss him."
The sentiment resonates with many other people. If you did your job and worked hard, Zampella took care of you. You were family. Family was important. And it still is. Malane has staff who have been with the restaurant for decades, including waitress Peggy, who has been there 35 years, and Dawn for 25 years. Unheard of in the restaurant industry.
Tony Zampella died almost 10 years ago but he is alive and well in the hearts and memories of so many throughout Kitsap County. Every time you visit Tony's Restaurant and enjoy Mike Malane's version of the menu and Eric Branson's spin of that delicious pizza pie, you are consuming a little slice of Bremerton history. The nostalgia of a man, a place and a pizza.