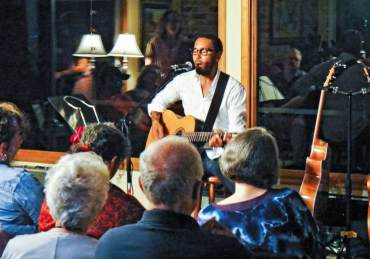 For the past couple of years, dozens of people have been coming to the Key Peninsula — some from as far as the East Coast or Canada — to attend performances of singer-songwriters from around the country. Having almost-monthly concerts in a rural area off the beaten path is unusual enough, but what makes these performances unique is their venue. Not a state-of-the-art concert hall or a night club. Not even a community center with a stage.
The concerts, part of a series called Words and Music, are hosted at a beautiful waterfront home in Vaughn — the home of Jerry and Pam Libstaff.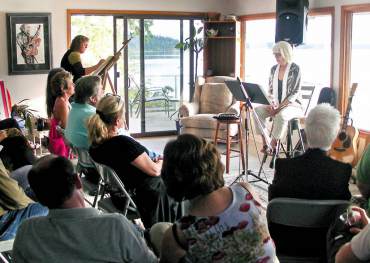 Jerry Libstaff is a writer and publisher who founded Watermark Writers, a nonprofit focused on promoting local literary arts. Each Words and Music performance kicks off with a poet reading from his or her work, both up-and-coming local poets and nationally known ones.
David Wilcox, Amy Petty, Danny O'Keefe and Ari Hest are among the many notable performers who used the Libstaff waterfront home as their stage. Local artist Tweed Meyer has been a fixture at almost every event as well, creating portraits of the performers.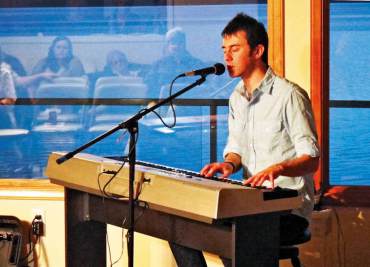 "The people we get to see are absolutely wonderful and you get to meet and talk to them," Jerry Libstaff says.
That's because the intimate home setting allows the guests to mingle not only with each other — imagine a lively party with friends — but also with the artists. The atmosphere includes wine and beer, and the Libstaffs go all out to provide hors d'oeuvres like salmon and shrimp, and plenty of desserts. It's a descent treat for the $20 average ticket price.
House concerts have been a growing trend around the country, according to Libstaff. But his Words and Music series started by serendipity, when singer-songwriter Greg Greenway performed after being a presenter at a Watermark Writers conference. Libstaff was so impressed, he invited him to come back for a Young Writers workshop in 2008. Greenway agreed, but he wanted to find a "gig" as part of his trip and when he couldn't find one, he asked Libstaff if he would organize a house concert.
"I said, 'What's a house concert?'" Libstaff recalls.
He hosted another that year also by serendipity, and was encouraged by the response.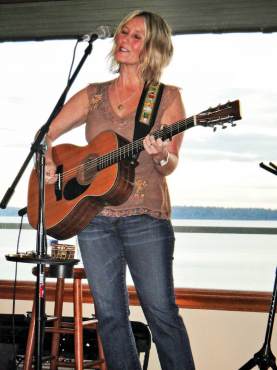 "We enjoyed it so much, the following year we started negotiating with people, and we got all our favorite people for the next eight months," he said.
Initially, the concerts appealed to the couple for personal reasons — the cost of attending an event in Seattle, for example, would add up quickly once transportation, street parking, dinner and other expenses are tallied in.
"The idea was to have our favorite artists and poets come to our place, and we present them to the community. It's a double benefit," Libstaff says.
The idea worked. With a total of 30 house concerts under his belt — and a couple at other local venues — Libstaff is now receiving requests from agents. He says he has about 260 performers on his list, some from as far as the Netherlands and Italy. And he already had performers from England and Canada.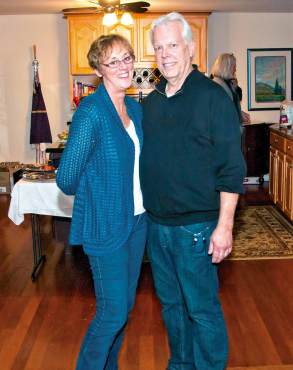 "I have to turn people down on a weekly basis," he says.
Some performers are coming back as well, including Cheryl Wheeler, Tom Kimmel and Greenway. The average event attendance is about 50, but some of the more popular names have attracted many more.
Libstaff says what makes these cozy venues appealing for the artists is the low overhead. They don't have to pay for lighting, sound, advertising and other expenses, nor risk low proceeds if attendance is low. Libstaff guarantees them a certain minimum, whether there are enough ticket sales or not.
Concert guests are encouraged to give additional contributions to Watermark Writers. That money goes to fund Young Writer workshops — another one of Libstaff's passion — so Words and Music, in a way, has come full circle. As part of Young Writers program, Libstaff hires professional writers from different genres so youth get immersed in a daylong workshop. He has even collaborated with organizations such as the YMCA to reach a wider audience, and has received some grants.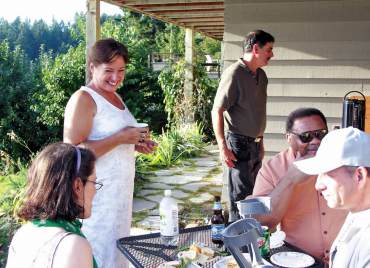 The feedback for Words and Music has encouraged Libstaff to pursue other local literary events. When the Blend wine shop opened in Key Center, he launched A Blend of Words and Wine, regular readings featuring local poets and an open mic. There is no cover charge and the attendees can buy wine by the glass from the shopkeepers. Additionally, Libstaff hosts a writers' workshop at his house every week and a small group of locals come to get feedback for their work.
"I think the resource of Watermark Writers is fantastic," says Carolyn Wiley, a regular at the Words and Wine events who writes original humor for the readings. "It's a great opportunity for writers to get together and share their work — they become better because it's one of the times when they get immediate feedback."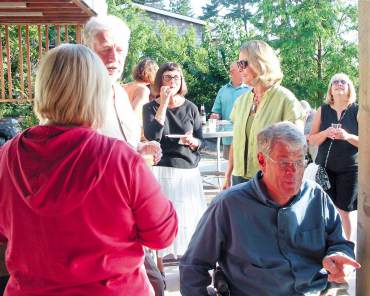 Wiley says the open mic readings have helped her discipline herself to write because they serve as deadlines of sorts.
"I'm addicted to the mic (at Words and Wine). I'm not a poet but I'd be a standup comedian if I could memorize (the material)," she says.
Libstaff continues to come up with new ideas for sharing literary and performing artists with the local community. He is becoming, as the cliché goes, a victim of his own success — with so many performers asking to make the trek to the Key Peninsula, he's been trying to find ways to accommodate more. He's even enrolled a neighbor to host classic concert series at his home. But he's also finding collaborators in other organizations.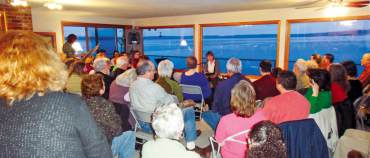 This past summer, he teamed up with the Longbranch Improvement Club to bring the Brother Sun group to the club for an event benefitting another local nonprofit, The Mustard Seed Project. He also worked with the owner of the Cape E Farm and Vineyard for an outdoor performance by The Jeffersons.
Wiley, who is past events chair for the LIC, says a joint event with a group like Watermark Writers is perfect for the nonprofit club, which has been working to expand its community partnerships.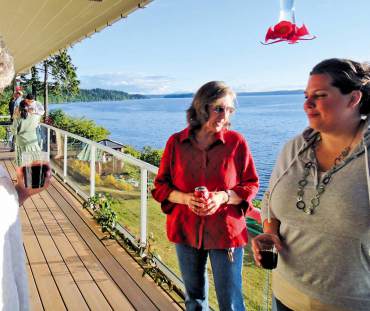 "It's a good way to make people more aware about what we do," she says.
The two groups are exploring the idea of a new concert series at the LIC in 2013. For Libstaff, it would be another step in the evolution of Watermark Writers.
"We started doing all this to offer something to the community — a night out with food and music, close to home," he says. "It does so much for so many people."
This article was first published in the print edition of the WestSound Magazine in the Winter of 2012. Any discrepancies, omissions, or inclusions that seem incorrect are purely due to the age of this article. WestSound Magazine deemed this article useful and beneficial as a contribution to today's readership, and therefore is included in this site's online article archives. If you feel the content of this article is detrimental due to its age, please feel free to contact us to request removal or modification.