When Janis Kelley and her husband, Scott, were looking for a home to buy about six months into their marriage, they found a charming one in downtown Port Gamble. But there was a catch — the historic home came complete with a business on the first floor, a tea room.
Never mind that Kelley had not even seen a tea room before and had no restaurant background.
"I never in my wild imagination saw myself in this business," she says. "I told my husband, 'Scott, this may not be your cup of tea but it may very well be mine.'"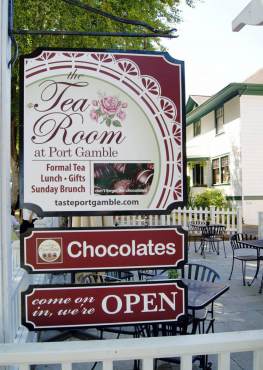 Three days after looking at the property, the couple made an offer — and a week later became the new owners of the Tea Room at Port Gamble.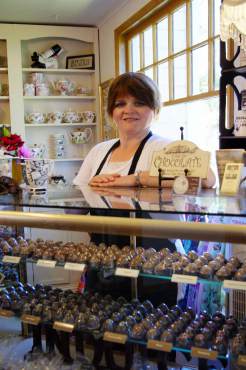 That was on Jan. 18, 2006 and since then, Kelley has worked to not only expand what the tea room offered, but also to offer much more than a tea room.
A "Bistro by Night" was added several years ago for Friday and Saturday. (The bistro is currently closed, following the retirement of chef Walter Santschi, and will reopen in the fall with a revamped menu.) Kelley also introduced catering, under the name of Crave Caterers. The newest addition to the business is Grillin' & Chillin, a special weekend menu served on the patio (weather permitting) during the summer.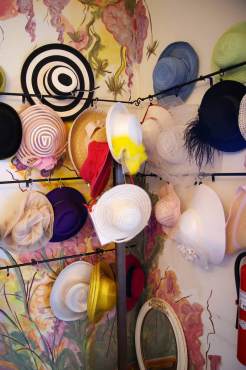 For Kelley, however, the Tea Room is not just about the food.
"I like to reach to customers and make them feel enriched," she says.
The Tea Room: A Start
Kelley, who had owned a business before, came from a background of hospital administration, emergency preparedness and corporate business. Despite her lack of hospitality experience, she says she had a sense for what the Tea Room at Port Gamble could be — and what it could be was more than a place to offer high tea.
So her first order of business was to expand the menu to include lunch fare such as sandwiches, salads and quiches. "I have more than 500 cookbooks upstairs and I've read them all," she says.
She also inherited a chocolate-truffle business from the previous owners and has had to learn the craft herself in about six weeks. She's expanded the truffle menu as well — despite the fact that the chocolates are a labor of love and not a moneymaker.
The two indoor sitting areas have nine tables. Although the décor is decidedly Victorian, a few things were added here and there to make the bistro experience authentic as well. A small gift area showcases tea cups, tea pots, loose teas, scarves and other small gifts for sale, along with a display case with several dozen choices of tempting truffle flavors. It's a cozy, calm atmosphere — a place where you're politely asked to turn the cellphone off and where you may be exchanging phone numbers with other patrons.
"People are enjoying themselves because they can relax," says Tim Crow, who helps Kelley with marketing. "Real experiences come out of this place."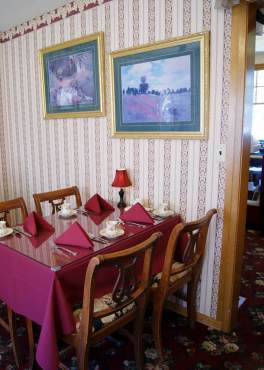 The menu features organic ingredients as much as possible, including salmon Kelley likes to buy straight off a boat. Everything is made from scratch — you won't find things like canned tomatoes for soup or out-of-season products. The menu changes quarterly so repeat customers have something new to try, and Kelley is always tweaking things to respond to requests.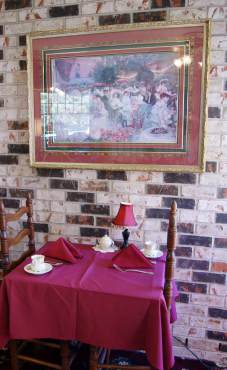 The gluten-free additions, for example, were the result of one such request. When a patron asked if there were any gluten-free options, Kelley went into the kitchen and turned the salmon-salad sandwich gluten-free by using cucumber slices and artfully arranging them into a flower with the salmon. That item is still on the menu.
"It's a matter of putting the time into what the customers need," she says.
Making Memories
Kelley has turned her customers into extended family. As part of the Victorian birthday parties, she's sewn dresses for young girls. She's personally applied makeup and bought party favors, including a special hanky for the birthday girl (she's had more than 270 parties to date). She opens up the restaurant on days off for tour buses that bring seniors — and she makes sure every single one is personally escorted in from the curb.
"I want to give an opportunity for seniors from retirement homes to be treated like the kings and queens that they are," she says. "My goal isn't just to offer them food but also a safe place."
She goes all out for special occasions like Halloween, when she turns the dining room into a spider's lair. She'll host impromptu dances and sing-alongs for some customers, and break into song for others (music was her first love, she says, but she decided against a musical career). She's given food away to families in need, and she's taught teens personal safety through etiquette classes.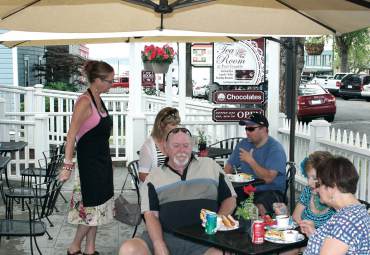 "I've cried with customers, I've sung for customers. I've wiped their tears," she says. "It feels like a good place to be. I believe the Lord had a purpose for me to be here. I don't preach to people but this is like my ministry — I just have to be me."
She has many favorite memories of customers, including one man who loved her truffles so much, when he became ill and was in a hospital, his friends came by to buy them for him. She fondly remembers an elderly couple who came once a quarter, dressed their best, for their date, until one day the woman came alone to let her know her husband had died.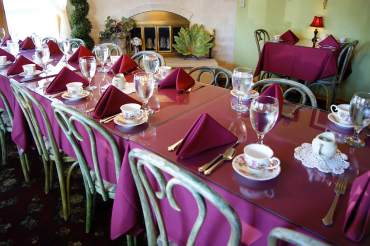 Kelley's eyes well up as she recalls receiving call from a family member of a longtime customer, saying the elderly woman wanted to come over the next day for her last meal. Kelley arranged for that special meal — and the woman died the next day after her visit.
"I wanted this to be a safe haven. It was for that woman," she says.
Making Magic
Customers lucky enough to catch a glimpse of the kitchen in the back are likely to be surprised by what they see. The space is tiny — the tea room used to be a regular home — and bustling with staff. A four-burner stove and an oven are supplemented by four induction cooktops, and every nook and cranny has a purpose.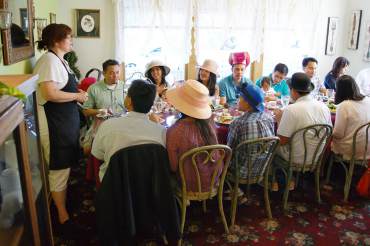 It's hard to believe how much food comes out of that space, all at once. One recent Saturday was typical. Staff were catering a wedding for 150 people while taking care of a full house at the tea room (and getting ready for the evening's bistro).
"Is it a small space? Absolutely," Kelley says. "Do we work magic? Absolutely."
The entire family is part of this magic-making. Kelley's husband, Scott, helps with baking and truffle making. Her sons, Daniel and Jonathan, are an essential part of the catering crew. Kelley raised them as a single mom so the three are close — and despite the sons now having jobs and their own families (Kelley has six grandchildren), they are involved with their mom's business.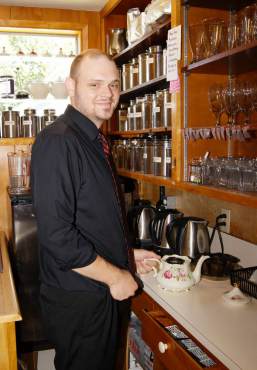 "We have a fun time on catering jobs together," Kelley says, adding that she and her staff treat the venue where they are catering as an extension of the tea room, with the same attention to detail. She'll walk around and talk to people and make sure everyone has a good time.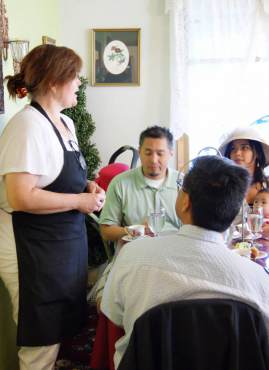 Kelley has her fingers into many things but it doesn't stop her from coming up with new ideas.
"I've come to a point in my life where there's nothing I couldn't do," she says.
The Tea Room at Port Gamble has come a long way since the Kelleys took over ownership eight years ago. For Janis Kelley, a business she knew nothing about has become a personal journey.
"This was a great choice. I've grown a lot personally," she says. "I feel like I've made an imprint not only on my world but I've touched so many lives in a positive way."