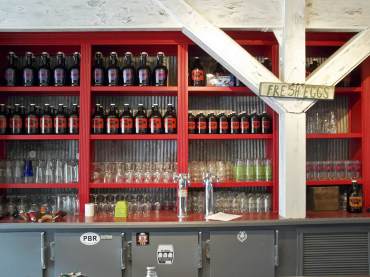 The grand opening of The Slippery Pig Brewery in Poulsbo in June saw a huge amount of excited craft-brew lovers pack the brewery rooms. These were people who enjoy the craft-beer trade and knew that Slippery Pig beers were some of the best in the area.
When the doors on both sides of the brewery opened, men in Scottish kilts welcomed such long lines of eager customers that it took a while for them to get served at the bar. Owner Dave Lambert and his men have been wearing the kilts for as long as the Slippery Pig Brewery has been in business on his Red Rooster Farm on Finn Hill Road, and now in downtown Poulsbo.
Since 2001, before starting the Slippery Pig Brewery, Lambert was (and still is) the owner of the Red Rooster Farm, which is where he grows most of the ingredients for his beers. He was also a salesman, selling fertilizer and propane.
Lambert's path to the brewery started as a home brewer for 10 years on the Red Rooster Farm. He said that he started a brewery because he really likes beer.
"The people are great, it's a lot of hard work and lots of paperwork, but it's a lot of fun," he said.
Many who tasted his beers at the farm were very complimentary. At first he wondered if his friends just liked free beer, but they emphatically told him they really liked what he was brewing, so he got a license and started the Slippery Pig Brewery at the Red Rooster Farm in 2011. The popularity of his beers continued to grow, so he started looking for a place in downtown Poulsbo to expand the business.
He scouted all around the Poulsbo area, was offered the current location at 18801 Front Street NE, and accepted it. He said that it's a great location, with other small breweries and restaurants nearby.
No food will be sold at the Slippery Pig because there are great restaurants in the local area, and customers can get takeout from them and bring to the brewery to enjoy with Slippery Pig beer, he said. (Lambert especially enjoys fish and chips with his beer.)
All the things needed for a brewery that the other locations did not have, like water and natural gas, were in at the Poulsbo location. The building's interior needed some major remodeling, so his many good friends helped with that.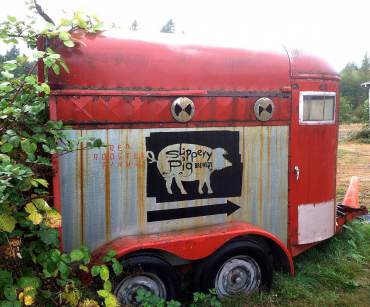 Lambert explained how the name "Slippery Pig Brewery" was selected. He said, "Years ago we were crossing the Hood Canal Bridge and saw the sign 'Slippery when wet.' The sign had a car on it, so I thought it would be funny with a pig instead of the car. Years later when we started the brewery, I decided to stick with the name Slippery Pig Brewery and the picture of the pig."
Slippery Pig Beers
Lambert produces seasonal beers from farm-grown ingredients. For example, he considers his flagship product a Rhubarb IPA specialty beer (slight rhubarb aroma and flavor; high hops with almost no flavor from the hops. 9 – 9.5 percent alcohol by volume; $5 for a 12-ounce glass, $12/growler.
Stinging Nettle Mild: Big, malty, biscuit flavor, earthy aroma and flavors from the stinging nettles. 6.5 percent percent alcohol by volume; $5/pint, $12/growler, $6/squealer.
Dandelion Bitter: Similar to Stinging Nettle Mild, with dandelions instead of hops. 6.5 percent percent alcohol by volume; $5/pint, $12/growler.
Hogsbreath Wheat Lime: Lots of residual sweetness, subtle lemon flavor. A big seller. 10 – 10.5 percent percent alcohol by volume; $5/12-ounce glass, $8/squealer, $12/growler.
He also makes Kiwi Blond, Western Red Cedar, Imperial Honey Wheat, Lemon Verbeena Pale Ale (a lemony flavor) and a number of others from products that he grows on the farm.
In 2013 he produced 70 barrels. This year he plans to produce three times that amount. Customers can purchase a growler bottle (64 ounces) for $22 to $27, and refill it for $12 to $17 depending on the beer. Or they can purchase a "squealer" bottle (32 ounces) for $11 to $13 and refill it for $6 to $8. The beer is also sold for $5 per pint.
The term growler likely dates back to the late 19th century when fresh beer was carried from the local pub to one's home by means of a small, galvanized pail. It is claimed the sound that the carbon dioxide made when it escaped from the lid as the beer sloshed around sounded like a growl. (Squealer is a term Lambert made up and is one-half the size of a growler.)
Future Plans
Lambert is planning live music and special events such as Oktoberfest and Great Poulsbo Beer Run. He explained that the Great Poulsbo Beer Run is an event where customers start at the first brewery and have a beer, then run between the other craft breweries in Poulsbo for a beer and run back to the first brewery for a beer. The participating breweries are Jeff Holcomb's Valholl Brewing and Brad Ginn's Sound Brewery.