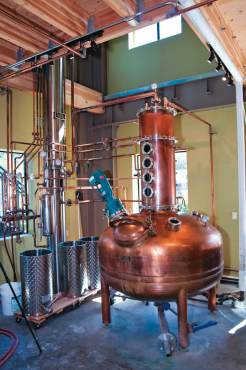 Many believe that the older a whiskey is, the better it is. But that's not necessarily true — the start-to-finish process has more to do with the quality of the liquor than simply age.
The same, then, could be said of a distillery: Age is nothing but a number. And Bainbridge Organic Distillers is proving that adage right. Although it's only existed since 2009, the distillery is already making a mark on the world of Washington spirits with its Bainbridge Legacy Organic Vodka and soon-to-be-released Bainbridge Battle Point Whiskey.
Father and son Keith and Patrick Barnes had always dreamed of opening a distillery but it wasn't until a change in state law in 2008 that it was even possible. Now, a handful of craft distilleries — the first since Prohibition — are open across the state, and Bainbridge Organic Distillers is one of a small number in Western Washington that are open to the public.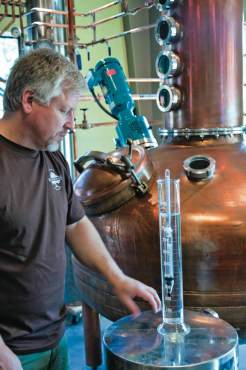 Tucked in an industrial park complex just off Sportsman Club Road, the location isn't exactly where you'd expect a distillery to be, but once you're there, you know it — the sweet smell of simmering spirits greets you upon arrival, as does the bright and cheery interior, a mix of yellow and green walls, concrete floors and exposed silver pipes. The front part of the building is a tasting room, with pub tables and barstools set up for sitting and sipping. Small barrels line the wall with details of date distilled, date filled, grain bill and barreling proof, while a flat screen in the corner next to the bar flashes images of the equipment, the drinks and their makers.
In the back of the building is where the magic happens: A milky brown batch of vodka ferments in a vat while a big bag of soft, white wheat sits on the floor, ready to begin the process. Keith Barnes checks the cooker periodically to make sure everything is on target temperature-wise — if the mixture gets too hot or too cold, it won't turn out right.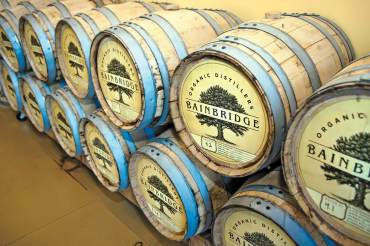 "If there are flaws in vodka, there's nowhere to hide," Barnes says. "Vodka has to be right or everybody knows it."
Getting it right isn't easy — and for two guys who'd never professionally brewed alcohol, trial and error has been a huge part of the learning curve. It took 10,000 pounds of grain, a bent spoon or two and two tanks of overflowed mash to perfect the vodka recipe alone.
But for the Barneses, learning is a family affair. "When we were doing our research about distilleries, it used to be that all distilleries were family businesses," Barnes says. "It's kind of an anachronism now, but we're building a brand and it's a commitment, so the family way seemed to make sense." Other family members get in on the action, too — Barnes' wife has a great palate and provides the descriptions for tasting notes. "I'm glad I'm married to her so I don't have to pay her," Barnes says with a laugh.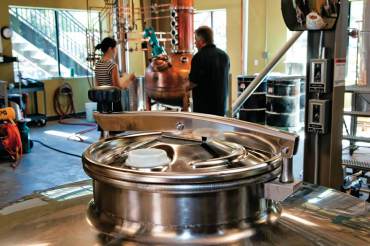 Although some of the details of running a distillery have been question marks, one thing was never in doubt: the use of organic ingredients. "Everything you would want it to be, it is — clean, minimal environmental impact, handled responsibly," Barnes says. "It's not something that takes the environment backward."
That ethos carries through the entire operation. Family farmers provide the ingredients for the products that eventually go into U.S.-made bottles with recycled tin labels, (we learned) and even the shirts sold out front are all-organic.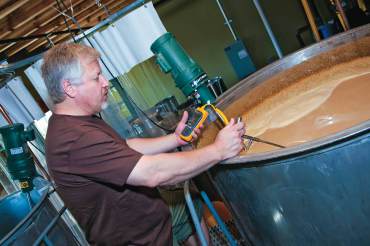 With almost 100 percent Washington state ingredients, the blends are truly local. The positioning among the trees on the Puget Sound contributes to the Northwest identity, too, as the microclimate plays a role in aging the spirits. The location also provides a curious customer base that loves supporting local, sustainable businesses.
"This is a market that a lot of companies use as a test market," Barnes says. "People in Washington are always up for trying something new."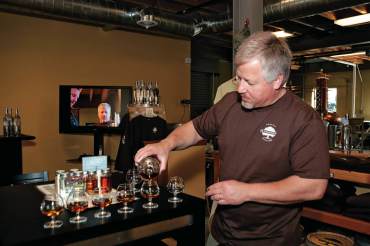 The business may be in the beginning stages but more than 500 people were on the waiting list for the whiskey launch in November. Many others are dropping in for tours and tastings or to pick up a bottle of vodka, which boasts vanilla and citrus notes but doesn't get in the way of making a cocktail.
Next up for the duo: gin. "Every day is a learning experience; you're fine-tuning one aspect or another," Barnes says. "[The best part is getting] to work with family, doing something that everyone's excited about and getting good, positive feedback about products you're putting out."