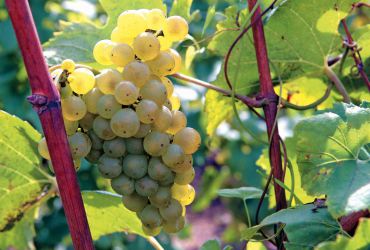 Riesling is a white grape variety that is said to have originated in the Rhine region of Germany. It is an aromatic grape variety displaying flowery, almost perfumed aromas as well as high acidity. It is used to make dry, semisweet, sweet and sparkling white wines. The wines are usually varietally pure and are seldom oaked. The character of riesling wines is clearly influenced by the wine's place of origin.
Riesling's naturally high acidity and pronounced fruit flavors give wines made from the grape great aging potential. Some well-made examples from favorable vintages often develop smoky, honey notes. Aged German rieslings, in particular, take on a petroleum character.

The interesting history of riesling can be easily found by a search online — on wikipedia.com, for example. Recent DNA fingerprinting by Ferdinand Regner indicated that one parent of riesling is gouais blanc, known to the Germans as "weißer heunisch," a variety that, while rare today, was widely grown by the French and German peasantry of the Middle Ages.
Riesling wines are often consumed while they are young, when they make a fruity and aromatic wine that may have aromas of apples, grapefruit, peach, gooseberry, honey, rose blossom or cut green grass, and usually a crisp taste due to the high acidity.

Riesling's naturally high acidity and range of flavors make it suitable for extended aging. More common aging periods would be five to 15 years for dry, 10 to 20 years for semisweet and 10 to 30 or more years for sweet versions.
In the Pacific Northwest, there is a stark contrast in riesling production. The grape is currently on the rise in Washington state but on the decline in neighboring Oregon. Riesling from this area ranges from dry to sweet, and has a crisp lightness that bodes well for easy drinking. Often there will be an easily detectable peach and mineral complex. Some Washington winemakers, such as Chateau Ste. Michelle, are adapting German-style riesling production methods and even partnering with well-known German vintners like Dr. Ernest Loosen to create specialty wines such as the Eroica Riesling.
With annual productions of over 600,000 cases a year, Chateau Ste. Michelle is the worldwide leader in the production of riesling wines by volume. In 2007, Pacific Rim Winemakers, a Pacific Northwest winery owned by Randall Grahm of Bonny Doon, has built the first wine facility in Red Mountain AVA dedicated completely to riesling production. In British Columbia, riesling is commonly grown for use in icewine, table wine and sekt style sparkling wines, a notable example of which is Cipes Brut.

In cool climates (such as many German wine regions), riesling wines tend to exhibit apple and tree fruit notes with noticeable levels of acidity that is sometimes balanced with residual sugar. A late-ripening variety can develop more citrus and peach notes in warmer climates (such as Alsace, parts of Austria).
Riesling is a versatile wine for pairing with food because of its balance of sugar and acidity. It can be paired with white fish or pork, and is one of the few wines that can stand up to the stronger flavors and spices of Thai and Chinese cuisine. Here are a few choices to try.

Chateau Ste. Michelle, Cold Creek Riesling, 2012
(Woodinville, Washington); $18
Style: sweet; light straw color; aromas and flavors: ripe peaches, dried apricots and hints of spice — allspice, black pepper, cloves and nutmeg; palate: beautiful fruit intensity; medium body; crisp finish. Food pairing: crab, fresh fruit, poultry, mild cheeses and Asian dishes. (Alc. by volume: 12.5 percent)
Chateau Ste. Michelle, Dry Riesling, 2012
(Woodinville, Washington); $10
Style: dry; light straw color; aromas: floral and mandarin; beautiful fruit flavors; palate: crisp and refreshing; medium body; elegant finish. Food pairing: crab, scallops, mild cheeses, Asian dishes and Indian curries. (Alc. by volume: 13 percent)
Chateau Ste. Michelle, Eroica Riesling, 2012
(Woodinville, Washington); $20
Style: off-dry white; light straw color; aromas and flavors: sweet lime and peach with hints of minerals; palate: mouthwatering acidity is balanced by flavorful Washington riesling fruit; medium body; balanced finish. Food pairing: Asian dishes, Indian curries, crab, scallops. (Alc. by volume: 12 percent)
Chateau Ste. Michelle and Dr. Loosen, Eroica Riesling, 2011
(Woodinville, Washington); $20
Style: sweet white; light yellow color; aromas and flavors: white peach, grapefruit and sweet lime with hints of minerals; palate: mouthwatering acidity; medium body; balanced finish. Food pairing: Asian dishes, Indian curries, crab, scallops. (Alc. by volume: 11 percent)