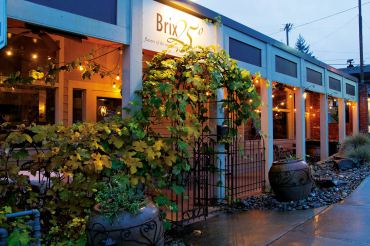 It was time to revisit Brix 25.
A fine-dining staple of the Gig Harbor community since it opened in 2004, the restaurant has changed hands three times in its short history. In 2008, after being named Restaurant of the Year by the Washington Wine Commission, it was purchased by husband-and-wife team Thad Lyman and Katie Doherty, who lived at the time in northern California, where they were running the Napa Valley Grille.
For Doherty, the move was a return to her roots, or at least a part of the country she called home more than any other. "Dad was an entrepreneur and had wanderlust," she says. "And he liked the new."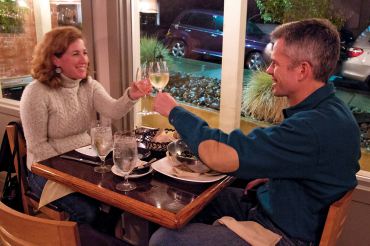 He also moved the family approximately every seven years between Washington and California, and instilled in his children a strong work ethic that held, for instance, that if having one job was a good thing, having three jobs was even better. Doherty's first allowance was earned picking up the change that patrons dropped on the floor at The Islander, a Mercer Island tavern her father owned for a time.
"I still look back on that time at the tavern as really fun," she says. She lived for a while in Tacoma, and ended up graduating from Gig Harbor High School.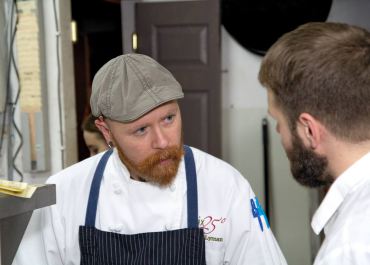 By the time she was 21, she had not one job but two — a day job working for a construction firm and a night job bussing tables at the Sea Galley in University Place. Doherty quickly advanced from busser to hostess to cocktail server before taking a job at Red Robin (a restaurant she estimates she and various family members have worked at for a combined 60 years). Wanting to make the jump to fine dining, she eventually landed at Stanley & Seafort's in Tacoma, where she worked her way up to the management-training program.
Lyman, in the meantime, had experienced his own wayfaring childhood. His dad, who worked in construction, followed work up and down the West Coast from California to Alaska, at one point moving the family every year for a decade. It's something he says he appreciates more as he gets older.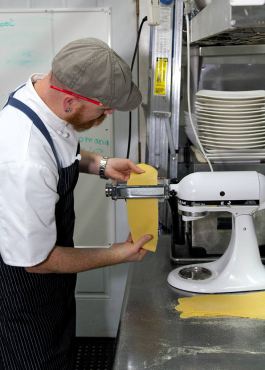 "That was really fun. It had its negatives — I don't really have any childhood friends. But the flip side is that I got to see a lot as a young person," he says. When Lyman was 10 years old, the family "settled" in Anchorage, Alaska, the place he would return to, on and off, for 15 years.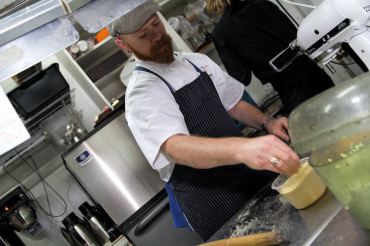 His culinary education started early, he says, at his great-grandmother's feet, and he learned how to actually cook food from scratch, a skill he had multiple opportunities to practice on holidays and special occasions. "In my family, the guys always cooked the big meals," he says. He also purchased his first cookbook at a first-grade book fair, when all his friends were buying superhero books.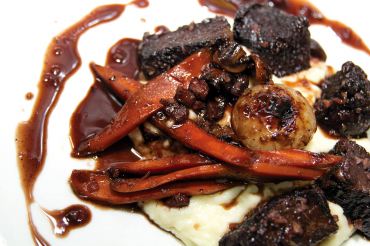 It was during his junior and senior years of high school in Spokane that he read about, and enrolled in, a culinary program at the nearby vocational center. He also started working nights in local kitchens. Following graduation, he moved back to Anchorage to attend the culinary program at the University of Alaska and began working at Simon & Seafort's, sister restaurant to the one in Tacoma. After five years, in pursuit of a lead cook's position, he asked for and got a transfer to the Tacoma restaurant.
"So I was the dinner manager and Thad was a dinner sous chef. We worked together all the time," Doherty says. Love bloomed.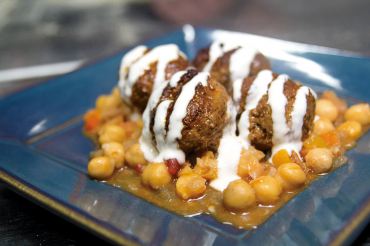 Although the couple kept their relationship quiet, it was the policy of the parent corporation — Restaurants Unlimited, Inc. or RUI — not to have couples working together. Since Lyman had always wanted to work in the San Francisco Bay Area, he took a job at Horatio's Restaurant in San Leandro. Doherty followed shortly thereafter to work for the California Café, a Constellation Concepts, Inc. restaurant.
And then, one day while the couple was day-tripping around San Francisco, a revelation: Although by then they'd both been in the industry for a decade or more, they happened upon a bustling restaurant in the Financial District and decided to give it a try. The place was packed, so they sat at the chef's counter.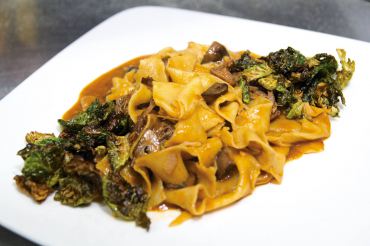 "It was the most casual, blow-away experience we've ever had," Lyman says. "And we didn't even know where we were. We were at Boulevard, and Boulevard is iconic. To this day, we use the food at Boulevard as a barometer of where things are in the industry."
"Boulevard was an eye-opener for us," Doherty agrees. For one thing, the kitchen was using ingredients Lyman hadn't even heard of, much less cooked with. For another, the level of hospitality was unparalleled.
"They were always accommodating," Lyman says. "They always made you feel important. My time at RUI taught me to follow recipes and develop recipes. But I wasn't a chef."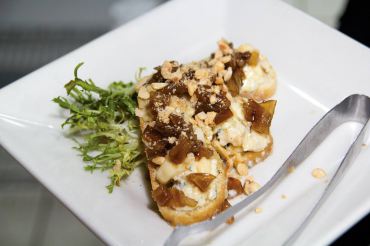 From Horatio's, Lyman would go to Skates on the Bay in Berkeley before leaving RUI and taking his first executive chef's position at The Bistro in Santa Clara, where he eventually tried his hand at general manager. "And I freaking hated it," he says with a laugh.
Tired of corporate politics and wanting to work for a "great chef," he took a job at Viognier in San Mateo under Scott Giambastiani. "It was the first time I ever got to work in what we call 'fine dining,'" Lyman says. "It really was a driving force for me as a young chef. Working for Scott exposed me to thoughts and processes that on-the-job training never did."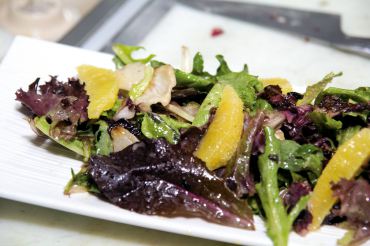 At Viognier, Lyman learned to think about the food chain, including producers and suppliers. "We revered the ingredients," he says, "when it was not yet the culinary buzzword."
In the meantime, Doherty ended up the general manager at Blackhawk Grill in Danville, a restaurant frequented by many well-known and famous patrons. "That restaurant was all about the glitz and glam," she says. "It was all about the scene, and I am not all about the scene."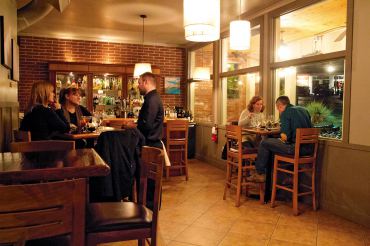 During her time there, the parent company went bankrupt and was taken over by Tavistock Restaurants. Her new bosses were looking for a team to take the helm of the Napa Valley Grille and asked her if she and Lyman would be interested. They jumped at the chance.
In the Napa Valley, Doherty got an intense education in wine, both at the Napa Valley Grille and at other restaurants owned by the same company, because she was responsible for developing their wine and spirits programs. From the beginning, she worked to "take the pretentiousness out of wine," encouraging her staff to focus on the stories of the winemakers and how the wine was produced as a way to make the wine more accessible to their customers.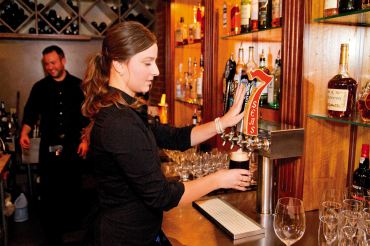 "Wine is not supposed to be this Holy Grail thing you worship," Lyman says. "You have to go back to where wine began. It's peasants and monks. It's just what you drink with dinner."
At the same time, Lyman was refining his own style in the kitchen, which he defines as "rustic," as opposed to plates that are heavy on composition or those that incorporate geometric shapes and molecular gastronomy.
"I like our plates to be more natural looking," he says. "When we plate, it shouldn't look like a composition.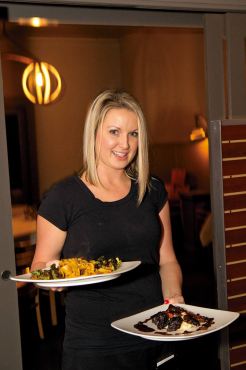 "I am a traditionalist, and I am a little bit conservative when it comes to food," Lyman says. "I'm not trying to put 15 ingredients on a plate and then tell you how to eat your food. We're after the perfect bite. People don't go out to dinner to be told what to do. They don't want to be tutored about how to eat."
At the Napa Valley Grille, the couple not only ran the restaurant, they managed the off-site catering, cooking regularly at renowned wineries throughout the region. Lyman even cooked in wine caves by flashlight. They also learned about how to build a brand. "I thought I knew how to run a restaurant, but I learned so much," Doherty says.
All the while, they were searching for their own restaurant. After their daughter, McKenzie, was born on New Year's Day 2008, they began focusing on the Pacific Northwest so she could grow up around her extended family. They found Brix 25 that same year and opened in time for Mother's Day 2009.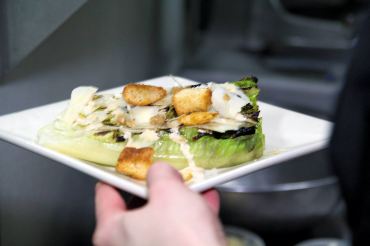 From the beginning, they worked to reassure customers that they weren't arriving from out of town to abolish what people loved about Brix. "We wanted what was great about Brix, or we never would have purchased the restaurant," Doherty says. "We just wanted to work on enhancing the great reputation. So change was very, very slow, especially for two people who thrive on change."
When they remodeled the interior in 2012, they finally felt like the restaurant was theirs. "By then the restaurant looked different, the crew was our crew, the menu was fully Thad's creations, and each wine was picked for the list by myself. That is a long time, when you consider we took over the restaurant in 2009," she adds.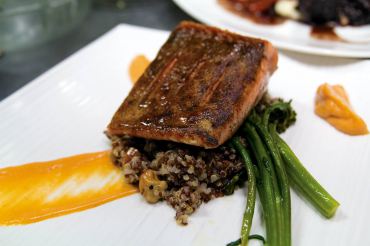 At the same time they opened Brix 25, they were already looking for another restaurant. "We've always wanted to have more than one restaurant," Lyman says. They first looked at the space for Netshed No. 9 several years ago but someone signed the lease ahead of them.
When the space became available again in early 2013, they didn't hesitate. They envisioned a restaurant that served breakfast and lunch all day, with carefully crafted dishes featuring creative combinations and fresh ingredients.
"That love we have for ingredients at Brix, we have at the Netshed," Doherty says. "We know that the Netshed isn't for everyone. We really wanted to do something different that was an option."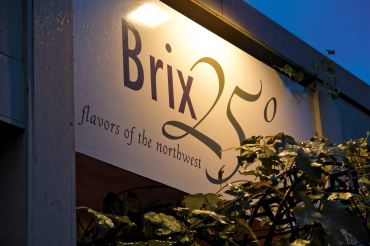 The space itself came with certain city code limitations — no fire or grills allowed, for instance. "So we sat down and tried to make the best menu we could with the infrastructure," Lyman says. "We cook from scratch, everything. We have skilled cooks there and a great chef (Will Reick, a graduate of the Western Culinary Institute)."
Best of all, their daughter, McKenzie, approves. Her favorite menu item, according to Doherty, is the French toast, hands down.
"She doesn't like Brix," Doherty says with a smile.
"It (Brix) is for adults," Lyman says. "We will take care of your children, no doubt about it. But our daughter has to be quiet.
"We wanted a restaurant where a kid could be a kid," he adds. "We wanted a restaurant that the whole family can feel comfortable in and have fun in, not just the adults."