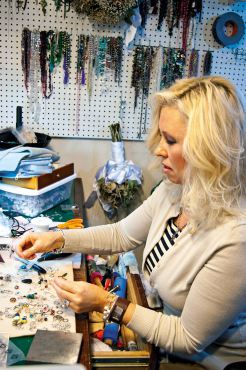 Jewelry designer Kristina "Tina" Bright has an easy smile, a vivacious personality and a talent for creating beautiful things: graceful, hand-tooled silver earrings; necklaces that sparkle and beg to be worn; bracelets adorned with a delightful, eclectic mix of crystal and beads.
"I've had a passion for jewelry since I was a kid," Bright says. "I think I've had a tool in my hand since I was 8."
This lifelong love of jewelry was ignited by Bright's discovery of her grandmother's costume jewelry collection.
"I was smitten," she says.
Noticing her passion, her parents' friends would pass on to Bright old or broken pieces of jewelry that she would fix or take apart to create something new.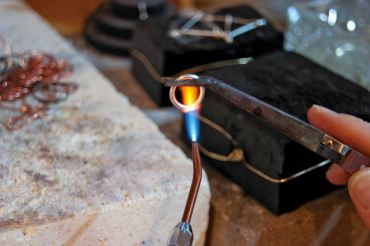 As an adult, Bright first ventured into professional jewelry design in 1993 but let the business go dormant while her former husband attended graduate school.
A chance encounter in 2001 during her son's school field trip spurred her to reactivate her business.
"I had started making bracelets for holiday gifts and I was wearing one that day," she says. "One of the other moms asked me if she could buy one."
"That was my 'aha' moment," she continues. "I realized then that maybe people want one-of-a-kind pieces made by a person."
Since then, Bright has gone on to create thousands of custom pieces for numerous satisfied clients.
Her success stems not just from her talent as a designer but also from her business acumen. In addition to being a self-described master networker, Bright also knows where her market is. Her jewelry is a bestseller at the RAGS Wearable Art Show in Tacoma, and she picks and chooses the other public shows she participates in, as well as actively nurturing her client relationships.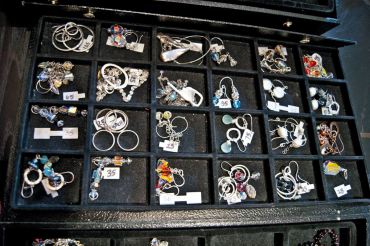 "There's a lot of people making jewelry," she says, "but there's not a lot of people selling jewelry in the way I do. It's a hard thing, to sell your own work, and many artists struggle with it. There's not many people pounding the pavement like I am."
While a few of Bright's designs are standards that she makes over and over again, such as her hoop earrings and her "A Place Called Home" pendant that helps support the Salvation Army, the vast majority of her pieces are one-of-a-kind.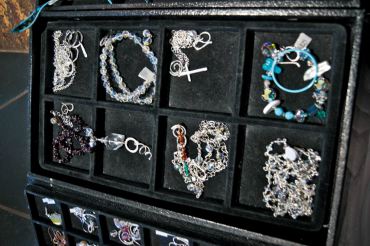 The pieces she creates from her own inspiration she sells the old-fashioned way: reaching out directly to clients and contacts on a regular basis.
"I've got a store in a box," she says. "Starbucks is my office."
Bright also works one-on-one with clients to design custom pieces for them.
"Some of my greatest ideas come from working with clients," Bright says.
Bright works intuitively when she designs, rarely sketching things out beforehand.
"I consider what I do an artistic expression," she says. "I feel my way through it. I look for the right juxtaposition of color, shape, texture, weight. Sometimes I'll get this vision of what I want to make. Sometimes I'll take a piece apart and set it aside, and then later I'll realize, 'this is where this is supposed to go.' When that happens, I feel in the flow, like I'm living my best self."
Bright designs all her necklaces and bracelets to be completely adjustable. Her signature clasp, with its graceful curves, is both visually pleasing and easy to attach and adjust. Her custom earrings are completely made by hand, from the custom tooling on the hoops and swirls to the delicate ear wires.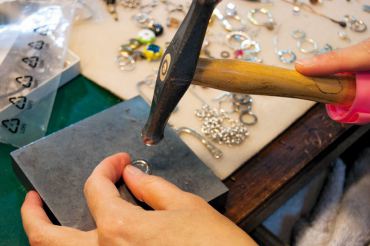 She works almost exclusively with sterling or fine silver and, though she buys her chain commercially, she tools all the rest of her metal pieces, which range from her popular hoop earrings to her "energy swirl" pendant and earring designs. She also dabbles in glasswork and makes some of her own glass beads.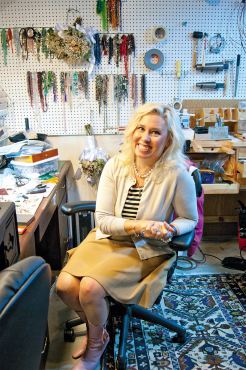 Her metal work is complemented with freshwater pearls, Swarovski crystals and glass, and the finished pieces can be as simple as a pair of silver hoops or as ornate as a complex necklace featuring a sparkling arrangement of beads and baubles.
Bright's attention to detail is evident in touches such as the delicate ball at the end of her ear wires, or the crystal or bauble that terminates every chain end.
"I like to add sparkle to all pieces," she says. "I like them to catch the light."
Bright is dedicated to making all her pieces by hand — "I don't want to manufacture," she says — and she is dedicated to making her pieces ones that people will love to wear.
"My jewelry isn't about individual beads or designs so much," Bright says. "It's about who's wearing it. The piece has to be flattering to you, make your eyes stand out, fit in just the right way."