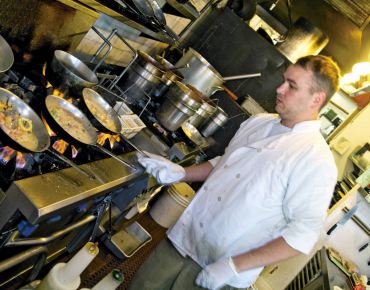 That's-A-Some Italian Ristorante, facing Liberty Bay, is the longest continuously running restaurant in downtown Poulsbo. Founded by Tom Pelland and Lee Grant more than 24 years ago, the restaurant thrives on its customer-friendly atmosphere. It's a place where couples come to celebrate life events and kids are always welcome. Grant died quite a while ago but his wife, Martine, is still a partner in the restaurant along with Pelland and his wife, Marie.
Italian food and cooking were always a part of Pelland's life. From the age of 5 to 15, he lived in Italy, where his father worked at the embassy in Rome and Naples. They also returned to Italy most summers. His Italian grandmother and grandfather had a restaurant in Wisconsin and he always wanted to own one when he grew up.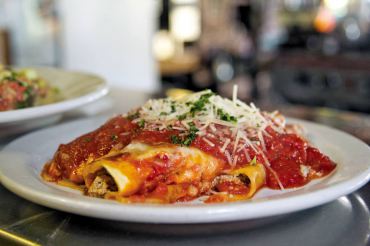 "My grandmother taught me how to cook and my grandparents were very happy that I had always wanted to run a restaurant when I grew up," says Pelland, who has been in the restaurant business for nearly 40 years.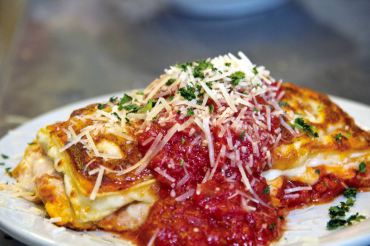 At least two generations of families have dined regularly at the restaurant. Some of those children have come back to work there or to dine with their own children.
"Our niche is that this is a family restaurant. It's somewhere to bring your babies until they're all grown up and have their own babies," Pelland says.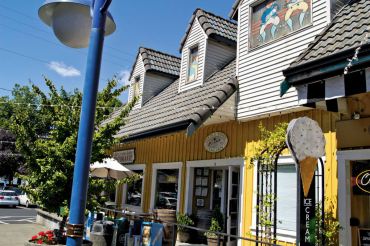 The restaurant has hosted 100 or more wedding rehearsal dinners in its history. There is a cozy two-person table in an alcove that looks out at the waterfront. This special table is where many couples have become engaged. Two weddings have taken place in the alcove, one of which was the wedding of Tom and Marie. There is a sweet love story about how they met. Pelland had several restaurants throughout Kitsap (several on Bainbridge Island) and when they had the grand opening of the Poulsbo restaurant, a friend invited Marie to attend. It was love at first sight. Tom talked her into working in the restaurant and the rest is history. Customers find the couple working side by side many nights and days.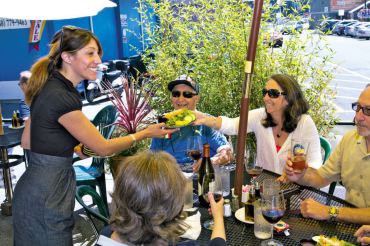 Dining expands to the patio during the milder, sunnier months, especially in summer and fall. The restaurant features Italian songs and operas and, of course, Frank Sinatra crooning away. Music is piped outside and visitors to Poulsbo can often be heard humming or singing along as they walk through Haven Vei on their way to That's-A-Some Italian, to their parking spaces, to the waterfront park along Liberty Bay or to the marina.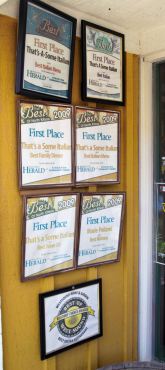 A Gardener, Too
The outdoor dining area and the entries to the restaurant are festooned with colorful and seasonal containerized plantings. Pelland chooses the plants and pots them up himself. He planted several rectangular containers with bamboo to serve as shade and screening. Vines climb up trellises at both ends of the patio, serving as a charming entrance and exit to this extra garden room and outside dining area.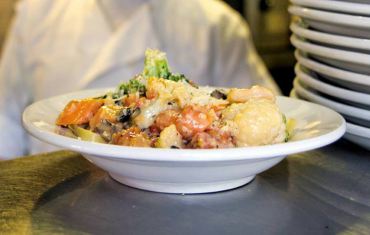 Art and Memorabilia
The interior of That's-A-Some Italian Ristorante is painted in red, white and green — the colors of the Italian flag. Artwork and memorabilia are tastefully tucked throughout the dining room. There is a mural near the kitchen that is a likeness of Lee Grant. Almost 100 percent of the art is original work, including watercolors and oils.
One painting of the Mona Lisa was commissioned by one of Pelland's customers. It was created to very closely resemble the original piece, and Mona Lisa's gaze seems to follow customers. One of the watercolor paintings is a gift from a classic Italian chef who helped open the restaurant. At one time, Robert Mondavi's cork jacket was on display here. There are unique wine bottles gifted by customers. All the pieces are Pelland family treasures. And individual pieces often evoke a special memory for customers.
Pelland chooses talented chefs and he can also be seen cooking up some food at times. He describes the food as traditional Italian. It is always flavorful and freshly made. The restaurant is noted for its eggplant Parmesan as well as delicious beef, fish, chicken and pork dishes and outstanding pastas. The steamed clams and mussels are "to die for," as several customers have been heard to say. Old standbys are featured, but so are ever-changing chef creations listed on the weekly special sheet.
The restaurant is also noted for its pizzas. It's the only one in the region that features Italian beers and there is an extremely well stocked wine shop. That's-A-Some Italian's mission is "to deliver more wine for your money." Their guarantee is "if you are not satisfied with any wine you purchase from us, return it and we will gladly drink it."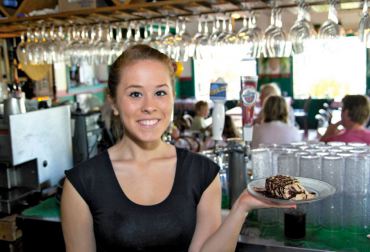 Here's a sampling of the recent specials:
Appetizer — Roasted pork quesadilla with thin slices of garlic roasted pork loin with sautéed onions, cheddar and pepper jack cheese on a sun dried tomato flour tortilla
Pasta — Three-cheese tortellini tossed in garlic cream sauce with spicy Italian sausage, diced tomatoes and basil
Catch — Salmon filet sautéed and finished in a lemon and dill reduction with side of veggies and pasta
Dish — Tender-cut beef tenderloin, grilled to your liking and topped with garlic mushrooms in a light balsamic reduction with side of veggies and roasted red potatoes
Regional — Shredded chicken breast mixed into parmesan, vegetable and fresh herb risotto.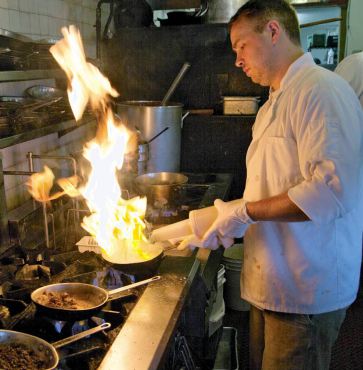 Food is made on site from fresh, local ingredients. The dessert menu includes their own homemade tiramisu, traditional Italian spumoni and cheesecake with strawberries or chocolate sauce. Occasionally the restaurant features a five-course dinner along with selected wines to accompany each course. These dinners fill up the restaurant for that night and are by reservation only.
That's-A-Some Italian is open at 11:30 a.m. seven days a week, all year long. There are very few times when it's closed. There is a separate lunch menu with changing specials and lots of salad and sandwich creations. A separate kids menu is part of lunch and dinner.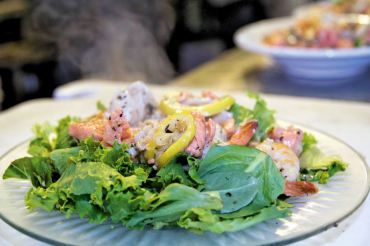 Wine and Beverages
The wine shop in the restaurant came about in 1993. It is in a space some may remember as the tricks and puzzles shop called Chuckles.
"Because we were growing out of our space, we jumped at the chance to expand into the space when Chuckles closed," Pelland says. This area features the wine shop and the wine tastings and serves as overflow seating when the restaurant fills up.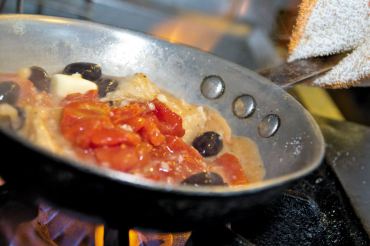 Wine tastings every six weeks or so are a special treat. The evening includes a buffet meal and five to six wines to sample. To learn more about these wine tastings, contact Pelland and he'll add you to his email notification list. Other wine tastings can be arranged by appointment for parties up to 25 guests. Pelland and his staff will always recommend a wine to go with a meal. Plus, the menu and specials sheet offer suggested wine pairings.
Pelland's rules for matching food with wine, though, is: "Drink what you like; almost any wine with a meal is better than no wine with a meal; when you are lost remember, red wine with meat and white wine with fish."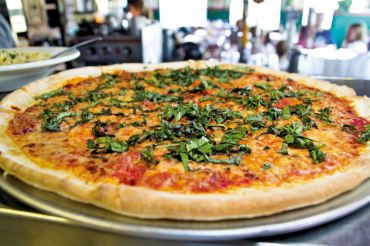 Happy Hour and Other Features
Happy hour is from 3 to 7 p.m. seven days a week. It features half-price salads, appetizers and specials on glasses of wine and draft beer. Also featured are Italian sodas and other nonalcoholic beverages including coffee and tea. The restaurant caters for wedding receptions, graduations and class reunions, family reunions, birthdays, anniversaries, office parties and holiday parties. "We cater any special occasion or life event," Pelland says.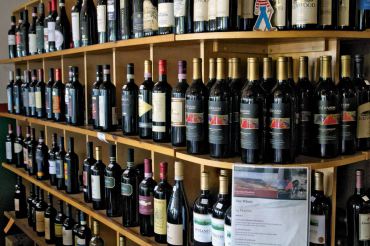 When visiting, you may wish to sit at the section where John Kennedy, Jr. once dined. Kennedy sailed his yacht into the Liberty Bay marina 19 years ago and Marie Pelland served him. After he died, she created a special shrine. It actually is a very charming table where many couples come to dine romantically.
There's a reason why That's-A-Some Ristorante is the longest-running restaurant in Poulsbo. The family-friendly and people-friendly atmosphere is just one aspect of this Poulsbo icon. The food is outstanding, wine and desserts are great and the staff aims to please. Come visit and see for yourself.
That's-A-Some Italian Ristorante

18881 Front Street NE, Poulsbo • 360-779-2266 • thatsasome.com/italian
Note: The entrance to the restaurant is on Haven Vei