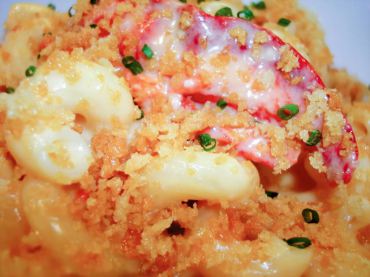 Topping
Ingredients:
1 1/2 cups panko bread crumbs (These are Japanese breadcrumbs, which are flakier than regular breadcrumbs. If you can't find them with the other breadcrumbs, try the aisle that carries Asian food.)
4 tbsp. butter
1/4 tsp. salt
Truffle oil to taste
Melt butter over medium-high heat, add salt and truffle oil. Add panko and coat thoroughly with butter mixture.
Mac & Cheese
Ingredients:
1 lb. box macaroni noodles
8 oz. chopped lobster meat (tails or claw meat is fine)
2 eggs
24 oz. of heavy cream
3 tbsp. Old Bay Seasoning
1 tsp. salt
1/2 tsp. black pepper
1/2 tsp. Tabasco
32 oz. shredded sharp cheddar
8 tbsp. unsalted butter (Note: see step 4 below)
Instructions:
1. Preheat oven to 400 degrees.
2. Combine cream, eggs, old bay seasoning, salt, pepper, lobster meat and Tabasco in a bowl and whisk together until ingredients are well-combined and eggs are completely beaten. Set aside. Be sure to do this before you boil the pasta because the eggs will need time to acclimate so they are not cold when being added to the pasta. You do not want the eggs to become scrambled once added to hot pasta.
3. Boil pasta in salted water for the time given by the al dente instructions on the box.
4. Once pasta is cooked, drain and return to pot. Toss with unsalted butter until coated. If this is going to be eaten in one sitting, you can skip the butter. The butter helps seal the pasta and keep the leftovers from getting mushy while sitting in cheese sauce in your fridge, but if it's being eaten in one sitting this is a non-issue. (And we really do recommend eating it in one sitting.)
5. Give cream mixture a few extra whisks and then add to pasta with half of cheese, stirring over medium to medium-high heat until cheese is melted. Add remaining cheese and continue stirring until thoroughly melted.
6. Transfer to a large baking dish and top with panko. Bake on top rack of oven for 20 to 25 minutes. If you use a disposable foil pan, place a cookie sheet underneath it while baking so the bottom doesn't burn.